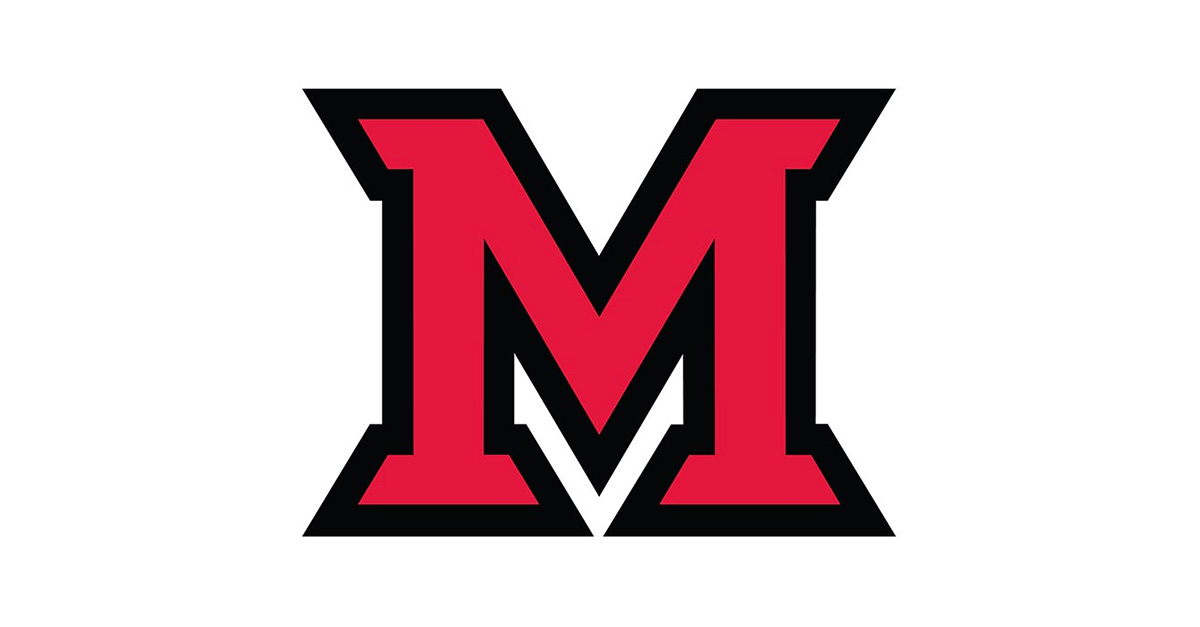 Apr 02, 2015
Officers begin wearing body cameras
By Ritter Hoy, university news and communications, ritter.hoy@MiamiOH.edu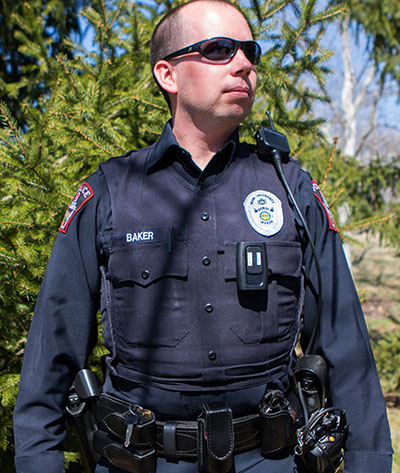 Aaron Baker, MUPD officer, wearing the new body camera. (Photo courtesy of Angelo Gelfuso.)
The next time you see a Miami University Police Department (MUPD) officer, he or she will be recording you. The department has officially outfitted its officers with Body-Worn Cameras (BWC), and they're debuting the end of this week.
"The cameras promote safety and help officers gather evidence," said MUPD Chief John McCandless. "They're a valuable resource for not only law enforcement, but the entire community."
The cameras are roughly 3 inches by 3 inches and are pinned to the officers' uniforms, similar to their badges. MUPD ordered 23 devices, meaning each full-time officer will be wearing a camera when on duty.
Officers will attach the cameras at the beginning of their shifts, and at the end of their shifts they will return the units to the department where the video is automatically uploaded and stored to secure department servers.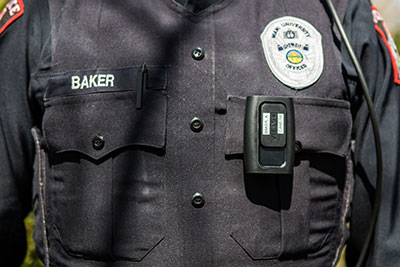 Camera is worn on the uniform near the officer's badge. (Photo courtesy of Angelo Gelfuso.)
The total cost was $16,560, or $720 per unit, and were paid for within the department's budget.
The federal government has plans to fund body cameras for police departments across the country, although McCandless believes most of that money will go to larger metropolitan forces.
"They're a hot commodity right now and lots of departments are looking for them," said McCandless, who first proposed the idea one year ago. "Several other local agencies are in the process of evaluation and possible purchase."
MUPD purchased the cameras in early January and recently finished revisions to its BWC policy and training, giving the department the green light to outfit its officers with the cameras.