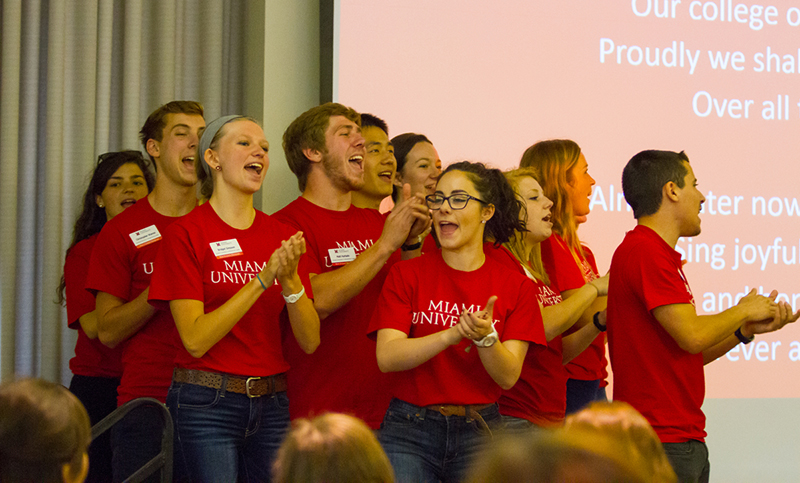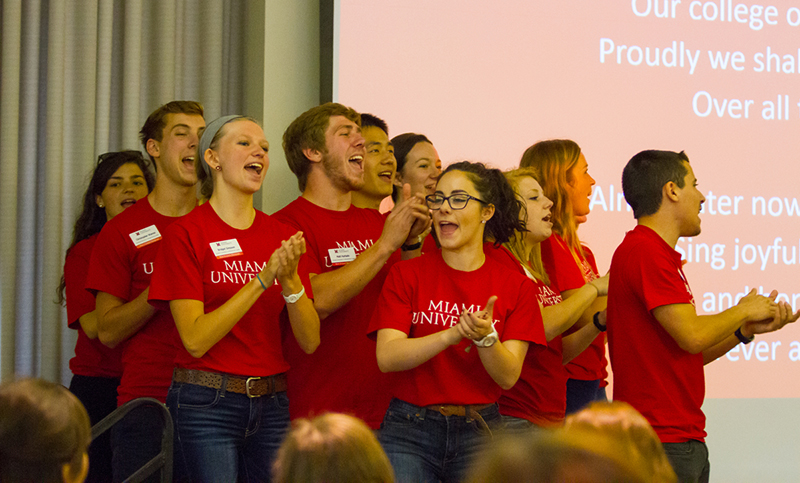 SOULs get the crowd motivated during an orientation session (photos by Connor Moriarty).
Jun 25, 2015
The love in their hearts, the honor in their SOULs
Who are the leaders in the red shirts — screaming and singing — putting the wide-eyed first-year students at ease?
by Ritter Hoy, university news and communications, ritter.hoy@MiamiOH.edu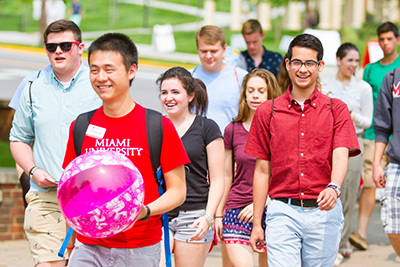 A SOUL leads a student breakout group during summer orientation.
The traffic pileups, no-parking signs and hordes of teenagers crossing streets mean one thing: It's summer orientation.
Organizers say it takes an entire university to pull off a program as big, involved and successful as Miami's. From the staff members who set up the rooms, to the servers in the dining halls who are feeding the students and their families, to the faculty and staff advisers scheduling classes, it's no small feat.
But who are the leaders in the red shirts — screaming and singing — putting all the wide-eyed first-year students (and their families) at ease?
They are the Miami University Student Orientation Undergraduate Leaders — or the SOULs as they're known on campus — and they have been working 15-hour days since the Monday after commencement weekend. Twenty-four SOULs welcome incoming first-year students to Miami during 16 orientation sessions.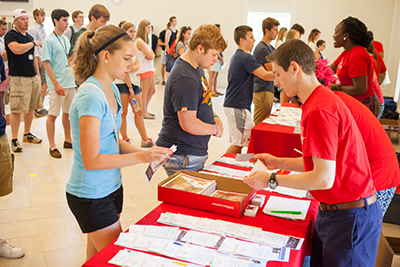 SOULs help with summer orientation registration at the Armstrong Student Center.
From morning to night SOULs welcome new students and their families, performing skits and leading group discussions.
"What don't they do?" laughed Elizabeth "Buffy" Stoll Turton, director of new student programs."Many SOULs apply for the position to gain leadership experience, which they certainly gain. But the experience goes even deeper than developing skills; they also grow personally by building strong ties with a diverse team of peers and mentors, and through authentic connections with first-year students.  We hear from SOUL alumni year after year about the lasting impact of this experience on their lives during and after Miami."
SOULS are paid a stipend for their efforts during summer orientation. They're also provided with housing and meal plans while they're on campus, but they say their reward is priceless.
Getting to know your SOUL
"Some of my closest friends are the peers I met this summer as a SOUL," said Gregory Feinberg, a sophomore psychology major and management and leadership minor. "It's pretty incredible to know that we have such an impact on students' first impressions of Miami."
Chelsea Appiah, a junior professional writing and interactive media studies double major and black world studies minor, feels the same. "The rigor was a surprise, but I really wasn't expecting the relationships I found through being a SOUL."
Appiah couldn't help but feel humbled when she realized the impact she and her fellow SOULs can make in a first-year's Miami experience. She recalls one incoming student who confused her at first by his relentless questions about her academic career. She finally understood that he wanted insight about her secrets to success.
"He said he admired me, which was flattering. I talked to him about how I was able to succeed academically my first two years, and how being a resident assistant helped me develop valuable skills. He plans to contact me later in the year so he can hear more about my experience in order to help him succeed."
The program is centered around the four C's. "We want to help students become more confident, comfortable, connected and curious," explained Stoll Turton.
Feinberg decided to apply for a position because of the SOULs from his summer orientation.
"My orientation leader was awesome," said Feinberg, who willl be a resident assistant in the newly remodeled Dennison Hall. "We stayed connected during my first year, and she encouraged me to apply."
"If you're passionate about making connections, I strongly recommend you consider applying to be a SOUL,"said Appiah. "It's hard and it's challenging, but it's that very challenge that makes the experience so rewarding."
The SOULs get to enjoy their summer break when orientation programs wrap up next week. They come back to campus for Welcome Week, which kicks off Thursday, Aug. 20.