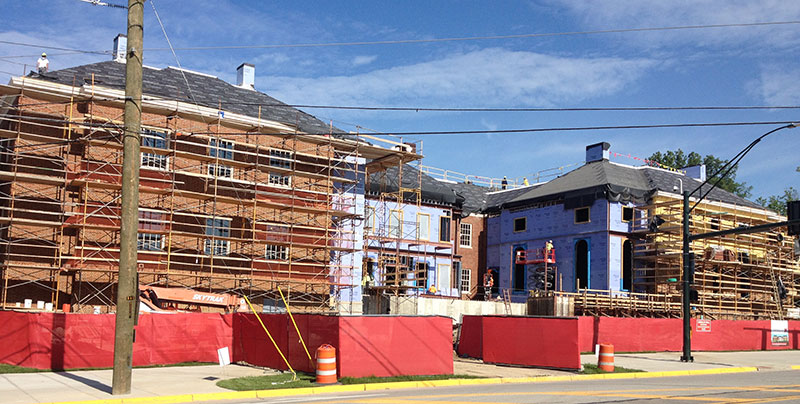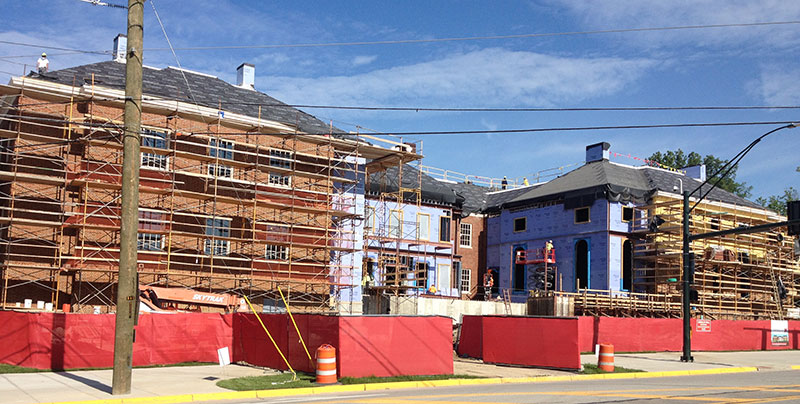 Shideler Hall renovation will house Miami's geology and geography departments and the Institute for the Environment and Sustainability.
Jul 16, 2015
Orange cones, dump trucks, cranes, oh my! Construction updates and more
by Vincent Cirrito and Connie McCarthy, physical facilities
With summer in full swing, so are Miami University's construction projects.
Although not a Miami project, the work on U.S. 27 continues, with plans to switch the traffic flow to the east side of the roadway. This switch impacts Chestnut Street. Current plans are to close access to Chestnut Street from U.S. 27 Aug. 10 for 30 days, weather dependent, said Vincent Cirrito.
The city's project to replace the brick intersection of High Street and Tallawanda Road will be complete soon, ending the summer's detours around High Street.
On campus, the following list provided by physical facilities describes updates to construction and renovation projects.
Swing Hall is on schedule to reopen in August for fall semester following a roof fire June 15. A new structural roof with temporary covering is underway, with new shingles to go on soon. In addition, repair work on plaster, electric and technology continues as well as treating the interior for smoke damage.
In North Quad, McFarland Hall won't have a south side exit except for emergencies July 14-Aug. 20 due to major chiller line digging across the drive.
Although rain has slowed progress at Shideler, installation of the roofing underlayment is complete, brick is going up on both the south and north wings of the new addition, and the plaza deck in the new entrance has been poured. Interior work is progressing with hanging wall board, and equipment being installed for the mechanical, electrical, plumbing, and fire suppression systems. The sidewalk on Patterson Avenue may open in early August.
In Bishop Woods, concrete walks are complete with site lighting and landscape work well underway. The fence is scheduled to come down in August. About 50 percent of the plantings will be done by the start of fall semester. In October, additional plantings will be added. Work continues on removing invasive plants, including poison ivy.
South of Harris Dining Hall, two new parking lots will open in August next to the south chiller plant - One has 52 spaces and the other has 30 spaces. Underground storm systems are complete. Curbing and pavement will begin soon.  As part of this work, Harris Drive will receive new curbing and be repaved as well.
Western Drive between Peabody Hall and the Art Museum is scheduled for repaving and curb replacement during the first week of August.
Concrete work projects include the widening of various sidewalks including the west side of the Farmer School of Business and the south side of Armstrong Student Center.
On East Quad, resident directors can move in mid-July. Exterior work, landscape, and interior finishing work continues.
Fisher Drive no longer extends north from High Street to the Marcum Conference Center. It is now a reconstructed landscape with additional walkways through East Quad.
Renovations in Morris Hall are almost complete. Finishing work continues with painting, lighting and other tasks.
A new parking lot at Chestnut Fields (former Talawanda High School property) will be open to all vehicles possessing a Miami parking permit beginning on 

Aug. 1, and BCRTA will begin bus service to that lot Aug. 21.