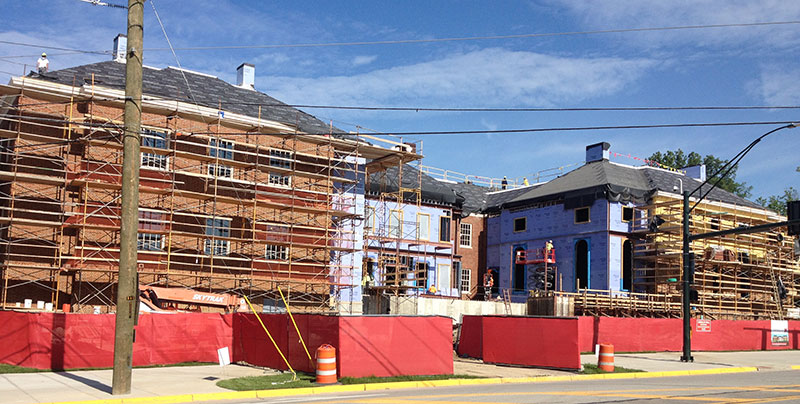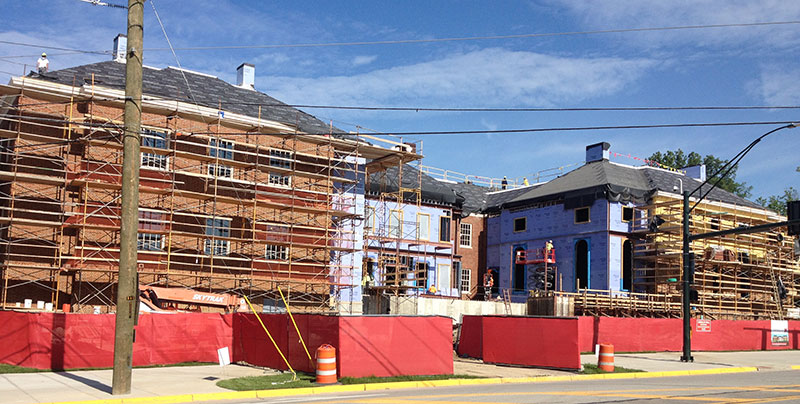 Shideler Hall undergoes renovations. The building is scheduled to reopen in early 2016.
Jul 23, 2015
Ecologically sound renovations to Shideler Hall make a good fit for students studying geology, geography and environment/sustainability
by Jason Barone, CAS director of communications
The departments of geography and of geology and environmental Earth science will join Miami's
Institute for the Environment and Sustainability
(IES) to combine their vast geoscience resources and facilities under one high-tech, ecologically-efficient roof of a renovated Shideler Hall.
The former 54,000-square-feet building built in 1966 is receiving a major makeover to bring its classrooms and laboratories to the forefront of 21st-century collaborative research and teaching. The renovated building, with 90,000 square feet, sits at the high-traffic corner of U.S. 27 and state Route 73. Its entry and landscaping will greet visitors coming to campus from state Route 73.
With funding from the state of Ohio and donors, the enhanced building will meet the needs of students and faculty with collaborative spaces for public service projects, new water and soil laboratories, expanded computer labs and state-of-the-art classrooms.
"The renovation represents an unprecedented central campus presence for IES, and it's very fitting that IES will now be in a LEED-certified green building," said Jonathan Levy, director of the IES and associate professor of geology and environmental Earth science.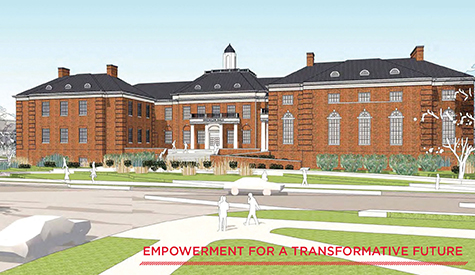 Renovations include high-end research and teaching laboratories.
Scheduled to open in early 2016, its 50th year, the new Shideler Hall will feature equipment upgrades that allow students and faculty to engage in advanced ways.
"The modern infrastructure and additional space has allowed us to build new high-end research and teaching laboratories for geophysics, geomicrobiology, geochemistry and other geoscience subdisciplines," said Elisabeth Widom, professor and chair of the
department of geology and environmental Earth science
. "These new facilities will enable exciting new research related to energy, solid earth and environmental system science, and much more." 
Bruce D'Arcus, associate professor and chair of the
department of geography
, added, "We're excited that the new building will provide us much better teaching spaces, including new lab and project rooms to expand our work in geographic information systems (GIS), remote sensing and related endeavors." 
Overall, with additional donor support, planned renovations at Shideler Hall include:
High-end computational geophysics and petroleum research laboratories to prepare students for employment opportunities in the energy industry.
Collaborative project spaces equipped with technologies for service learning involving interdisciplinary student teams working for public and private organizations.
Isotope and trace element geochemistry laboratories to provide student research opportunities and enhance external funding in solid earth and environmental system science.
High-end computer laboratories for teaching, research and client projects in geospatial sciences like GPS navigation, environmental science, resource management, urban planning, transportation and GIS, where students learn computer-based mapping and satellite technologies widely used in business.
Environmental science teaching and research laboratories dedicated to analyzing water quality, soils and chemical and biological contaminants, as well as developing the skills essential for employment in industry, consulting and government agencies.
Teaching and research laboratories equipped with data acquisition for embedded sensor technology used in field monitoring of air, soils, lakes and streams.
The Karl E. Limper Geology Museum re-envisioned as a modern, dynamic, interactive learning environment for teaching and research, as well as K-12 and community outreach to thousands of visitors.
Meanwhile, the famous rotating Shideler globe, which had occupied the lobby of the building since 1967, will relocate to the new Oxford Lane Library on Locust Street, scheduled to open the end of September. A new digital globe will be displayed in the redesigned Limper Geology Museum within Shideler.
For more details and floor plans of Shideler's ongoing renovations, visit the
renovation website
.