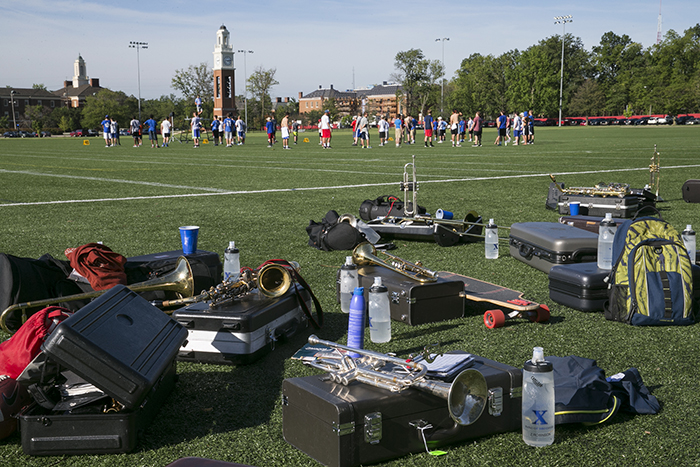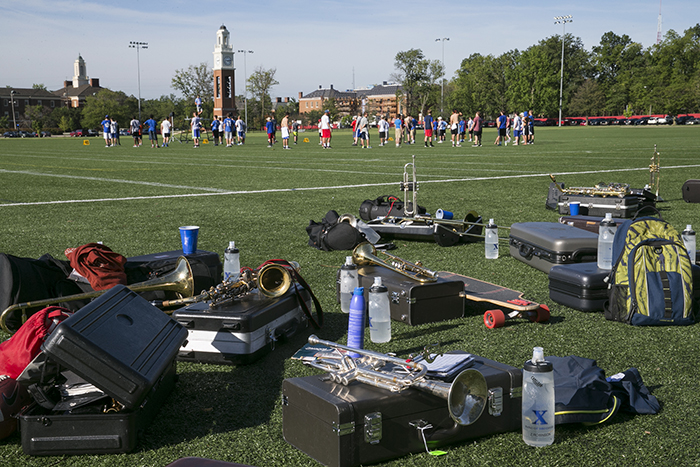 The marching band of St. Xavier High School (Cincinnati) attended band camp at Miami this summer, one of many camps, educational programs, conferences and other events on campus this summer (photo by Jeff Sabo).
Aug 05, 2015
Thousands enjoy a "Miami experience" during the summer
By Margo Kissell, university news and communications, kisselm@miamioh.edu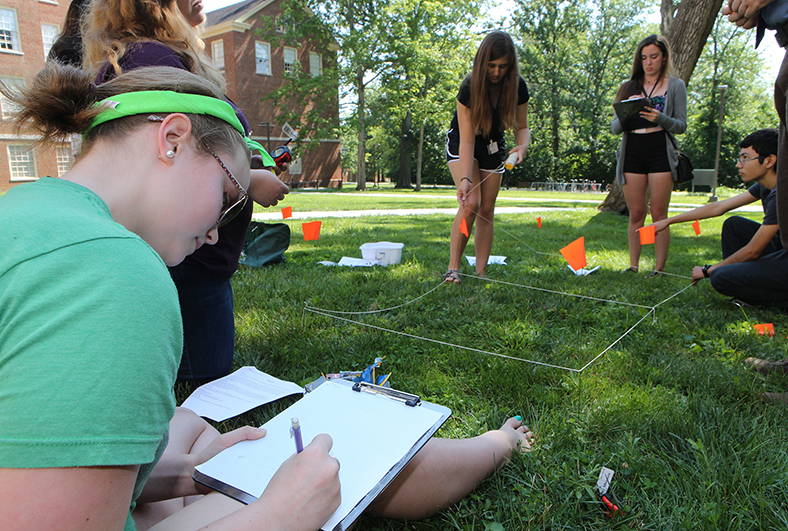 About 350 high school students participate in the Summer Scholars academic exploration program (photo by Jeff Sabo).
It may be summer, but things don't slow down at Miami University as thousands of youths and adults participate on campus in a variety of educational programs, athletic camps, conferences, weddings and other events.
"Summer brings the opportunity to host guests in much larger numbers," said Paula Green, associate director for conferences with Miami's conference and event services, which is involved whenever anyone wants to use the residence or dining halls. "We serve all markets — youth, adult, academic, sport, not-for-profit, corporate, governmental and religious."
Between commencement weekend in May and this Saturday, Aug. 8, that office and its campus partners will have assisted 67 groups with more than 12,500 guests who have either stayed on campus, eaten in the dining halls, or both.
Miami's chapels and reception venues hosted 23 wedding ceremonies and 13 wedding receptions, each bringing an average of 200 guests to campus and the city of Oxford, she said.
Many of the young people who come to campus participate in various athletic camps, orientation sessions or events like Summer Scholars, an admission office program that brought approximately 350 students to 12 days of academic exploration.
The Summer Scholars program provides an early college experience for academically talented rising high school juniors and seniors from across the globe.
"The students I taught were very excited to do all the different kinds of activities we undertook, from working with real artifacts to 3-D scanning to excavating a mock dig using real scientific techniques," said Jeb Card, visiting assistant professor of anthropology.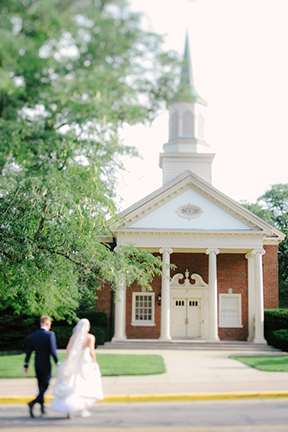 Miami's chapels and reception venues hosted 23 wedding ceremonies and 13 wedding receptions this summer (photo courtesy conference services).
Green said their conference system shadows the system that Miami students are part of, with guests having their own IDs and meal plans.
"Really, it's the Miami experience, just they're not enrolled in classes," Green said.
More camps, more campers
Chase Speaks, director of athletic facilities and camps, said that by July 30, they already had 2,087 campers — a 25 percent increase over the entire 2014 summer.
He attributes that to having additional camps like football camp and word spreading about other popular ones like field hockey.
"We jumped from a consistent 65-70 campers to over 100 this year for field hockey overnight camp," he said.
Participation can give students a different perspective on sports, thanks to feedback from participating university assistant coaches.
Many of those attending the athletic camps are in grades 7-12. And while most seventh- and eighth-graders aren't thinking about college yet, Speaks said they will be in a few years. This gives them an early glimpse of campus life.
"They do get the experience of what it's like to live away from home for a little bit in a college environment," he said.
Hockey, skating camps popular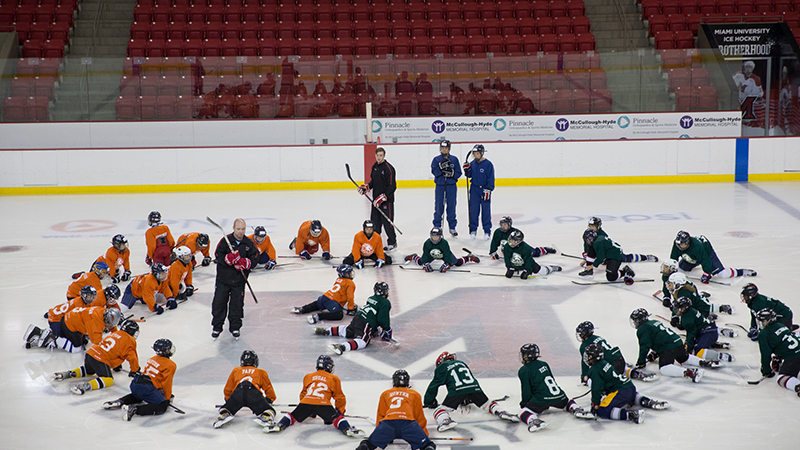 Nearly 1,000 youths participated in hockey schools at the Goggin Ice Center this summer. Figure and synchronized skating camps brought in about 400 others (photo by Scott Kissell).
One popular summer venue is Goggin Ice Center, where nine hockey schools draw nearly 1,000 youths, and figure skating and synchronized skating programs bring in about 400 others.
 "Within eight weeks, there are about 1,400 kids coming through Goggin," said Kevin Ackley, senior director of Goggin Ice Center. The ages range from 8 to 18.
 That generates revenue for the university. Dues from the hockey schools bring in about $700,000, he said.
 "When you add skate camp in, it's pretty close to $1 million that comes on campus," he said. The funds go back into the budget.
 "The camp itself has a great reputation, and also the hockey team doing well certainly doesn't hurt," he said. "We sell out in about three or four weeks."
The facilities are a bonus, he said, with the recreational sports center where they do off-ice activities, the residence halls (the boys stay in Dodds; the girls in Porter) and dining halls in close proximity to Goggin.
"We have everything we need within a 2- or 3-minute walk," Ackley said.
Green said summer is a time when various renovations or projects are done, "but it leaves us these great pockets of opportunity" before August arrives and they prepare to turn over the facilities for Miami students.
Kim Kinsel, associate vice president for auxiliaries, said having conferences and other events year-round keep Miami employees who work in the residence halls and dining facilities busy throughout the year.
"It's a pretty robust business," she said. "It's great for the outside companies because they get a fairly economical resource and location, so it's a win-win for the conference attendees and their businesses, as well as the university."