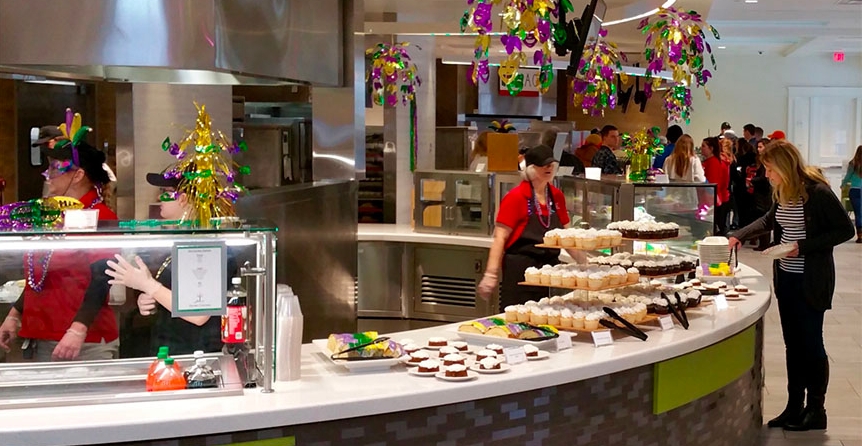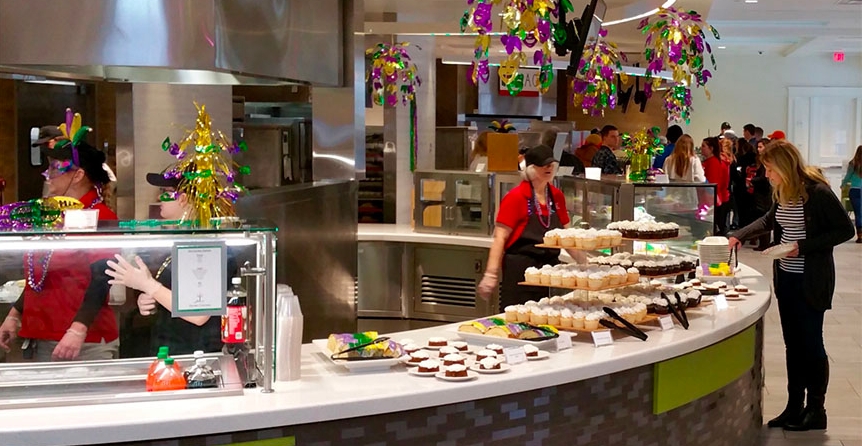 A recent Mardi Gras dinner at Garden Commons was one of the special themed dinners offered by dining services. Student dining employees help in planning the different dinners (photos courtesy dining services).
Feb 25, 2016
Student involvement is the theme in Miami's special dinners
By Kristal Humphrey, university news and communications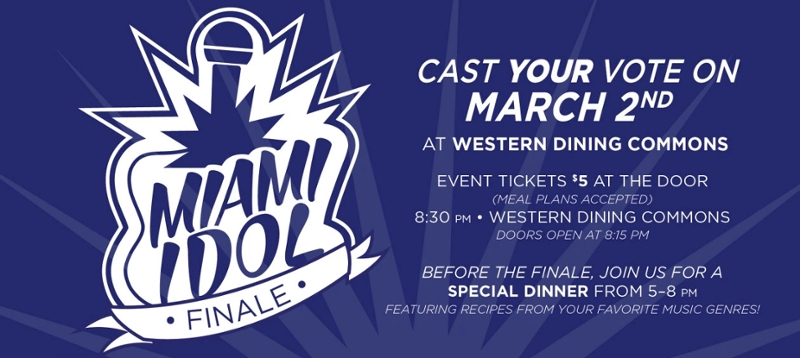 Kelsey Simpson, a marketing major and interactive media studies minor, designed the graphic for the Miami Idol dinner.
What do "American Idol," zombies and baseball have in common? They are all themes for special dinners at Miami University dining halls, and students are involved in every aspect of planning them.
One of those students, Nichole Bahas, a nutrition major and management and leadership minor who would like to someday own a restaurant, pursued a job at the culinary support center because of "how great everyone was there to me" as a special diet student.
The next dinner is Miami Idol on Wednesday, March 2, at Western Dining Commons. Members of housing, dining, recreation and business services will enter that event in a National Association of College and University Food Service (NACUFS) contest in the Residential Dining: Special Event category.
But before a contest entry happens, a lot has to be done to make the dinner possible.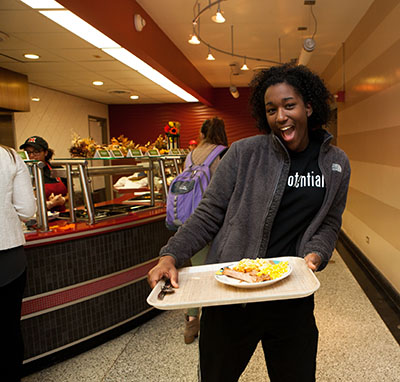 A student enjoys the Thanksgiving Bash special dinner at Harris Dining Hall.
First, managers of the dining locations meet to select themes. Some of their ideas come from interaction with students, as they pay attention to what students are interested in. For instance, the popularity of "The Walking Dead" led to the upcoming zombie-theme dinner. 
At other times, individual students or student groups come to them with suggestions.  If a suggestion by a student group is used, the group is involved in the planning process.
Dietetics students work with Mary Barrera, manager of culinary services, to research what would be good foods to use for the theme and make sure it's a balanced meal.
For the OxVegas dinner, Bahas researched landscapes and architecture for the area. Using the Bellagio fountains as inspiration, she decided to have a Bellagio chocolate fountain.
Angelina Caradonna, a nutrition major and Italian minor, said for the dinner during Stress Less Week (the week before finals) the students found foods that are good for the brain as well as give a boost of vitamins.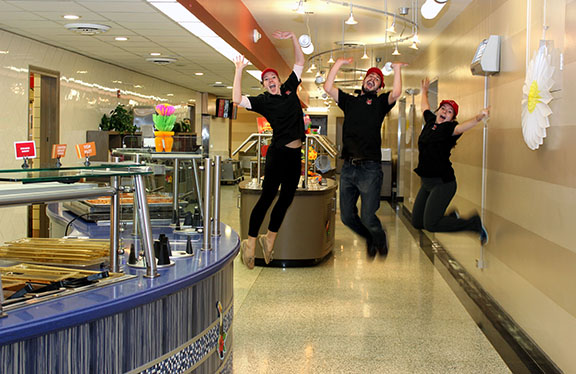 Student dining employees at Harris Dining Hall
The experience dining students get will help them in the future.
"Learning to take into consideration things like allergies, ethnic backgrounds, religious affiliations and medical needs when planning menus for a diverse student body gave me real-life experience that I wouldn't have acquired elsewhere," said Rebecca Coats, a nutrition major.
Julie Richards, a nutrition and kinesiology double major, has learned how to use Foodservice Suite, a software program used in many other places.  The program calculates the nutritional value, food costs, ingredients and allergens. 
Barrera says one of the students' favorite ways to help with the dinners is by being taste testers.
Food isn't the only part of a special dinner. Many of the marketing materials used to promote the event are designed by students, under the direction of Melissa Davish, manager of marketing in housing and dining.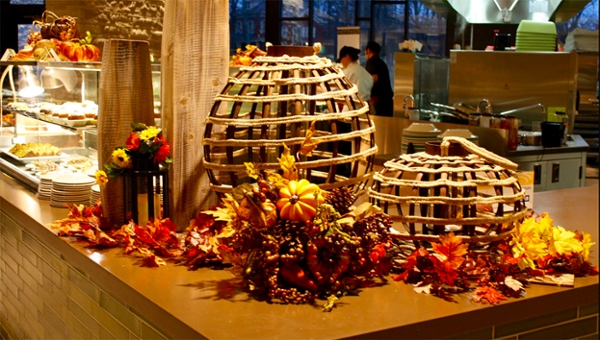 Decorations, such as these for the Thanksgiving Bash at Western Dining Commons, help make themed dinners special.
Kelsey Simpson, a marketing major and interactive media studies minor, designed the graphic for the Miami Idol dinner. "This job has already helped me obtain a digital design internship at Southwest Airlines," Simpson said.
Students also promote the dinners through giveaways, flyers and social media. Kaitlin Bell, a graphic design major, said the students made ads and menus for the OxVegas dinner as well as invitations made like playing cards that they passed out to students.
"One thing our dining program does so well is trying to make a meaningful connection with students in person as well as through social media," Bell said.
Also decorations play a big part in making the theme come to life. Mark Andrea, manager of computer systems and marketing, and Barb Ribbler, administrative assistant (both in housing and dining), work on decorations with help from Davish and, you guessed it, students.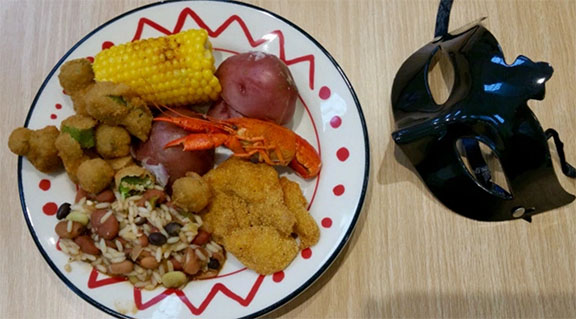 A Mardi Gras dinner
To enter Miami Idol in the NACUFS contest, a photo book is compiled that shows the things needed to meet the judging criteria. Davish and a student design a template for the book, and the photos are taken by university photographers and students working for housing and dining in marketing.
The remaining special dinners this semester include:
Zombie theme—Tuesday, April 5, at Harris Dining Hall.
Baseball theme—Tuesday, April 12, at Garden Commons.
Breads and Spreads—Thursday, April 14, at Harris Dining Hall.
Of course, none of the dinners could happen without the many students, more than 830, who work every day in Miami's dining locations.