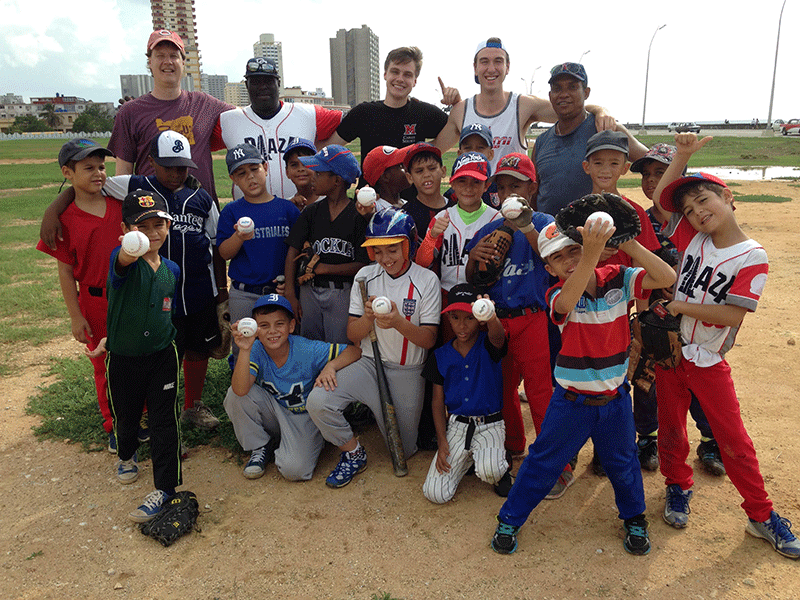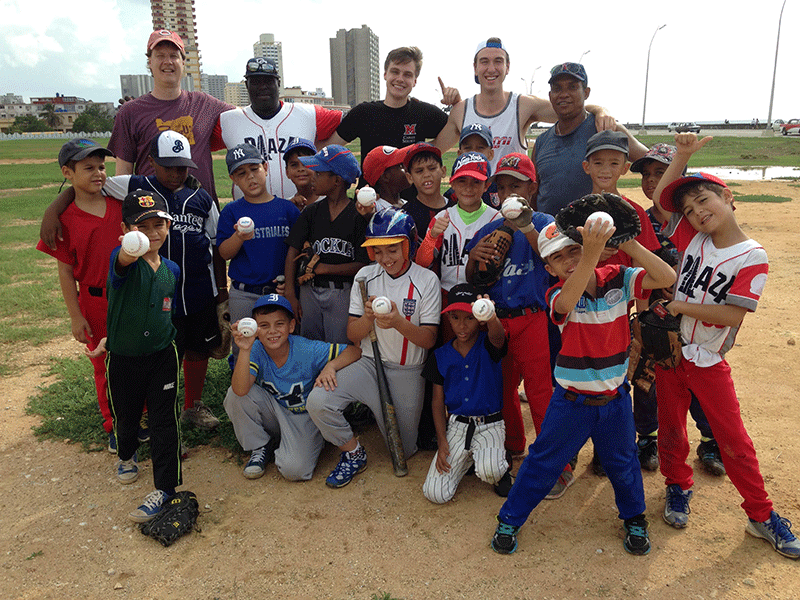 Ben Blanchard, Jack Evans and Joe Sampson become the team's biggest fans.
Jun 16, 2016
Journalism students find Cuban story behind the baseball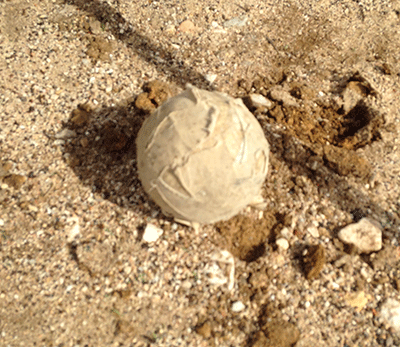 Handmade ball the children use in their games.
by Carole Johnson, university news and communications
Speaking in the common language of baseball, Miami students studying abroad in Havana, Cuba, hit a home run with Plaza, a little league team.
Presenting 12 new baseballs to the team, journalism students Ben Blanchard and Jack Evans not only found a story, they connected with the Cuban culture.
Blanchard and Evans, both sophomores, along with 11 other Miami students, traveled last week to Havana with journalism faculty members Joe Sampson and Patti Newberry for "Stories from Cuba," a three-credit-hour summer workshop.
During the workshop, students study the history of journalism in Cuba, explore Cuba and learn from Cuban scholars. The students are currently writing stories to post to a blog later this month.
Last year, during a pre-workshop trip, Sampson recalled seeing Cuban children playing baseball with handmade balls.
"Their baseballs are not really balls. They're papier-mâché-like, made from rock and newspapers," Sampson said.
He made a note to pack new balls in his suitcase for this year, and he mentioned this to students. The students responded with their own supply and some good reporting skills.
Blanchard, sports editor for The Miami Student, said he was in search of a story about Cuban baseball, and he came across a man who coached the team of 7- and 8-year-old children. Blanchard's Spanish was strong enough that the two could communicate. The coach invited him to the next day's practice, where they gave the baseballs to the players.
"I was moved by their appreciation for the small gift of a few baseballs," Blanchard said. "It meant so much to them, and the kids were absolutely adorable."
The children greeted Blanchard, Evans and Sampson with high-fives and fist bumps.
"It was the most joyful thing," Sampson said. "The children mobbed us, crying as they embraced us."