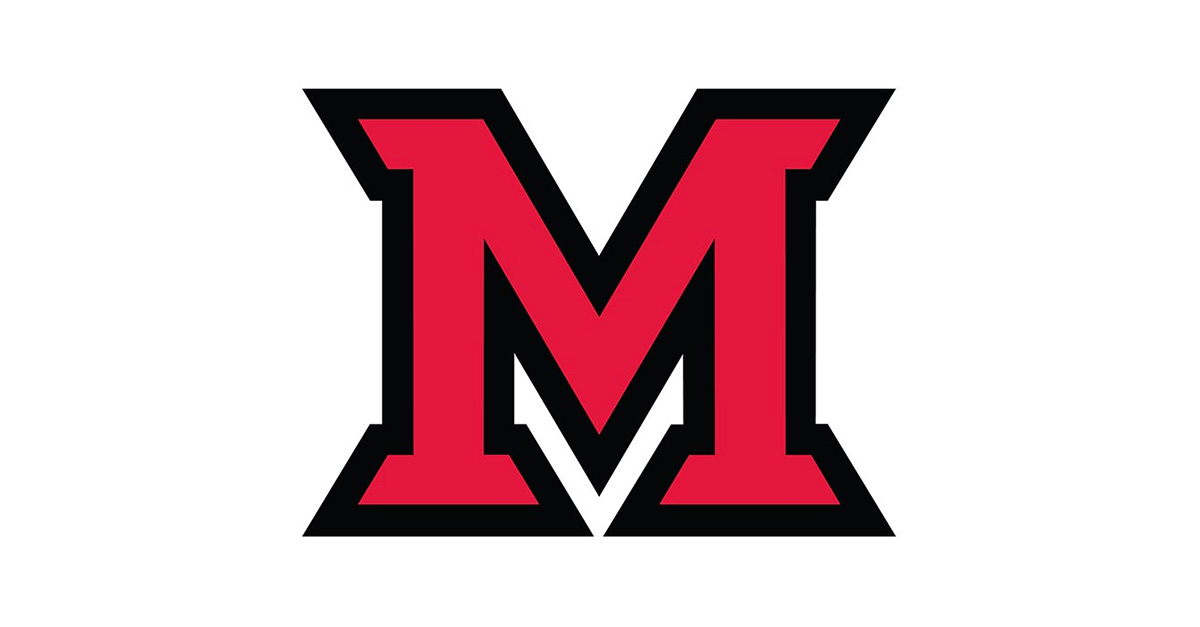 Aug 11, 2016
Employee recruitment remake makes Miami a solid job choice
Top 10 Benefits
Housing, Dining, Recreation and Business Services
Health, dental, vision insurance
Employee Care Clinic
Retirement plans
Paid holidays
Vacation, sick, and parental leave
Staff meal plan
Tuition waiver
Job enrichment and staff development
Career progression opportunities
Entertainment discounts
By Carole Johnson, university news and communications
Miami University's recruitment program for new employees in dining, housing and grounds needed a boost.
These areas belong to one of the largest departments on the Oxford campus, and include building and grounds assistants, assistant cooks and food service assistants.
Off-campus job fairs brought in candidates, but not enough. More perplexing, many of the new hires didn't stay. In fact, after seven job fairs last year, of the 20 people hired, only five percent are still working, said Lia Odell, program assistant in housing and dining.
Housing dining staff and members of Miami's human resources department spent three intense days dissecting the facts. Using a continuous improvement strategy from Miami's Lean Initiative, a new approach emerged.
Participants asked, "Why not showcase the best of Miami during job fairs?" They also agreed to establish formal training checkpoints to increase employee retention.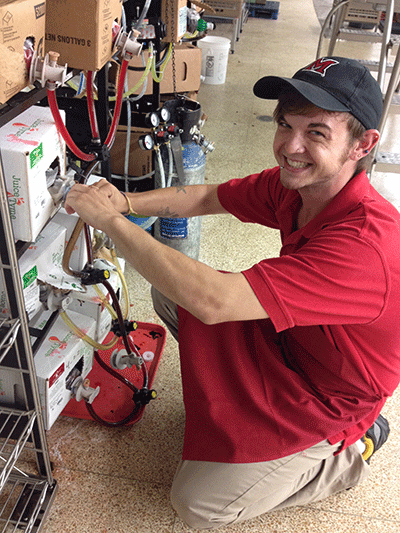 Travis Embs
First up: Highlighting Miami's best assets — its employees, its benefits, and its beautiful location. In a grassroots-like campaign push, current housing and dining staff used social media and old-fashioned word-of-mouth to advertise four job fairs — hosted not off campus, but on campus.
"We wanted potential employees to actually see where they would be working, what a dining hall looks like, and then make applying a simple process," said Mike Savnik of human resources.
Showing off Miami's newest dining hall, candidates were introduced to a more streamlined process for applying and interviewing at Garden Commons in November 2015. Prior to a recent July 28 event, there have been 42 people hired, and approximately 79 percent of them are still working.
Travis Embs of Harris Dining Hall agreed that the process is efficient. He's wanted to work full time for Miami for several years, but applying always confused him.
"A friend told me about the job interviews at Garden Commons. Everything was done in 10 minutes. They helped me step-by-step," he said of the application process.
Erin Sorrell
Not only does a candidate receive help in applying for a position, an interview is conducted on site the same day. Personnel from housing and human resources worked together to revamp interview questions.
Savnik said the questions are now more situational, focusing on customer service. At the end of the 45-minute process, the hiring team can better determine if a candidate would do well in a particular position.
"The key, key, key to this turnaround is the partnership between housing and dining and human resources," Odell said.
Having both human resources and housing and dining managers on site during the interview process creates open communication. "Questions can be answered on the spot," creating a seamless process, she explained.
It didn't take long for Embs to find out he was hired, just three days. Seven months later, he's excited to be moving to his own place and calls Miami's benefits "fabulous."
Erin Sorrell at Harris Dining Hall, a February hire, and Zachary Brown, six months on the job at Armstrong Student Center, also appreciate the benefits. Sorrell said she is covered very well under the health care package, and Brown appreciates the tuition waiver.
"I'm working toward an education degree in music," he said. "At the same time, I want to work my way up in housing and dining … keep my career opportunities open."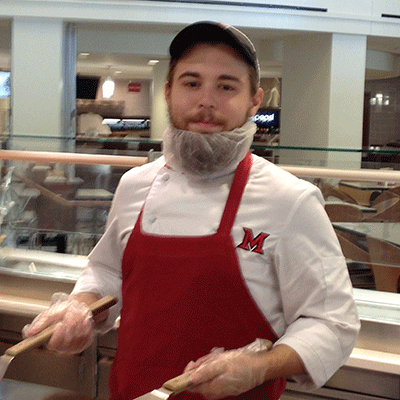 Zachary Brown
The tuition waiver is one of Miami's Top 10 Benefits now clearly stated in information packets handed to job candidates. Significant attention to benefit details is part of a new on-boarding training process for new employees.
Odell heads up the on-boarding process with five other in-house trainers. Day one on the job starts with a four-hour session on benefits and things to know about Miami. The employees then spend the next 32 hours working one-on-one (or paired up) with one of five new trainers, along with that unit's manager. After that, there are regularly scheduled follow-ups with the new employees by Odell and the trainers extending as far out as six months.
The trainers, promoted from within housing and dining, know the ins and outs of all the positions and help the new employees navigate any issues. Kevin Murray, Alex Poteet, Stephanie Hartman, Tonya George and Angela Gentry recently finished their own training to serve new employees.
"They all were frontline staff with a combined work history of 70 years at Miami," said Odell. "They understand. They know how to relate."