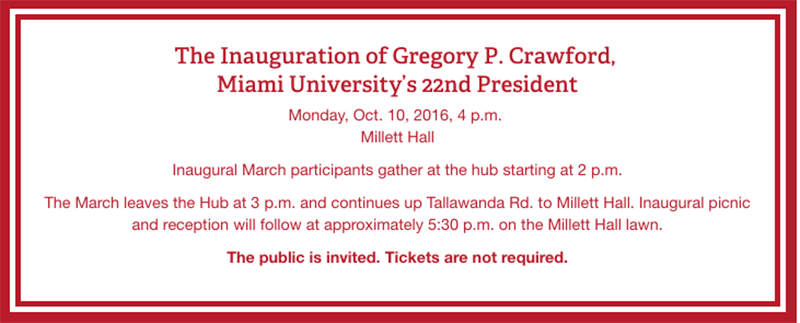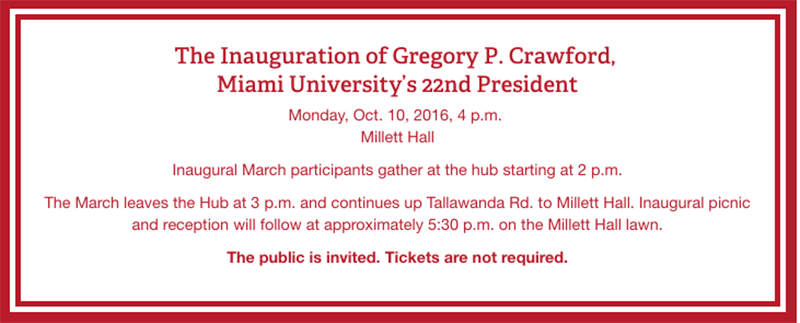 Sep 29, 2016
Celebrate the inauguration of Gregory P. Crawford, Miami's 22nd president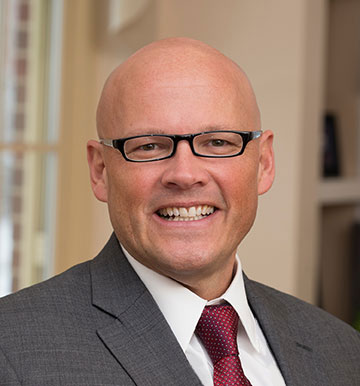 Gregory Crawford
The entire Miami University community is invited to celebrate the inauguration of Gregory P. Crawford, Miami University's 22nd president, at 4 p.m. Monday, Oct. 10, at Millett Hall. The event is open to the public. No tickets are required.
Attendees are also welcome to participate in an Inaugural March that leaves the Hub (located in the center of campus near the university seal) at 3 p.m. and continues up Tallawanda Road to Millett Hall.
Marchers should gather between 2-2:30 p.m. Others are welcome to view the colorful march, which will include academic and student representation, a bagpiper and the Miami University marching band, among other participants.
During the 4 p.m. ceremony, Crawford will award the President's Medal to Ara Parseghian (Miami '49 and '54), former football player, head coach at the University of Notre Dame (1964-1974) and at Miami University (1951-1955), and former sports broadcaster.
Following the inauguration, the community is invited to a 5:30 p.m. picnic and reception on the Millett Hall lawn. Free food and beverages will be served.
Several of Miami's a cappella musical groups will perform during the picnic. Enjoy the sounds of the Mizfits, TrebleMakers, Soul2Soul, Best Buddies, Open Fifth and Just Duet.
Crawford began his tenure at Miami July 1. Since then he's been meeting with and listening to faculty, staff, students, alumni and community members.
A professor of physics, Crawford served as vice president and associate provost at the University of Notre Dame prior to coming to Miami. The Kent, Ohio, native joined Notre Dame's faculty in 2008. He previously served as the dean of engineering at Brown University, where he had been a professor of physics and engineering.
Crawford is also an entrepreneur, having applied his research background in optics, photonics, and soft matter materials to address areas related to human health, e.g., the analysis and dating of bruises, which are often key pieces of evidence in child abuse cases. His work includes more than 400 research and education publications, review articles, and book chapters, and 21 U.S. patents and patent applications.
President Crawford is an advocate of inclusive excellence, openness and shared governance.