Miami Libraries expand digital access and bring valued collections under one roof.
Sep 15, 2016
Miami Libraries spaces evolve to meet campus needs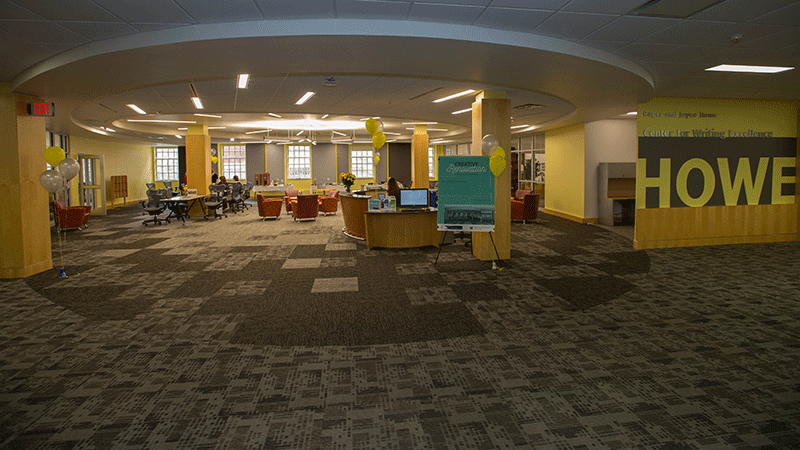 A major renovation reconfigured and consolidated spaces for the Roger and Joyce Howe Center for Writing Excellence.
By Vince Frieden, strategic communications coordinator, University Libraries
As the digital age and evolving student needs redefine the role of a library on a college campus, the Miami University Libraries continue to adapt by maximizing the impact of their spaces and resources.
"The needs of our students and our role in supporting the university's mission require flexibility and responsiveness," said Jerome Conley, dean and university librarian. "We are committed to making changes to our facilities and collections that ensure students have access to the knowledge, technology and spaces that are critical to their academic and future success."
Since last spring, three significant facility projects have presented the Miami Libraries with new opportunities to strengthen campus partnerships, expand digital access to collections, and bring its most valued collections under a single roof.
Loss of Hughes Hall space leads to expanded online access
With renovations underway at Hughes Hall to support the first phase of Pearson Hall renovations, the Miami Libraries have vacated the former Brill Science Library.
Brill Science Library was replaced by Laws Hall's B.E.S.T. (Business, Engineering, Science and Technology) Library in 2011, but it had continued serving as a storage space for microfilm, microfiche and other limited-use periodicals and records.
While the significant loss of space diminishes the Miami Libraries' capacity to house physical resources, it has created new opportunities to replace and enhance access to these resources through digital services.
Some of these new digital resources, accessible by logging in with a Miami unique ID, include:
These and other recently purchased databases, including the expanded Web of Science database and Nature Publishing Group database, have the added benefit of being accessible through the Miami Libraries online databases to students on campus, on break or studying abroad—all in a familiar online environment.

Hughes Hall renovations began the process of finding ways to enhance access to these resources through digital services.
First-floor renovations enhance King Library partnerships and technologies
Ongoing updates continue to reshape King Library's first floor, with a focus on supporting key campus partnerships and offering new technologies.
Last spring, a major renovation reconfigured and consolidated spaces for the Roger and Joyce Howe Center for Writing Excellence, bringing together student and faculty resources in one location. The eye-catching, elliptical design creates a destination feel that is important to drawing students to the center's services.
This upgrade built off the 2014 renovation that added the Office of Research for Undergraduates (ORU) and Advanced Inquiry Space (AIS) — a versatile space for collaboration, innovation and instruction. The Howe Writing Center and ORU partnerships, both natural alignments with the Miami Libraries mission, establish King Library as a one-stop venue supporting student research and writing.
Technology upgrades are next in line for King Library's first floor. The recently completed One-Button Studio will be unveiled more fully in the coming weeks. An eSports Arena is in the plans for spring 2017, as one of the first of its type at a university library.
Archives and special collections now under one roof
For the first time, Miami's Walter Havighurst Special Collections and archival collections, including the University Archives, Western College Memorial Archives and Oxford College Archives, are under one roof in a single Miami Heritage Collections.
The recent deconstruction of Withrow Court, the previous home of University Archives, set in motion a significant renovation and move to King Library's third floor. The result is a single, centralized venue preserving the university's history and its rare special collections treasures.
The move, completed during the summer, repurposed the north end of King Library's third floor, formerly office and storage space. In addition to an overall increase in archival space, the renovation included the addition of a cold storage facility for preserving film and other materials, an overall climate control upgrade and enhanced security systems.
"It is a wonderful achievement to bring our Miami Heritage Collections together in an updated space that is ideal for preserving and sharing some of our most treasured items," Conley said. "We appreciate the patience of our patrons during the move, the tremendous effort of the physical facilities staff during the renovation and relocation, and the support and investment of the university's administration in making this a reality."
The Heritage Collections, located in 321 King Library, are open from 8 a.m.–5 p.m. Monday-Friday. Many of the collections are also accessible online via the university's digital collections.
The Miami University Libraries encompass four campus locations (Amos Music Library, B.E.S.T. Library, King Library and Wertz Art & Architecture Library), regional locations at Miami Hamilton and Miami Middletown, and the Southwest Ohio Regional Depository. The Libraries are active catalysts in the university's mission of "supporting a vibrant learning and discovery environment that produces extraordinary student and scholarly outcomes."