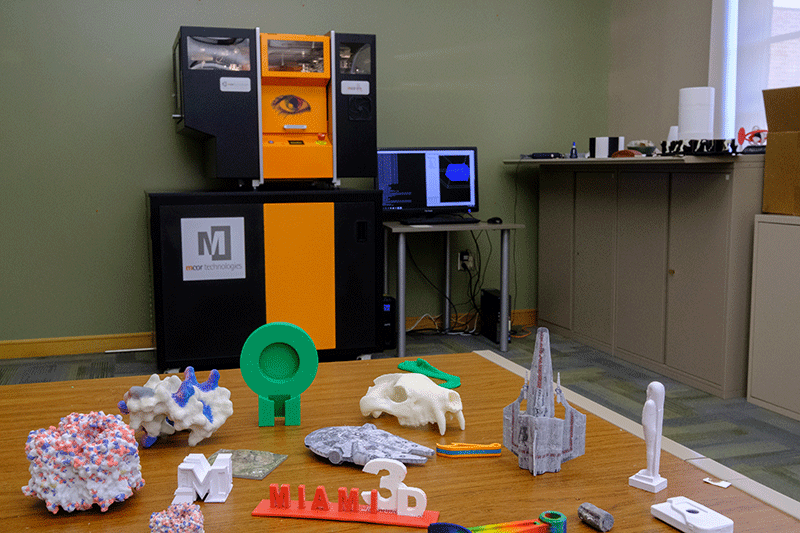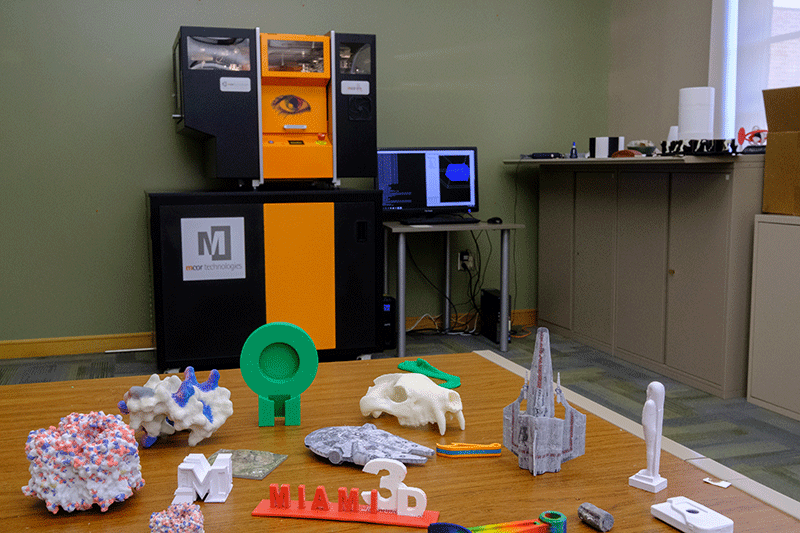 New 3-D printers are part of the Miami Libraries' technology upgrades.
Oct 06, 2016
Miami Libraries announce new One-Button Studio and other tech upgrades
By Vince Frieden, Miami University Libraries
Creating studio-quality video is now as easy as inserting a thumb drive and hitting a button at King Library's new One-Button Studio.
Earlier this semester, the Miami University Libraries launched the One-Button Studio, an emerging concept in higher education that originated at Penn State University. The effort, a partnership between the Miami Libraries and eLearning Miami, offers benefits to students, faculty and staff in a digital age where video resources are increasingly in demand.
"This is great for students who want to record themselves practicing for a presentation or interview without having to find equipment or a place to film," said Beth Rubin, assistant provost for eLearning. "It also supports faculty who want to record brief lectures for online use. It's so simple and provides much better quality than a laptop or phone."
In addition to a high-definition camera, studio lighting and a boom microphone, One-Button Studio includes a presentation computer, a projector and a dry-erase board to support lectures and presentations. A One-Button go-bag is available at the King Library circulation desk, which includes remotes for the presentation computer and camera, dry-erase markers and a flash drive.
Upon completion, an MP4 video file automatically loads onto the user's thumb drive. Video editing software and technical expertise are available in the adjacent Center for Information Management (CIM) in 112 King.
"The Miami Libraries have a tradition of being first on campus when it comes to technology, and we recognized the One-Button Studio as another opportunity to collaborate with a campus partner and offer an important resource to our campus community," said Jerome Conley, dean and university librarian. "We are excited to see it in use and welcome feedback on how we can continue to enhance its features to better meet the needs of our students, faculty and staff."
One-Button Studio can be reserved online through the Miami Libraries room reservation system. Faculty interested in incorporating video lectures into their courses are encouraged to first connect with eLearning Miami for best practices.
Libraries announce additional tech upgrades
With the 2016-2017 academic year, the Miami Libraries are also excited to announce three other technology initiatives that are keeping the libraries on the cutting edge.
Through a state-sponsored RAPIDS grant, awarded to Miami and other regional universities, B.E.S.T. Library welcomes two state-of-the-art 3-D printers. The Solidscape Pro Wax Printer is primarily used for wax casting of fine-detail machine parts and jewelry making. The Mcor IRIS Full Color Printer prints parts with properties similar to fiberboard, using biodegradable glue, ink jet ink, and office paper. Both printers will be accessible to students, faculty and staff on a cost-recovery basis through Miami Libraries 3D Printing Services.
As part of a new four-year replacement cycle, the Libraries recently purchased 160 new laptop and desktop computers and 42 new iPads. In addition to in-house computers and computer labs, the Miami Libraries offer a variety of technology devices for checkout.
The Libraries purchased five new Surface Pro 4 tablets through a technology fee award. Available at Wertz Art & Architecture Library (Alumni Hall), the Surface Pros feature digitization and pressure sensitivity capabilities that make them ideal as a drawing tablet.
The Miami Libraries are the first on campus to participate in Apple's new Device Enrollment Program (DEP), which streamlines setup by delivering devices that arrive already configured and provides enhanced security features.
The Miami Libraries' technology initiatives benefit from the Student Technology Fee as well as from private support. To learn more about these and other resources available through the Miami University Libraries, visit MiamiOH.edu/Libraries.