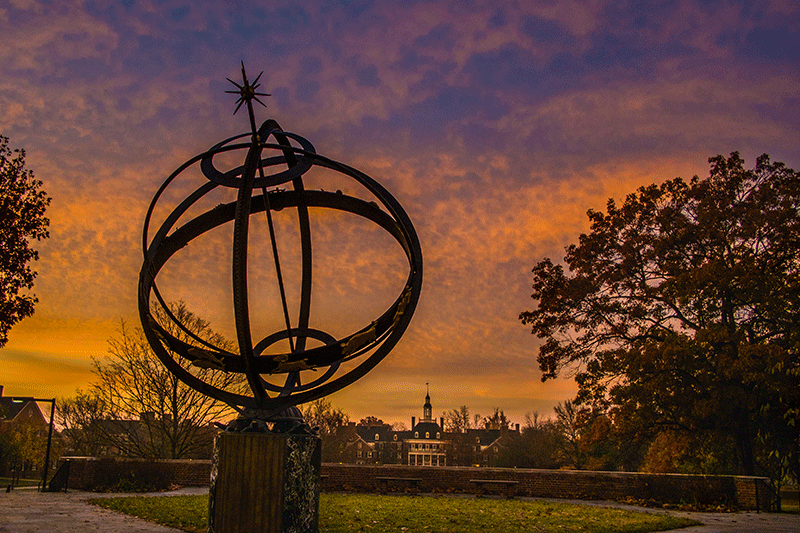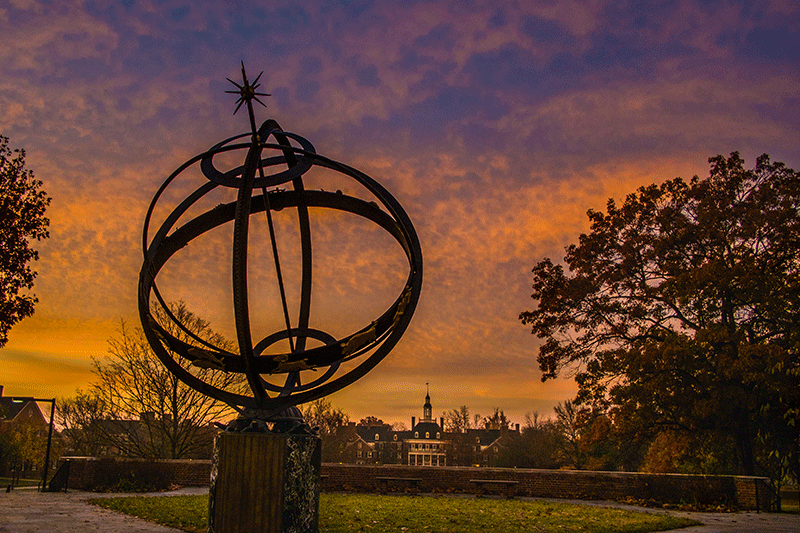 This photo showcasing Miami's campus beauty at sunset is an award winner.
Photo: Scott Kissell
Nov 03, 2016
Collaboration and creativity earn gold, silver and bronze communication awards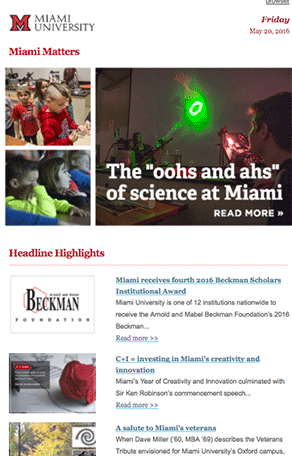 Miami Matters, the weekly Friday e-newsletter, wins gold.
Miami University finds gold once again as university advancement, university communications and marketing and career services win nine awards, three gold, in the 2016 Pride of CASE V district awards.
In the last two years of the District V competition, Miami won a total of 18 awards from the Council for Advancement and Support of Education, whose members include 400 universities from Illinois, Indiana, Michigan, Minnesota, Ohio and Wisconsin.
"It's an incredible distinction that, for the second year in a row, Miami University has been recognized with nine awards," said Tom Herbert, vice president of university advancement. "These honors are the direct result of hard work and collaborative efforts to build on and enhance the university's engagement and creativity."
Deedie Dowdle, associate vice president of university communications and marketing, points to one example that illustrates this collaborative work: Miami Matters, this year's gold medal winner in electronic newsletters.
"Our photographers, videographers, news writers, news editors and web editors, along with writers from all campuses, all contribute to Miami Matters under the direction of the news team," she said.
University Advancement
GOLD – Best Uses of Social Media - #MoveInMiami
GOLD – Best Program in Annual Giving –#MoveInMiami
On Aug. 20, 2015, as Miami University welcomed a record-breaking class of 2019 to campus, alumni and friends rallied together and welcomed the class with a #MoveInMiami day-of-giving effort that set new standards across the board.
In all, the campaign unlocked $200,000 in matching gift challenges and raised $672,757 for more than 300 designations campuswide. Driven largely through Facebook, Twitter, Instagram and other online applications, #MoveInMiami recorded 13.2 million social media impressions.
Staff involved: Kelly Bennett, Emily Berry, Brad Bundy, Suzanne Clark, Vince Frieden, Tom Herbert, Casey Peugh, Ali Place, Nicki Russell, Kim Tavares, Sarah Templeton Wilson, Kevin Wilson
SILVER- Excellence in Design, Posters (Individual) - Miami Traditions poster
An alumni-focused poster that captures a number of traditions, memories and key messages about Miami University, providing an opportunity for nostalgia and putting one's pride in the alma mater on display.
Staff involved: Kim Tavares, Ali Place, Emily Stewart, Vince Frieden, Nicki Russell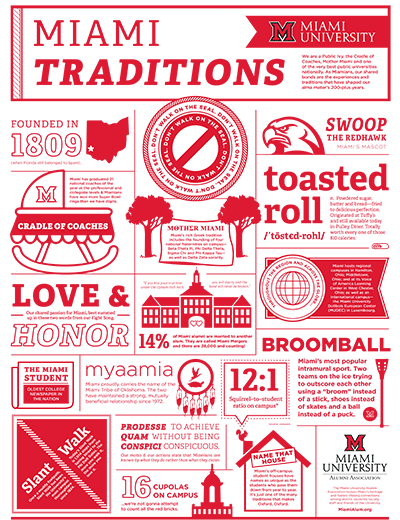 This award-winning poster captures Miami's be-loved traditions.
SILVER - Excellence in Design, Specialty Pieces – Miami University 2016 Miami Merger Valentine
Each year since 1973, the Miami University Alumni Association produces a special Valentine's Day greeting sent to "Miami Mergers." One of the university's favorite traditions, "Miami Mergers" are Miami alumni who marry fellow Miami alumni. Roughly 14 percent of Miami's alumni population are "merged."
Staff involved: Kim Tavares, Ali Place, Vince Frieden, Nicki Russell
SILVER - Best Program in Donor Recognition/Stewardship - #MUThankU
The #MUThankU program is designed to recognize current donors (alumni, friends, faculty and staff), while simultaneously educating students and future donors, faculty, and staff about the increasing importance of private support to public universities.
Staff involved: Tom Herbert, Brad Bundy, Ray Mock, Emily Berry, Kim Tavares, Vince Frieden, Ali Place, Caroline McClellan, Joy Usner, Kevin Wilson, Andy Sander, Sarah Templeton Wilson, Miami University photography staff student volunteers
University Communications and Marketing
GOLD - Best Electronic Newsletter - Miami Matters
Miami University news and communications produces Miami Matters, an internal e-newsletter every Friday throughout the year. Total number of subscribers is 6,000. The newsletter is a photo- and content-rich magazinelike format showcasing the Miami Experience. The e-magazine highlights features of student, staff and faculty success and innovation, employee news and special columns featuring news from the academic divisions, as well as departments such as human resources and information technology services.
Staff involved: Carole Johnson, editor; Kristal Humphrey, assistant editor; Todd Pashak, design editor, Alyse Capaccio, designer. Writers: Claire Wagner (director of university news and communications), Margo Kissell, Susan Meikle, Ritter Hoy.
Column contributors: Randy Hollowell and Cathy McVey (Tech Savvy), IT services; Sherry Schilling, Becky Stephenson and Cassie Wilson (Working@ and Wellness@Work), human resources and benefits; Jeanne Harmeyer and Sherry Krazl, (Arts@Miami), College of Creative Arts; Katie Pirigyi and Lisa Raatz (CPAC@Miami).

Other contributors: Jason Barone, College of Arts and Science; Vince Frieden, Miami Libraries; Clark Kelly, College of Engineering and Computing; Addie Rosenthal, Farmer School of Business; Erin Von Bergen, College of Education, Health and Society; Brennan Burks, Ruth Orth and Perry Richardson, Miami Regionals.
The "College 101" series focuses on topics confusing to prospective students.
BRONZE - Best Video/DVD (student recruitment) - College 101 video series
The "College 101" series of short videos references common questions of prospective college students. The videos were included in emails as part of the search process. Prospective students often face terms or situations that they are uncomfortable with - such as liberal arts, public ivy, or meeting with your high school college counselor - so these videos aim to tell students "you're not alone" and break down some of the terms in a fun, engaging way.
Staff involved: Tracy Hughes, De'Niel Phipps, Omari Matlock, Kelly Bennett, Deedie Dowdle, Sabrina Stanifer
BRONZE – Excellence in Photography - "Campus Scenes" series
The purpose of these photos is to represent campus beauty highlighting landmarks, student life and Miami's picturesque campus.
Staff involved: Scott Kissell, photographer
The Pride of CASE V Awards showcase best practices in alumni relations, fundraising, advancement services, special events and outstanding communications. Experts from all disciplines outside of District V judge the entries.
Career Services
SILVER – Best Uses of Social Media - Using Snapchat for Career Exploration
Career services is leading in innovation using social media, specifically Snapchat, to expose students to different career paths. Through "takeovers," students can live a "day in the life" of an employee at various employers that recruit Miami students. Students are exposed to career paths they may not have considered otherwise. During summer 2016, students from all five academic divisions participated in the Career Services' Snapchat Takeover Series in 12 cities. The series, which had more than 9,000 views, can be seen on the 
Miami Student Takeover Playlist.  During fall semester 2016, there are 17 employers (so far) scheduled for a Snapchat takeover from companies located across the country.
Staff members involved: Kelly Thompson and student intern James Donnelly.