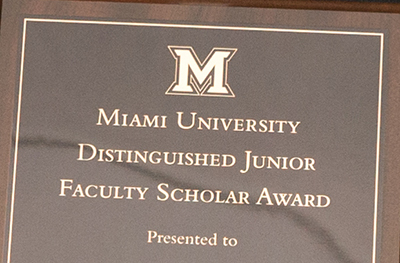 Apr 13, 2017
Junior Faculty Scholar Award recipients for 2017: Khan, Meyers and Smith
By Susan Meikle and Margo Kissell, university news and communications
Miami University Junior Faculty Scholar Awards have been presented to Mahmud Khan, Brian Meyers and April Smith.
Junior Faculty Scholar Awards honor faculty who have demonstrated great potential in research or artistry and have achieved significant standing in their fields. Candidates for the Junior Faculty Scholar Award must have received their highest degree no more than eight years before the time of nomination.
Mahmud Khan, assistant professor of physics, received the Junior Faculty Scholar Award for a faculty member in the applied or natural sciences.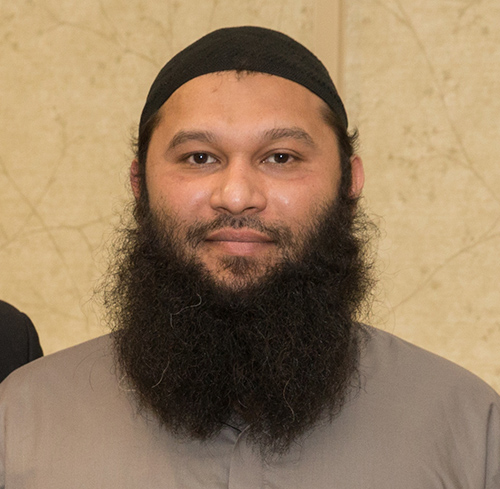 Khan is an experimental condensed matter physicist. His research focuses on the synthesis and characterization of advanced magnetic materials known as Huesler Alloys. These materials hold a lot of promise to have an impact on technology such as permanent magnets and magnetoresistance devices in the computer storage industries, according to a nominator.
To put Khan's work into context, one nominator described that it is typical for experimental physicists to build a lab from scratch — rarely are there "turn-key" instruments involved that can be purchased off the shelf. Instead, researchers set up customized experimental apparatus and design electronic circuits and computer interfaces.
It is not unusual for experimental physicists to take one or two years to set up a lab, and then another year to see these efforts come to fruition in the form of published articles, according to the nominator.
"Having 13 peer-reviewed publications by his fourth year is a truly amazing feat and speaks for the extraordinary industriousness and focus of Dr. Khan," the nominator said.
Notably, all physics research labs had nearly a semester of downtime in fall semester 2014, after the department moved from Culler Hall to Kreger Hall that summer. "Because of this 'distraction,' Khan's achievements were really accomplished in three years, a truly spectacular undertaking worthy of an award," the nominator said.
Khan's research publications resulted from collaborations with research groups in other institutions and from research with his students. Several recent papers had Khan and his undergraduate researchers as the only authors, "a great opportunity for our undergraduate students to pursue student-as-scholar learning and to become authors of papers published in prestigious physics journals," a nominator said.
He is a "unique and valuable addition to our department since his extensive experimental capabilities opened collaboration opportunities with well-established labs across the U.S. and around the world," a nominator said.
Khan is also a reviewer for several high-impact journals in his field.
He teaches courses across the entire physics curriculum. Last summer he taught in Miami's Summer Scholars program, an immersive, two-week exploration of the "Physics of Magnetism," to help with recruitment of high-ability students and with a focus on increased diversity.
Khan joined Miami in 2013. He received his doctorate from Southern Illinois University in 2007, and held postdoctoral research fellowships at the Ames National Laboratory and the University of Alberta, Edmonton, Canada.
Brian Meyers, assistant professor of music, received the Junior Faculty Scholar Award for a faculty member in the humanities or creative arts.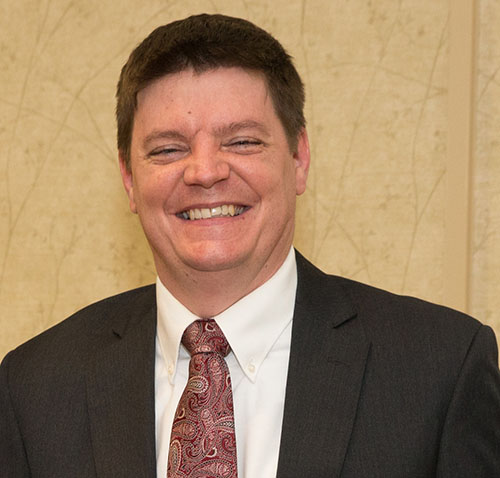 One of the hallmarks of Meyers' professional profile is his versatility as a researcher, a nominator wrote.
"He has published or presented qualitative and quantitative research that includes historical, narrative, philosophical and other paradigms on diverse topics in music education such as feminism, pedagogy, attitudes and video gaming."
Meyers recently completed an in-depth chapter for the book, Women's Bands in America, titled "Helen May Butler and her Ladies' Military Band: Being Professional During the Golden Age of Bands." He gave a presentation on that topic at the Music Research and Teacher Education conference of the National Association for Music Education last year.
Another 2016 presentation, "Video Games and Creation in the Ensemble Classroom," highlights the ability to connect "interesting and relevant musical genres in unique pedagogical ways," a nominator wrote. "This is the topic of a future co-authored and co-edited book on video games in music education that Dr. Meyers is working on, which will be a highly significant contribution to our profession."
He has made five peer reviewed research presentations at international or national professional conferences, 11 research poster presentations and four other peer reviewed or invited presentations at national or state conferences.
Meyers began his career as a band director at the elementary, middle and high school levels in his native Ohio and Arizona, which a nominator said gives him "valuable experience that he brings into the university classrooms, where he is strongly influencing the next generation of music educators."
He already has transformed the courses he teaches and made important contributions to the music education program, a nominator said.
"His scholarship and research in music education contribute greatly to the profession at large; he is regarded nationally as one of the 'rising stars" of the past five years."
At Miami, he teaches first-year through graduate level students.
His professional service has already brought him recognition as the instrumental adviser for the national board of the Organization of American Kodaly Educators since 2014 and as its newly appointed archivist last year. Most recently, he was appointed to the editorial board of Contributors to Music Education.
He was the assistant director of the All-Ohio State Fair Band last summer.
Meyers joined Miami in 2015. He received his doctor of musical arts from Arizona State University in 2011 and was assistant professor of music and concert band director at Adelphi University from 2011-2015.
April Smith, assistant professor of psychology, received the Junior Faculty Scholar Award for a faculty member in business, education or the social sciences.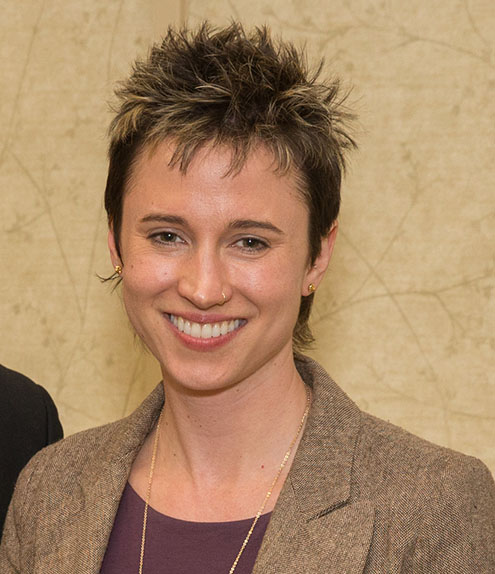 Smith is the director of the Research on Eating Disorders and Suicide (REDS) Laboratory. Her research program focuses on biological and psychological risk factors that contribute to disordered eating and suicidal behavior. "Simply put, Smith's innovative work is geared at saving lives," a nominator said.
Eating disorders, especially anorexia, are the most lethal psychological disorders. Smith's research provides answers to the "question of why this is," a nominator said. One unique area Smith focuses on is called "acquired capability for suicide."
Some of her other work includes designing interventions for disordered eating. She creates brief, computer-based interventions which are designed to be easily accessible and affordable for all individuals.
One of the most impressive pieces of her work is the incorporation of psychophysiological measures like heart rate, respiration, skin conductance (i.e., how much we sweat) and eye tracking, a nominator said.
Smith has been the biggest driving force in helping others in the psychology department incorporate these measures into their own work, keeping at the forefront of the field, according to a nominator. She is the founder and director of the Peripheral & Affective Research Center (PARC), which houses most of the department's psychophysiological equipment.
While at Miami she has published 36 articles in top clinical journals — 19 of them with Miami students and faculty as co-authors.
Students benefit immensely from working with Smith, her nominators said. She fosters "an environment of success" for three clinical psychology graduate students, who have three, 10 and 11 publications, and one has received an NSF fellowship.
She has mentored more than 25 undergraduate students — four have published with Smith and nine have presented at national conferences.
A "phenomenal collaborator," Smith has published with two other faculty in the department and is working on projects with several other faculty. She has collaborated with over 40 other scholars, said a nominator.
She has also developed collaborations with colleagues nationally, which allows access to interesting patient populations not available in Oxford and provides depth in expertise for developing cutting-edge research studies, said another nominator.
Smith was selected to join the honorary Eating Disorders Research Society and the Military Suicide Research Consortium.
She was named a 2016 Rising Star by the Association for Psychological Science. 
Smith joined Miami in 2012. She received her doctorate from Florida State University and completed her clinical residency at the University of California, San Diego, that same year.