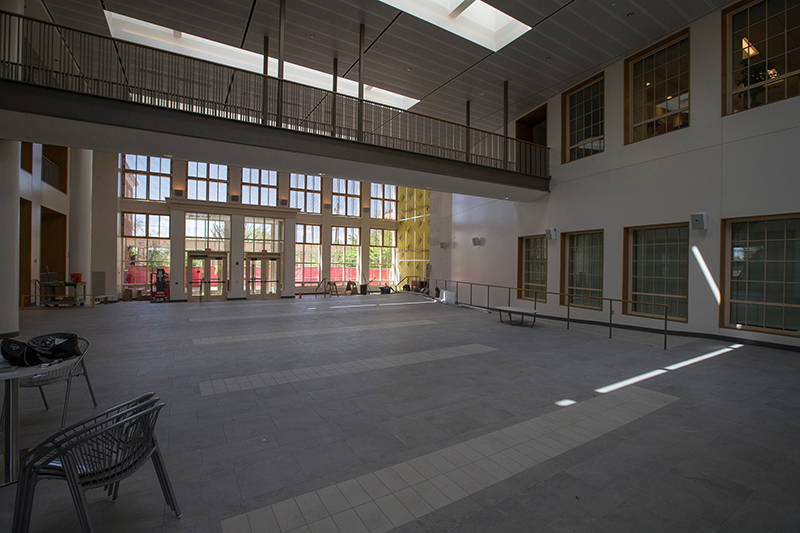 May 11, 2017
East wing of Armstrong Student Center opens soon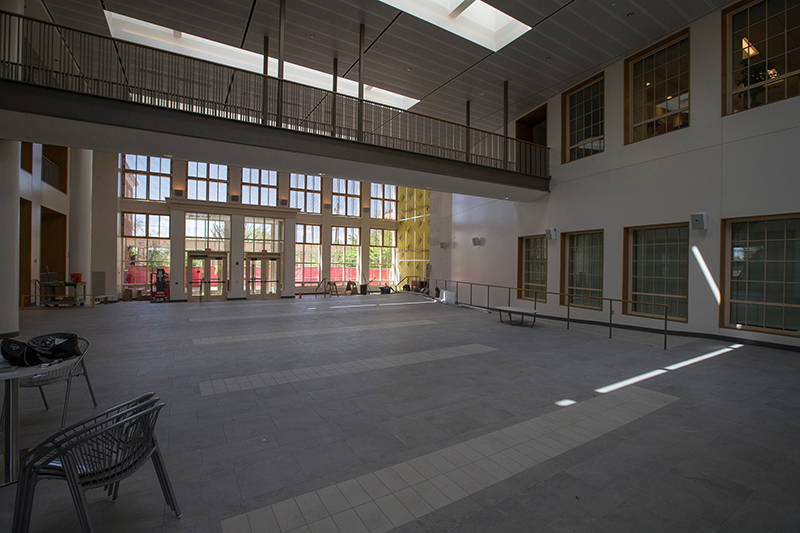 East wing walkway
The east wing of Armstrong Student Center nears completion with the Center for Career Exploration and Success moving into the lower level soon after commencement.
The temporary wall separating the new section from the current center is expected to be removed May 15-17, exposing an expansive, airy walkway. (For safety reasons, access will remain limited until May 24.) An open house for the Miami community is scheduled 1-3 p.m. Thursday, May 25.
Opening by May 31 on the first floor are the Café Lux coffee shop and Brick & Ivy supplies and technology store. In addition to meeting current students' needs, this store will be an introduction to Miami retail for parents and incoming students when visiting every summer for Orientation.
"We are also excited to use this space as a flexible retail area to showcase the evolving trends students are interested in. Customer feedback is important to us, and we look forward to listening to the students and community to better serve their needs," said Sarah Thacker, director of Miami University Bookstores.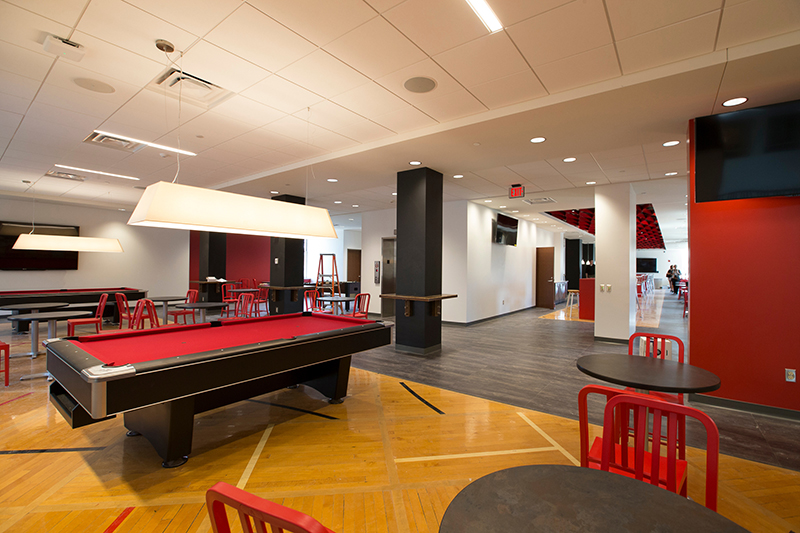 The Red Zone sports-themed restaurant
Remaining meeting rooms and second floor areas – with space for student organization meetings and event hosting – will open for the fall semester.
Among features of the newly renovated space (formerly Culler Hall) are:
The Red Zone, a sports-themed no-alcohol restaurant featuring foosball, air hockey, pool tables, 18 TV screens with six receivers and a small stage for karaoke, coffee houses or other small performances. The walls will display years of photos of club sports events.
The Joslin Student Senate Chamber, a large, wood-finished tiered auditorium with two LED projectors and electronic buttons at its 88 seats to allow senators to notify the chair they want to speak, or to vote.
Seven large meeting rooms – each holding 40-80 people. The reservation policy remains the same: Existing students can reserve first, then in two weeks university entities can reserve space, and then two weeks later reservations open for community members to reserve.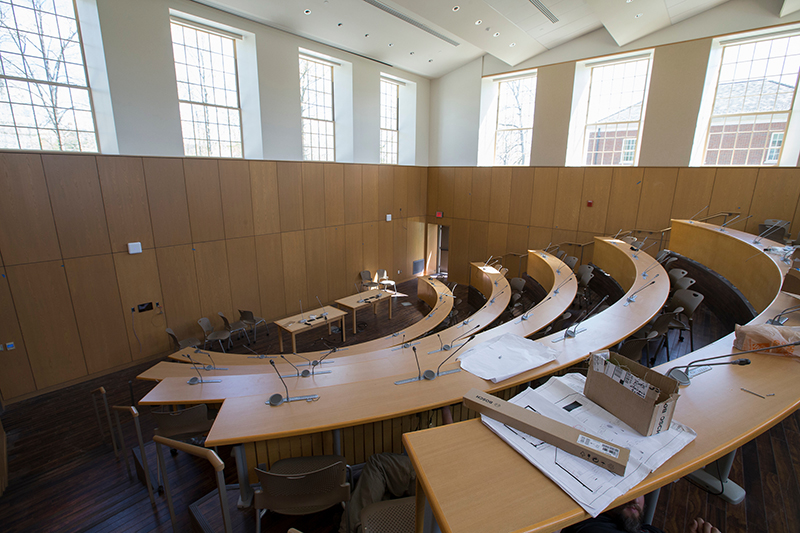 The Joslin Student Senate Chamber
"Focus groups and other research showed us students were reserving large classrooms at great rates, 1,500 per year, for their group meetings," said Katie Wilson, director of the Armstrong Student Center. "These rooms will be well used by our 600+ student organizations."
Already, 829 events, mostly regular student group meetings, are reserved in east wing rooms through May 2018.
Miami's women's center will move from McGuffey during the summer into the central section of the center, where Armstrong administrative offices have been. Those offices will move to the lower level of the east wing.
The entire building will be open 24 hours per day.
A ribbon-cutting is planned for Sept. 15.