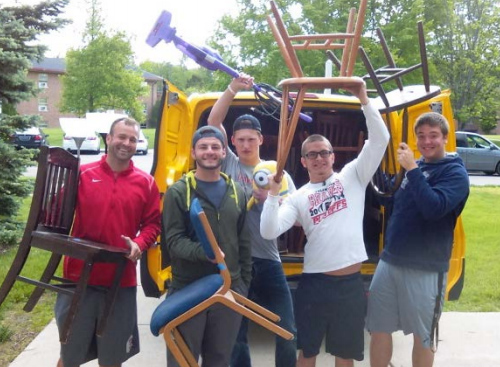 May 04, 2017
Moving out? Donate to ShareFest May 10-16: Help the environment and those in need
Edited by Sarah Mattina, university news and communications intern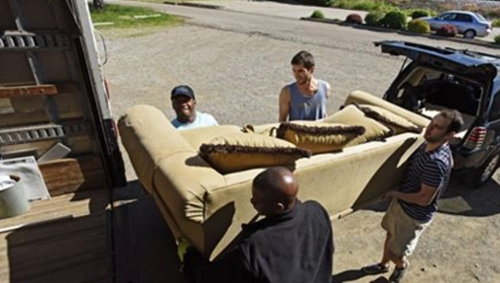 Volunteers help load furniture during Sharefest 2016. Volunteers came from the Oxford community and all parts of the region.  
During Miami University's Move-Out Week (May 10-16), students and community members can help the environment and people in need by donating good quality furniture, clothing, appliances, food and housewares to ShareFest 2017.
ShareFest is an annual donation drive that prevents usable items from going to the landfill by directing them to social service agencies and nonprofit organizations from around the Oxford area.
How to Donate:
ShareFest volunteers will pick up your items   — Just fill out a form online: Schedule a Donation Pickup. 
Anyone within the 45056 zip code may schedule a donation pickup.
Drop off your donation at 101 West Chestnut St., Chestnut Fields parking lot (in the rear), between 9 a.m. and 6 p.m. Wednesday, May 10 - Tuesday, May 16. 
On-campus students can use the collection boxes located in each residence hall.
Recipient groups for 2017:
When ShareFest started in 2005, donations served 65 area families. Now, hundreds of families and many social service agencies benefit from ShareFest donations — items that might otherwise have ended up in the landfill. The 2017 recipient groups are:
ShareFest 2016 by the numbers:
77 tons of merchandise was collected, an increase of almost 31 percent from 2015.
269 off-campus donation pickups (of useable items).
More than 3,900 pounds of food was donated to the Oxford Community Choice Pantry.
Volunteer opportunities are available on the ShareFest website. Some groups may sell donations they receive, but all proceeds must benefit the needs of their clients.
ShareFest is a collaborative effort sponsored by the city of Oxford and Miami University's Associated Student Government, student affairs and office of residence life, as well as nonprofit organizations, social service agencies, local businesses and religious organizations.