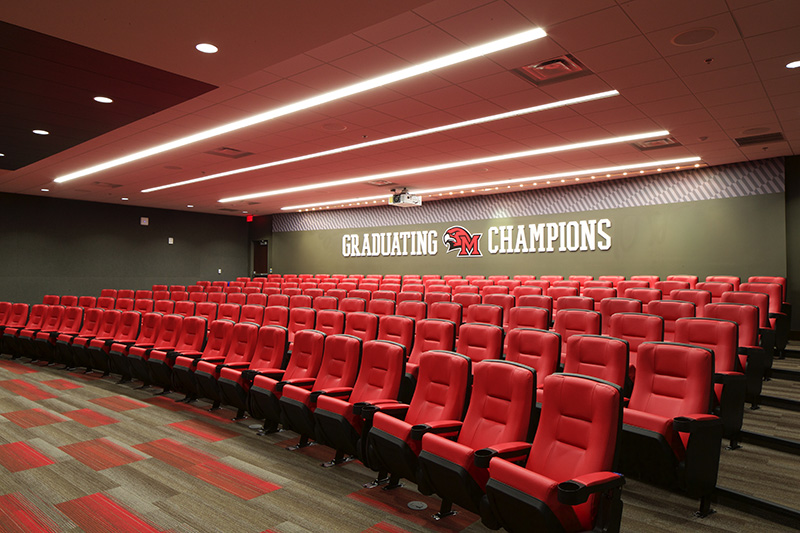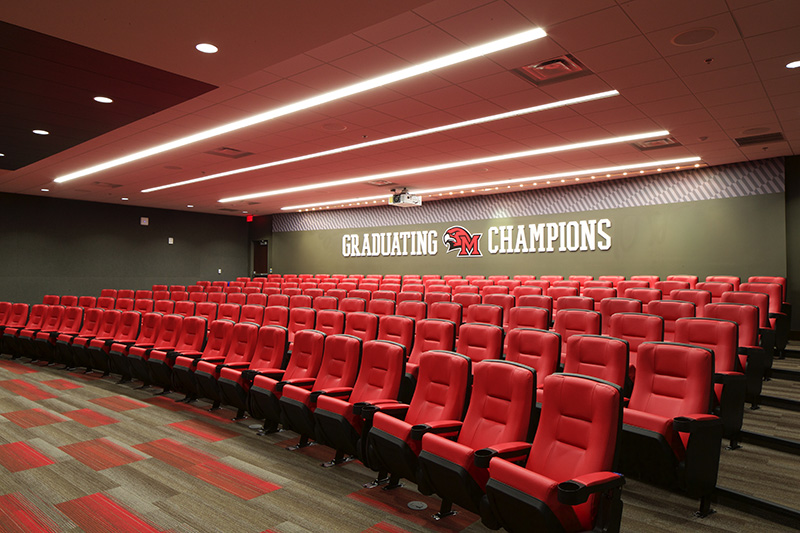 The Andy and Mara Gloor Auditorium in Miami's Athletic Performance Center.
Jul 17, 2017
Andy and Mara Gloor (Miami '93) gift names auditorium in Athletic Performance Center
Building opened in February and is home for Miami football
By Josh Chapin, assistant director editorial services, university advancement
A major gift from Andy and Mara Gloor (Miami '93) has named the Andy and Mara Gloor Auditorium in Miami University's Athletic Performance Center, a multipurpose facility that has become a centerpiece for Miami football.
The auditorium is part of the state-of-the-art building adjacent to Yager Stadium and the David and Anita Dauch Indoor Sports Center.
Located on the Athletic Performance Center's upper level, Gloor Auditorium features nearly 150 seats and is a crucial part of the resources used to give Miami football a competitive advantage on game day with preparation and video evaluation tools.
The Gloors studied political science at Miami and were eager to reconnect with their alma mater.
"Miami provided an excellent education," Andy said. "Equally as important, it was where we both met many of our best friends to this day, friends who continue to play an important role in our lives and the lives of our children."
Andy is managing principal and partner for Sterling Bay Companies, a Chicago-based real estate developer. Mara is one of four Miami alumnae who founded Slantwalk Wine, named after the school's famous pathway.
"The Gloor family has a strong connection to Miami," said David Sayler, Miami's director of athletics. "Their generosity exemplifies the excitement surrounding the Athletic Performance Center. This adds to the enthusiasm for a facility that has become a showcase for our student-athletes, both present and future."
Miami unveiled the center in February, bringing together year-round training and preparation resources into one convenient home for Miami football. Featuring a dedicated weight room with football, softball, women's tennis and field hockey as the primary tenants, the center reduces demand on existing weight room facilities, and its world-class medical and athletic training facilities support all Miami student-athletes.
The Athletic Performance Center is part of the Graduating Champions Campaign, a capital campaign focused on improving Miami's athletic facilities and increasing private support for scholarships. The campaign also has included upgrades to McKie Field at Hayden Park, Millett Hall and Goggin Ice Center, as well as the opening of the 91,000-square-foot David and Anita Dauch Indoor Sports Center. To learn how to be a part of the campaign, visit MiamiOH.edu/GraduatingChampions.