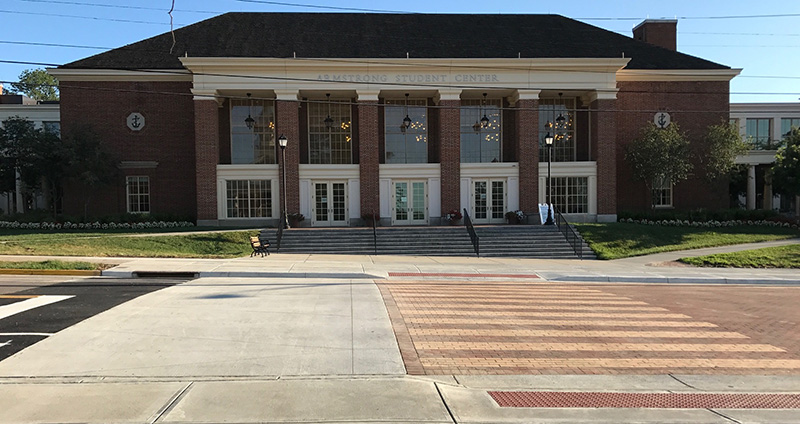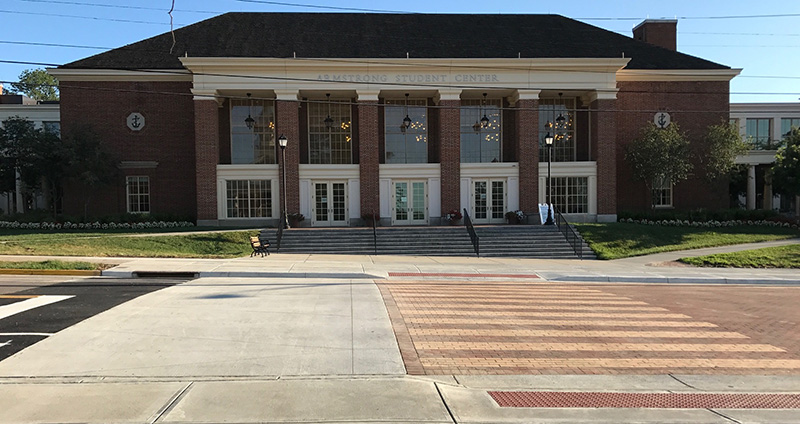 Spring Street reopens Aug. 10 with upgraded safety features.
Photo: Margo Kissell
Aug 08, 2017
Spring Street at Maple Street to reopen
The raised table at the intersection of Spring and Maple streets has been completed and east-west traffic will resume Thursday morning, Aug. 10.
Drivers and pedestrians will notice a slightly sloped entry to the raised intersection with bricks marking the striped walkways and center of the intersection. By slowing vehicles, the raised intersection, or "raised table" will improve safety of pedestrian crossings.
That area between Armstrong Student Center and Shriver Center already has more than 10,000 crossings per day, a number that is expected to rise with activity at the new east wing of Armstrong and the Mail & Package Center at Shriver.
Also new to the intersection will be stop signs for eastbound and westbound traffic.
"We appreciate drivers and pedestrians taking note of the different traffic flow at that intersection," said Cody Powell, associate vice president for facilities planning and operations. "Through a traffic survey, Miami learned of several areas that would benefit from enhanced, safer passage through campus. Changes at Maple and Spring are among numerous improvements we are making this summer to meet those goals."
Maple Street from Center Drive to Spring Street will remain closed until Saturday, Aug. 19, for
several major projects
.