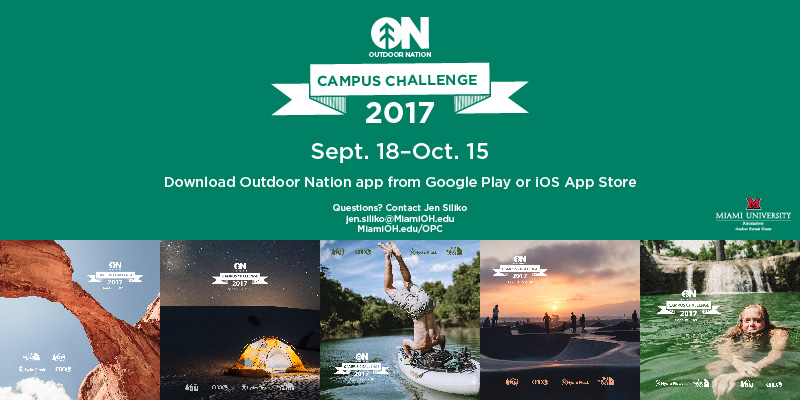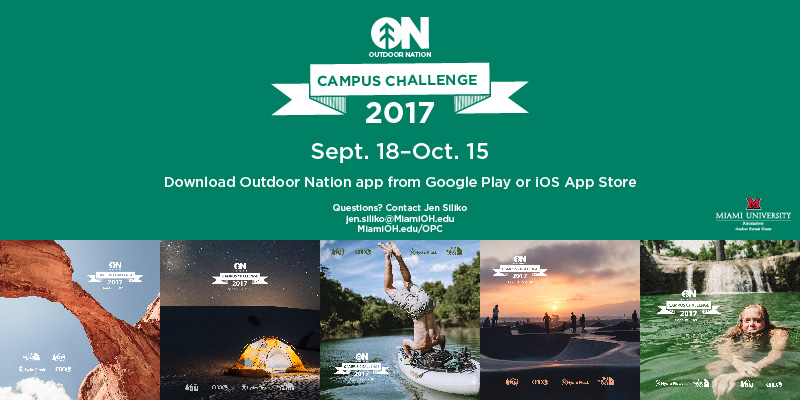 Enjoy the outdoors and be active.
Sep 25, 2017
Miami competes in Outdoor Nation Campus Challenge
Miami University is competing against more than 90 colleges and universities nationwide in the Outdoor Nation Campus Challenge, an initiative of the Outdoor Foundation, Sept. 18-Oct. 15.
Students, faculty, staff and the surrounding community will compete to see who can spend the most time outside and active. The one who does, wins the title of Outsider of the Year. The school that has the most individuals logging outside activity hours will win the title of National Outdoor Champion. Other prizes include free outdoor gear from REI and The North Face.
To participate, players download the Campus Challenge app, join Miami University's team, and log their outdoor activities during the challenge to score points. Miami's Outdoor Pursuit Center is serving as the host organization for Miami's efforts, and the team is led by Jen Siliko, director of the Outdoor Pursuit Center, with support from Dr. Renate Crawford, university ambassador and adjunct professor of physics.
The Outdoor Foundation is a not-for-profit organization dedicated to inspiring and growing future generations of outdoor enthusiasts. Through groundbreaking research, action-oriented outreach and education programs, the foundation works with partners to mobilize a major cultural shift that leads all Americans to the great outdoors.
In 2010, the foundation launched Outdoor Nation, a pioneering initiative that aims to empower young leaders to champion the outdoors on campuses and in communities across the United States.
For more information, contact Jen Siliko, director of the Outdoor Pursuit Center, at 529-7510 or ryanjm1@miamioh.edu.