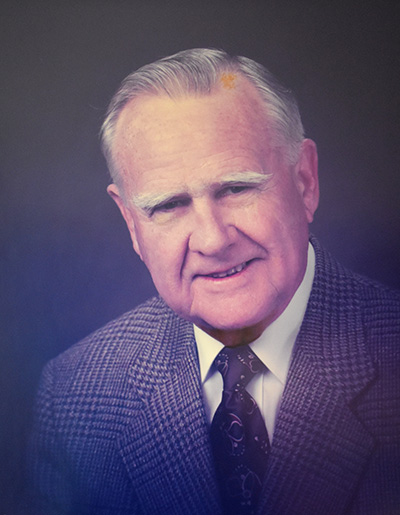 Oct 23, 2017
Miami University mourns the loss of Lloyd A. Goggin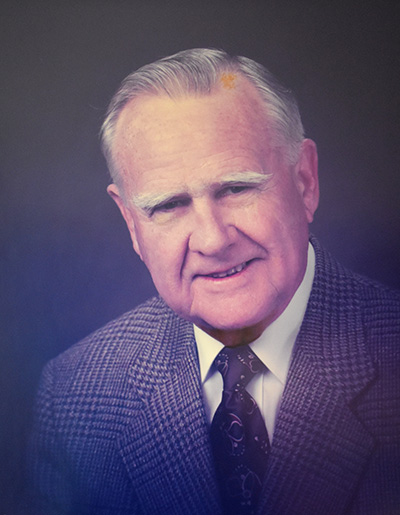 Lloyd A. Goggin
Lloyd A. Goggin (Miami MBA '63), former Miami University vice president for finance and business affairs, died Sunday, Oct. 15, in Oxford at the age of 98. He served as vice president from 1966-1982 and as treasurer from 1957-1965. 
During his long stewardship, Miami University more than tripled in student enrollment, in faculty and staff, and in numbers of buildings, while adding new campuses in Middletown, Hamilton, and the Grand Duchy of Luxembourg. Goggin's role in helping to plan and realize this unparalleled growth was both significant and exemplary.

Among his many accomplishments both at Miami and in the community of Oxford, was spearheading construction of the original Goggin Ice Arena, which opened in 1976. Miami recognized his contribution by naming the arena after him in 1984, two years after he retired. In 2006, at the completion of a new facility, then-President James Garland announced the ice center would continue to carry the Goggin name and legacy.

Known affectionately as the "Man from Maine," Goggin's love for ice skating and hockey began at age 4. He continued to support Miami hockey and the university well into his retirement years.
"Lloyd was an icon not only for Miami University but for Oxford as a whole," said Steve Cady, senior associate athletic director. "He was a man of great integrity who was always trying to make decisions that would improve the university and the Oxford community. His vision to build an ice arena on campus back in the 70's faced much criticism yet he knew that it would enhance opportunities not only for the Miami students but for chidren and adults alike within the community and improve the quality of life for everyone. His vision and dedication to Miami and Oxford was a tremendous asset for us all and we will miss him greatly."
He served on a number of boards and organizations. While at Miami, he was a longtime director of the Miami Conservancy District board, leading an environmental protection and control effort long before such concerns became popular. He also served as chairman of the Council of Business Affairs in the National Association of State Universities and Land-Grant Colleges and president of the Central Association of College and University Business Officers.
In 1975, he was honored as one of Oxford's Citizens of the Year, and he and his wife, June, were named Miami's Parents of the Year. One year later, Goggin received the Miami Alumni Association's A. K. Morris Award for his distinguished service to the university's alumni program.

Goggin also served his country, entering the US Army Air Corps in 1941 and serving for five years. He received the rank of captain after graduating from Officer's Candidate School at Duke University.

He is survived by his wife, June, of 74 years; his daughters Pam (Jim) Robinson of Oxford, Pat (Martin) Robles of Freeport, Maine, and Penny (John) Forker of Columbus; son Paul (Pat) Goggin of Columbus; and numerous grandchildren, nieces and nephews.

Contributions may be made payable to the Miami University Foundation for the Lloyd and June Goggin Hockey Scholarship, 725 East Chestnut Street, Oxford, Ohio 45056 or to the Oxford Community Foundation, 22 E. High Street, Oxford, Ohio 45056.

Plans for a memorial service are pending. The Ogle and Paul R. Young Funeral Home in Oxford is handling arrangements. More information and his obituary can be found at www.oglepaulyoungfuneralhome.com.