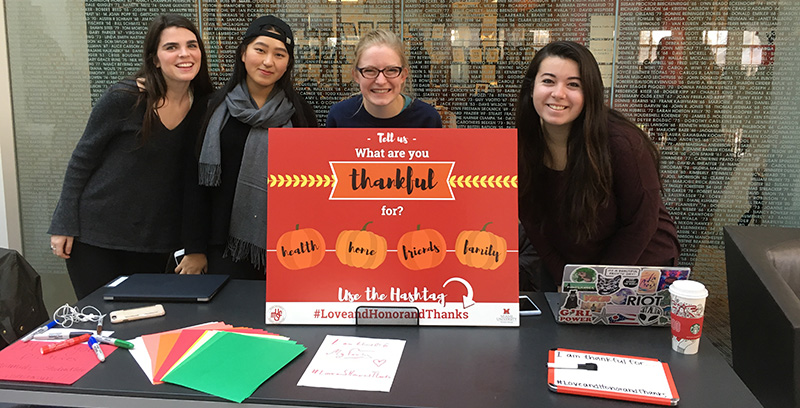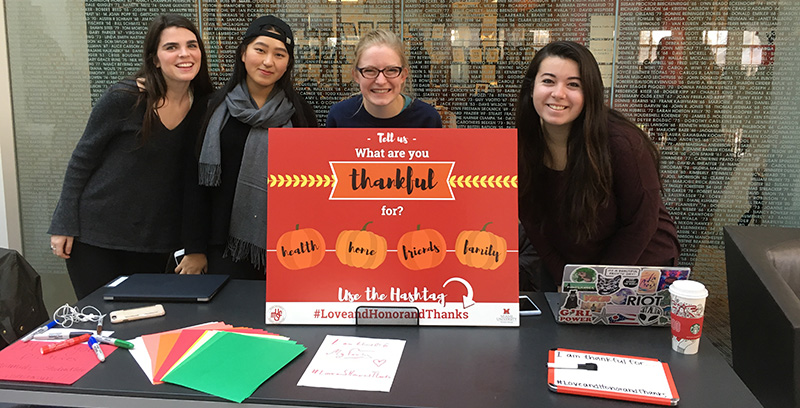 Students share what they are thankful for.
Photo: Alison Pierson
Nov 21, 2017
Miami community expresses gratitude during holiday season
While November is gratitude month, at Miami University, that sentiment is being shared through the holiday season.
"It's about the little things gratitude can set in motion," said Miami's Amanda Diekman, professor of psychology.
Hannah Stohry, a graduate student studying educational leadership, kick started the Gratitude Board, a simple, old-fashioned bulletin board located near room 128 in McGuffey Hall, with the goal to inspire people to be mindful of gratitude in their lives. The board will be displayed all month.
Using magic markers and construction paper, faculty, students and staff are encouraged to illustrate and/or write what they are grateful for and describe an instance when they experienced gratitude.
The Division of Student Affairs and Miami University Student Foundation (MUSF) also recently sponsored the #LoveandHonorandThanks table at Armstrong Student Center to provide an opportunity to say thanks via social media.
In coming weeks, students will be able to send postcards to people for whom they are grateful, courtesy of student activities and several student organizations.
Stohry received help from Suzanne Klatt, director of the Mindfulness and Contemplative Inquiry Center, and PR Visions, a student-run public relations firm.
"I think gratitude is the best way to acknowledge just how interconnected we are with those around us. It can somehow bring us closer together," said Stohry.
Diekman said a common practice for many people is to list 1-3 things they are grateful for each day.
"People have done different things, but what's important actually is not necessarily saying it to anyone but noting it yourself. Some people really like the accountability," she said. "It's what helps them keep the habit. It really is as simple as once a day stopping to think, beyond the hassles and beyond the struggles, about what you're genuinely grateful for."
By Allison Pierce and Jessi Zachman, university news and communications interns