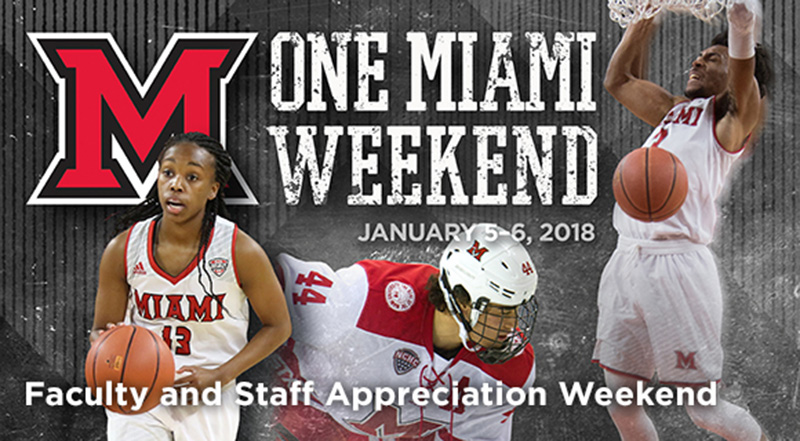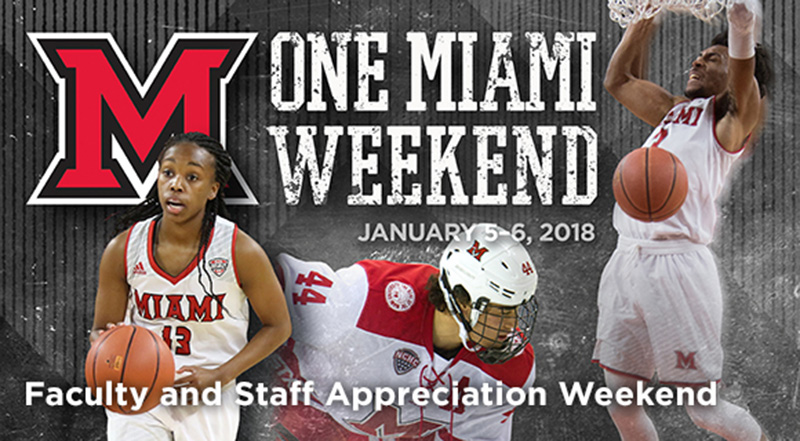 Dec 14, 2017
You're invited! One Miami Weekend: Free athletic tickets for employees and families
Miami University President Greg and Dr. Renate Crawford want to say "thanks," so they're inviting university staff, faculty and their families at no cost to attend Miami basketball and/or hockey games Jan 5-6.
The Crawfords want to show their gratitude and deep appreciation for employees' commitment, dedication and exceptional service and celebrate our being "One Miami" by bringing together all campuses.
Faculty, staff and their families will receive 
free admission and free parking
 to the Miami basketball doubleheader on Jan. 6, and also free admission to one of the Jan. 5-6 Miami hockey games. Yes. That's right. Attend both basketball games AND one hockey game. (Please note: At this time, standing-room-only tickets for both hockey games are available.)   
One ticket gains entrance to BOTH basketball games. Between games there will be a carnival on the concourse with an inflatable feature, games and activities for younger fans.  
Faculty and staff may choose to attend one of the hockey games, whichever night fits best into your schedule. A maximum of four (4) complimentary tickets will be provided to faculty/staff and their families for one of the hockey games.
Additional tickets may be purchased at the group rate of $20 per ticket. All available reserved seats will be filled before standing-room-only tickets are distributed and will be done on a first-come, first-served basis.  
To reserve your free tickets for the games and to purchase any additional hockey tickets:
Tickets 
MUST
 be reserved by 
noon on Thursday, Jan. 4
. (The Miami athletic ticket office will also be closed on days the university is closed during winter break.)  
Miami Women's Basketball vs. Central Michigan • Jan. 6 - 1 p.m.
Miami Men's Basketball vs. Western Michigan • Jan. 6 - 3:30 p.m.
Miami Hockey vs. Denver • Jan. 5 – 7:35 p.m./Jan. 6 – 7:05 p.m.