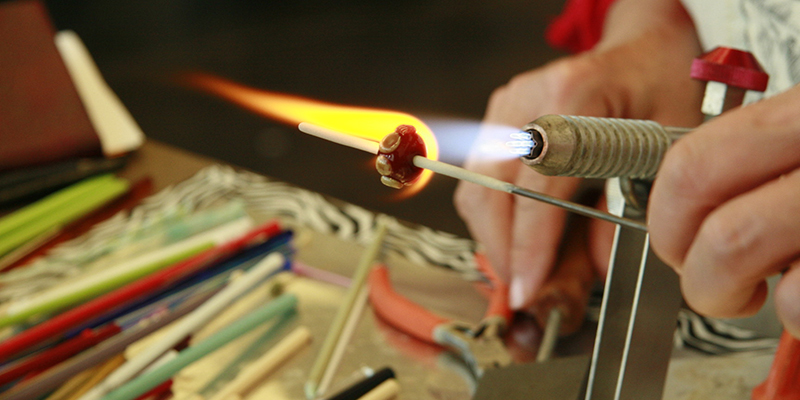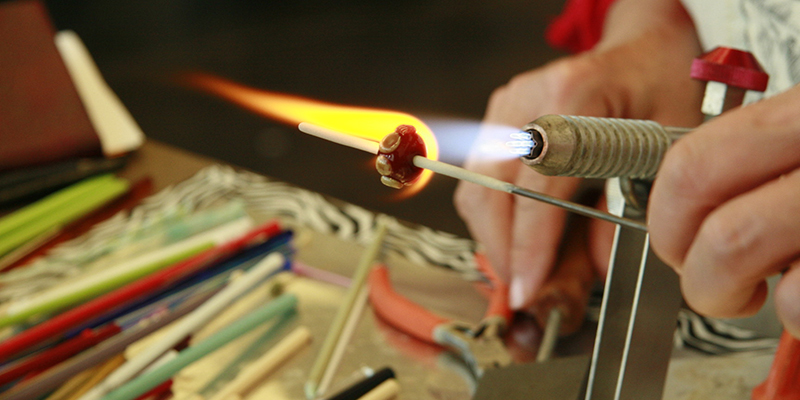 Glass beadmaking at the art center
May 09, 2018
Beat stress and embrace your inner artist at the art center
Part 2 of a two-part series, Beat Stress by Making Art
By Karen O'Hara, university communications and marketing
Phillips Hall, home of the kinesiology and health department, appears to be a fairly typical athletic facility. It contains a gymnasium, a dance studio, and several kinesiology labs.
But step inside, and you'll also find the Miami University Art Center, with studios for ceramics, metalsmithing, glass, drawing, and digital photography.
And you might find a whole new way to handle stress.
CraftSummer: Exploring Life
During the academic year, the art center hosts art department sprint courses, which are open to all students. But during the summer, it welcomes an eclectic art-loving community to its popular CraftSummer program. Since 1976, these weekend and weeklong workshops have offered everything from bronze-casting to figure-drawing, watercolors to fiber arts. CraftSummer encourages its students to enjoy uninterrupted time for artistic expression—an experience that often changes lives.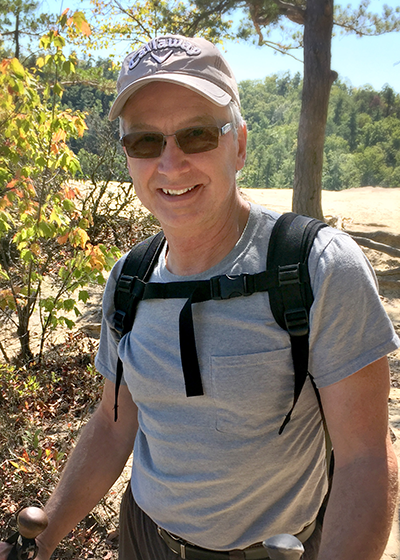 Ron Stevens
Each year, participants seek out Ron Stevens, the director of the art center and CraftSummer, to tell him how much a CraftSummer workshop has meant to them. Stevens says, "Many people come cautiously to take a beginning class, thinking they aren't artistic, only to discover there is this whole other beautiful part of their personality that only needed the opportunity and encouragement to thrive."
As an artist and photography teacher, Stevens understands those feelings.
"I make art as a way of exploring life," he says. "To explore my experiences and feelings, challenges, joys, fears, and discoveries." For Stevens, art provides a way to express and connect those experiences to others.
One of his current projects connects him in a heartfelt way to a friend who was an Air Force pilot in World War II and member of a reunion group. Stevens was invited to make portraits of the men at a final reunion held in Washington, D.C., where they were honored at the dedication of the Air Force Memorial. Although his friend has since passed away, Stevens is honoring him by editing the photos for an exhibition planned for next spring.
---
From Student to Teacher

Lampwork beads
When she's not in her office, Leah Tuscany, personnel manager for IT services, unwinds by melting glass with a torch and applying it to a mandrel to make a bead, a process known as lampwork.
"You would think that working with red hot flame and molten glass would be stressful, but I find it to be very relaxing," she says. "Sometimes I can work for 6 hours and it seems like a blink of an eye. Because the process requires such focus, it is truly a time where I can step back and de-stress."
Although she also enjoys working with metals and fiber, Tuscany has always found glass to be her favorite creative outlet. "The creation of things is so satisfying and rewarding," she says. "My work will be here long after I am gone. I like that idea of legacy."
After eight years as a CraftSummer student, she began teaching the workshops herself, bringing her love of art to a wider audience. And for the past five years, she has taught Beginning Glass sprint classes to Miami students. Her students seem to appreciate making art as a break from some of their more high-pressure school work. As Tuscany says, "They are free to take a breath, relax, and just create."
Tuscany occasionally encounters students who are reluctant to experiment with art, believing they lack creativity. "That mindset is so wrong, and I do whatever I can to turn that around," she says. "Creativity takes so many forms and is evident in all that we do."
Most of her students have no prior experience. "I encourage them to string the beads in the order they made them," Tuscany says. "It is powerful when they look at their first bead as opposed to their last."
---
Ready to exercise your creativity?
If making art is not already part of your daily routine, finding time to get to the studio can be difficult. Yet both Stevens and Tuscany emphasize how crucial it is to build in quality time for ourselves. As Tuscany says, "I don't 'find' time: I make time. I have learned to discipline myself to devote time each week to the creative process."
Stevens agrees, adding, "We all feel more alive, more connected, more fulfilled when we are creative and curious. It's the most wonderful part of us, but it often gets lost as we take on the serious responsibilities of life."
---
2018 CraftSummer workshops are currently open for credit and non-credit registration. Class size is limited.
Learn more about Art Center sprint courses and view a gallery of student work.
---
Read Part 1 in the series, Expressing the Inexpressible through Art Therapy