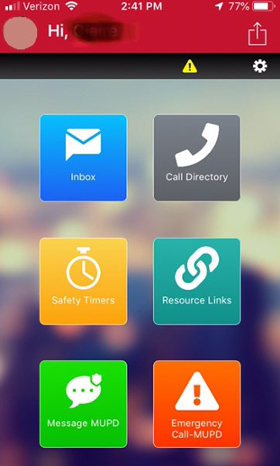 Nov 26, 2018
Mobile app enables text to MUPD for help

A new tool is available for contacting Miami University police.
The Rave Guardian application is available for Android and iOS smartphones to members of the Miami University community at no cost to them. Students, faculty and staff are encouraged to take advantage of numerous safety features, including two-way communication with Miami University police.
 • Submission of Tips & Multi-Media Messaging to Miami University police.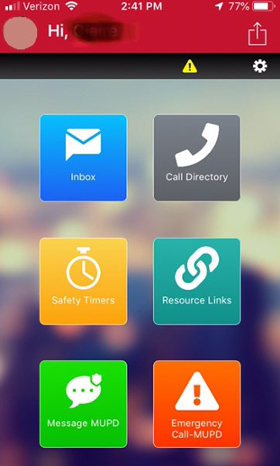 "Message MUPD" allows members of the community to send text, GPS location and photo directly to Miami University police via Rave's secure cloud infrastructure. This is a way to quietly report a safety concern.
• An Emergency Call Button.
Users can call Miami University police with one-click, automatically providing user information and location.
• Safety Profiles for Faster Emergency Response.
User-created safety profiles contain details such as residence and medical condition information that are automatically presented to Miami University police during an emergency call for faster, more precise response.
Safety profiles are available during emergencies, on and off campus, to Miami University police. Soon they will be available to Smart911-enabled 911 centers nationwide.
• A "Safety Timer."
Use this when you want someone you trust to be aware of your location and status, such as walking at night. Once activated, "guardians" in users' virtual safety network can monitor their status updates and location. Guardians are automatically notified at assigned check-in times.

If the timer expires or the user initiates a panic call, Rave Guardian automatically notifies the user's trusted safety resources.
Guardian's features at Miami also include a Call Directory with local emergency numbers specific to Oxford or Regional campuses and Resource Links, emergency websites with quick information. When you click on the mobile version of the emergency procedures page, click on the "In This Section" box to see tips for responding to incidents such as fires, criminal activity or severe weather among other urgent situations.
Download Rave Guardian from the Apple Store or Google Play.
A user guide is built into the application under the menu item "About Rave Guardian."
For technical support with the application contact Rave Mobile at: techsupport@ravemobilesafety.com.
"Calling 911 from a cell phone can slightly increase the response time in an emergency as location isn't automatically known, as with a landline," said John McCandless, chief of the Miami University police department. "But by filling out a safety profile and enabling GPS when texting or calling police, we hope to be able to respond more quickly to people in need."
 Smart911

A relatively new law enforcement app is also helping first responders locate people in trouble.  is available in many parts of the country.
Since cell phone numbers do not indicate location like landline telephones do when calling 911, Miami University police recommend people needing emergency services use the Smart911 service now available in Butler County.
Users can enter as much information as they want into the system, such as a local address, car make and model, and phone numbers of relatives.
Start here: https://www.smart911.com/.