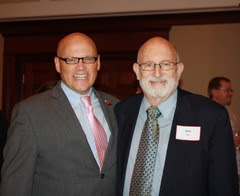 Dec 11, 2018
Milton Cox explores 40 years of Miami faculty learning community success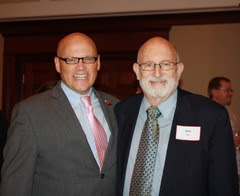 Milton Cox received a Presidential Medallion from President Greg Crawford for his service.
By Brady Easterling, university news and communications intern
Miami's faculty learning communities have been enhancing teaching and learning for 40 years. The learning communities include about 8-12 faculty engaging in a yearlong collaborative program. Through seminars and activities, faculty focus on building community and the scholarship of teaching.
Milton "Milt" Cox is facilitator of the Alumni Teaching Scholars Community for early-career faculty. He is also editor-in-chief of the Journal on Excellence in College Teaching, based at Miami. He was recently awarded the Presidential Medallion by President Gregory Crawford. In an interview, he spoke about the history of faculty learning communities and how they've grown.
Q: Can you speak to the importance of faculty learning communities for Miami's faculty?
A: We surveyed faculty and asked them how their participation impacted their development. The number one answer was that the learning community got them out of their departmental discipline's view of higher education. Number two was their interest in teaching, and the third and fourth answers mentioned the scholarship of teaching and learning; in other words, they said they now look at teaching and learning as having a scholarly pursuit.
Q: So what is your role with the learning communities?
A: Here at Miami, I facilitated the first [FLCs]. We started in 1979 and for the first ten years the only type of FLC we had was for early-career faculty before tenure. We expanded to more types of FLCs in the early 90s to include senior faculty and then we got the idea that faculty might want to work a whole year on just one specific area, like cooperative learning.

Q: Was Miami a leader in the state?

A: Yes. To our knowledge It was nowhere else. We invented it here. In 1994, we applied for a national award called the Hesburgh Award which identified the best faculty development program in the United States to improve undergraduate education. Miami got that award. When that happened, other places expressed interest. We got a grant from the Ohio Board of Regents to try it out in the state of Ohio at other institutions; Ohio State, Kent State and Ohio universities tried it and it worked really well on their campuses. Around 1999, we got a federal grant to expand across the United States. Today there are more than 1000 universities implementing faculty learning communities based on our model.

Q: What major changes have you seen over the last 20 years?

A: The Teaching and Learning Center was created in 2003. We also went international. Now several countries have FLCs going, like China and particularly Hong Kong, South Korea, Lebanon, the UK and Colombia. There are many, many efforts around the world now based on Miami's model that are successful.

Q: How can current faculty members get involved with an FLC?

A: Current faculty or staff can propose an FLC (that he or she will facilitate) by Feb. 15. Usually there are eight or nine FLCs funded each year. Once the new FLCs are announced, faculty are invited to apply online by the beginning of April. The facilitators of the FLCs select their members. Operational and financial support is provided by the Center for Teaching Excellence.