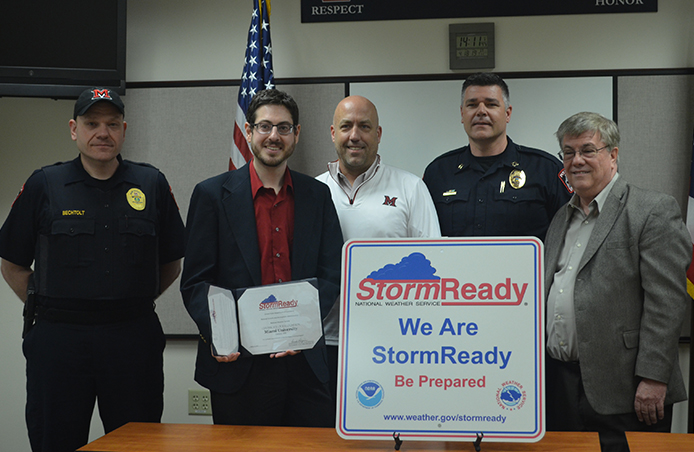 Apr 23, 2019
Miami University receives StormReady Certification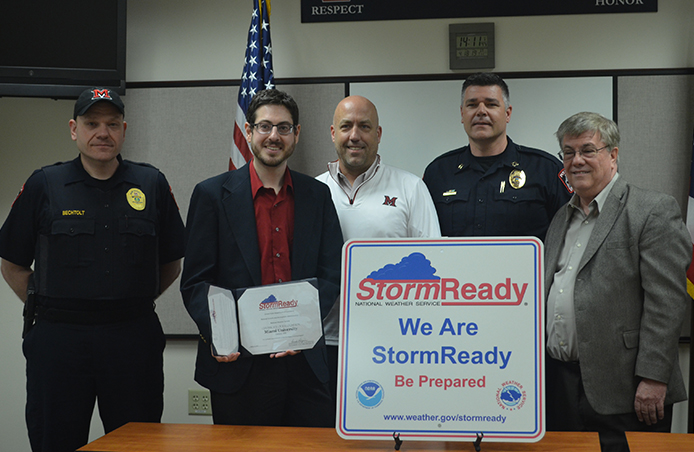 l-r: Sgt. James Bechtolt of MUPD; Brandon Peloquin, warning coordination meteorologist at the NWS; Phillip Johnson of intercollegiate athletics; Capt. Stephen VanWinkle of MUPD; and Ken Haydu of the NWS. (Photo by Claire Wagner.)
By Kristal Humphrey, university news and communications
Miami University has received StormReady Certification from the National Weather Service (NWS).
University representatives received the honor at a ceremony held April 18 on campus.
StormReady is a voluntary national program that encourages communities to take a proactive approach to improving local hazardous weather operations by providing clear-cut guidelines for emergency managers.
To become StormReady, a community must:
Establish a 24-hour warning point and an emergency operations center. (Miami's 24-hour warning point is the Miami University Police dispatch office. The emergency operations center is mobile and is also through Miami University Police.)
Have more than one way to receive severe weather warnings and alert the public.
Ensure the warning point and the emergency operations center are able to monitor local weather and flood observation data for increased situation awareness.
Ensure hazardous weather and flooding are addressed in formal emergency management plans.
Conduct community preparedness programs, including training a network of Skywarn® weather spotters (Miami's Skywarn® course had more than 50 people in attendance.)
Establish an effective working relationship between the emergency management agency/organization and the local National Weather Service forecast office.
Ken Haydu, meteorologist in charge at the National Weather Service offices in Wilmington, credited university police with having many of the necessary practices already in place.
"By pursuing the NWS StormReady certification for Miami, we are able to align our weather communication with the NWS field office in Wilmington, Butler County EMA and the Miami University Police Department," said Phillip Johnson, associate director of athletic events and guest services at Miami. Johnson led Miami's certification effort.
Miami reached out to the Butler County Emergency Management Agency (EMA) and the Ohio Emergency Management Agency to assist in the process of becoming StormReady.
Jim Bolen, Butler County EMA planning and operations manager, said, "Our agency has long enjoyed a great partnership with Miami University, and this project offered us another opportunity to collaborate to make our community safer."
Miami is one of five Ohio universities to receive the certification, joining Bowling Green and Ohio State universities, Sinclair Community College and the University of Akron.