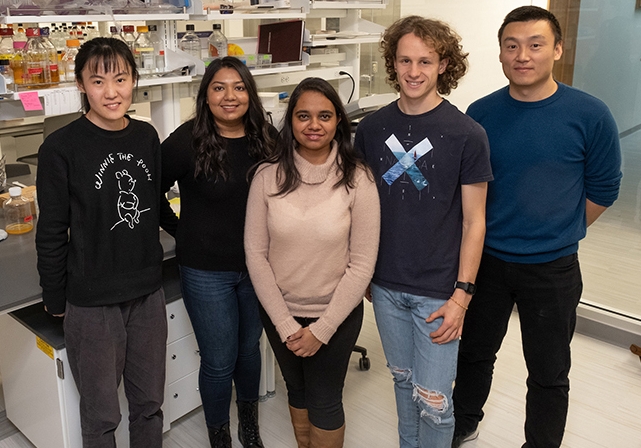 Apr 03, 2019
Engineering microbes
By Susan Meikle, news and communications. Part four of a four-part series on new grants for the new microbiology physiology research cluster.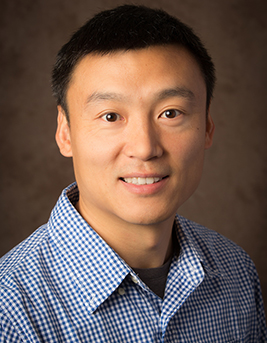 Xin Wang
Xin Wang, assistant professor of microbiology, is passionate about cell metabolism and "creating bugs (microbes)" to benefit human life. 
He is an expert in metabolic engineering, synthetic biology and the metabolism of microbes. His research focuses on creating microbes for applications in energy production, medicine and environmental protection.
With new state-of-the-art equipment in his lab and the resources of Miami's Center for Structural Biology and Metabonomics, he can assess bacterial metabolic changes under various conditions by looking at protein development.
This method helps determine which enzymes are required at different stages of cell metabolism and can be used to probe microbial responses to environmental stimuli.
Wang, who joined Miami in 2017, has been using this technique in research collaborations with Rachael Morgan-Kiss and D.J. Ferguson, associate professors of microbiology.
Both projects provided pilot data for grant proposals that were successfully funded by the Department of Energy (DOE) and the National Science Foundation (NSF).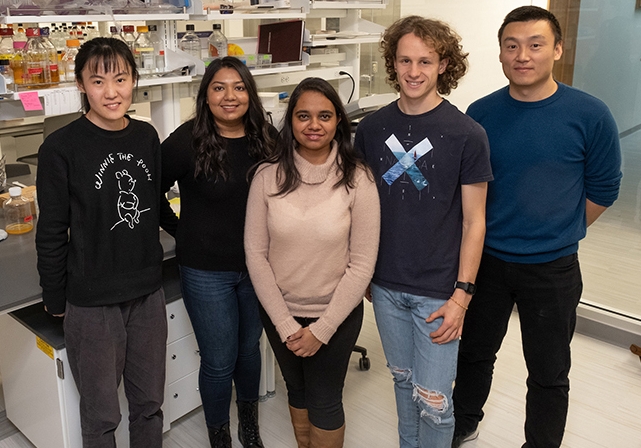 He is co-principal investigator on research projects:
With Morgan-Kiss, funded by a $750,000 grant from the DOE to research how Antarctic algae use an alternative pathway during photosynthesis to survive different environmental conditions such as light stress, high salinity and low temperatures. 
With Ferguson, funded by a $343,030 Research in Undergraduate Institutions (RUI) grant from the NSF to study microorganisms that produce methane from different environments. 
Another research project involves a strain of blue-green algae that he engineered to convert carbon dioxide directly to limonene in high levels.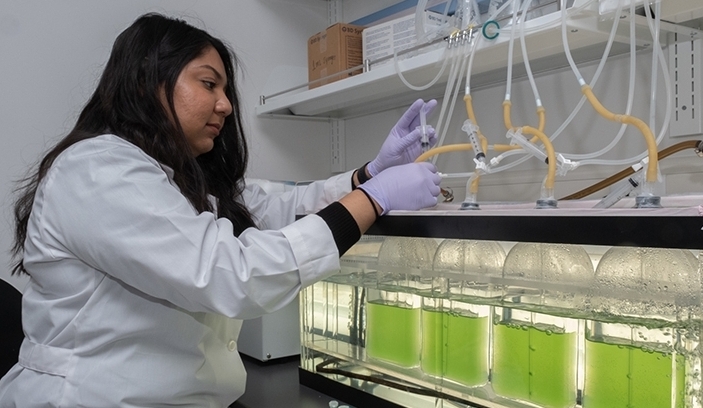 Top: Xin Wang (right) and his lab group (left to right) Xiaohui Zhang, visiting research student from China; master's student Sonali Singapuri; doctoral student Shrameeta Shinde and sophomore Justin Klatt. Above: Singapuri with limonene-producing blue-green algae (photos by Scott Kissell).
Limonene is a terpene, a group of metabolites produced by plants that have diverse applications as pharmaceuticals, solvents and biofuels.
Ultimately Wang's research aims to increase limonene production from his engineered cyanobacteria for eventual use as a third generation biofuel.   
Wang joined Miami University in fall 2017 after completing a post-doctoral fellowship at Texas A&M University. He received his doctorate from the University of Hawaii at Mānoa in 2013.
He is adviser for doctoral student Shrameeta Shinde and master's student Sonali Singapuri and co-advises master's student Austin Grant with Annette Bollmann.
He currently mentors undergraduate researchers Justin Klatt and Kaya Mernitz, both sophomore microbiology majors and premedical studies co-majors, and Brendan Chetty, sophomore biology major.
Follow him on Twitter @WangXLab.