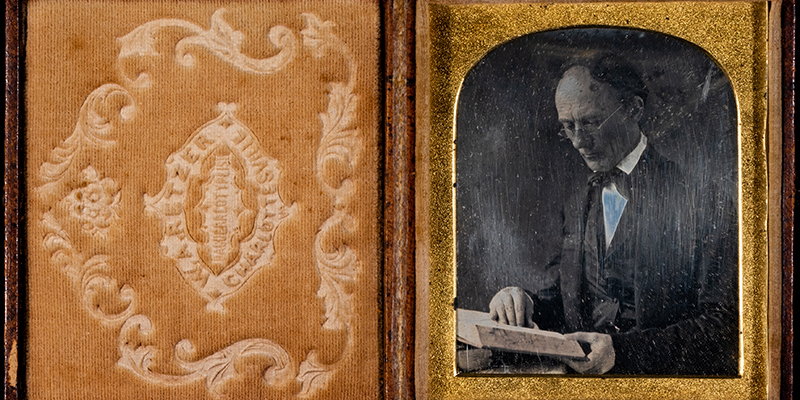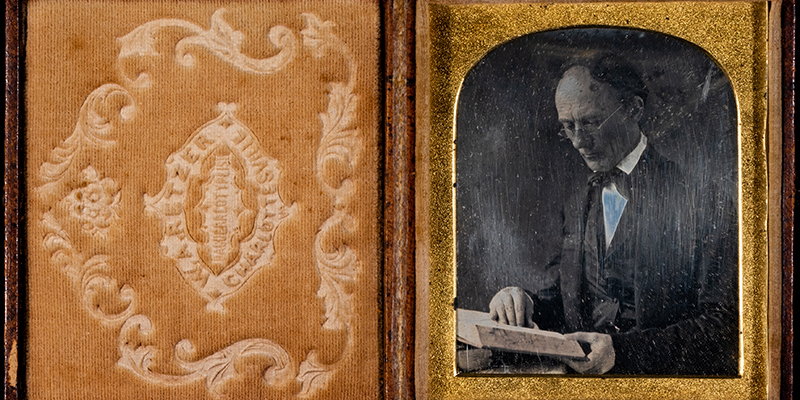 Daguerreotype of William Holmes McGuffey, taken in Charlottesville, Virginia in 1848, is possibly the earliest photograph of a Miami University professor (McGuffey taught at Miami from 1825-1836).
Photo: Jeff Sabo
Jan 06, 2020
Images of the McGuffeys
Jeff Sabo produced professional quality reproductions of the rare daguerreotypes.
By Steve Gordon, administrator of McGuffey House and Museum
The photograph has become iconic. William Holmes McGuffey is seated. Rather than looking directly at the photographer, his attention is drawn to a book. The date is around 1848 and the place is Charlottesville, Virginia, where McGuffey had moved in 1845 with his family to teach Latin, Greek and moral philosophy at the University of Virginia.
Just a few years earlier in Oxford, circa 1835, McGuffey and his wife Harriet had their portraits painted by Horace Harding. At that time, photography was unknown. In 1839, Louis Daguerre took one of the first outdoor photographs —a city scene in Paris—and the first to capture a human being.
The following decade witnessed an explosion of the daguerreotype silver plate process, especially for portraits. The first photographic image of Abraham Lincoln was taken in 1846 or 1847. Locally, in 1848 Charles Fontayne and William Porter took what is the most famous panoramic daguerreotype view of the Cincinnati waterfront. Research suggests there were no daguerreotype photographers working in Oxford at that time.
The fact that McGuffey, his wife Harriet and their son Charles sat for individual photographs is significant. It is possible McGuffey's image represents the earliest photograph of a Miami professor (McGuffey taught at Miami from 1825-1836).
McGuffey House and Museum is fortunate to have the three daguerreotypes in its collection (not on display). The cases carry the label "W.A. Retzer, Daguerreotypist, Charlottesville." Retzer first appears in Philadelphia in 1844 and 1845 as a "photographist." By the late 1840s he had relocated to Charlottesville. Retzer does not appear in the 1850 population census for Albemarle County, Virginia.
There are no known daguerreotype images of McGuffey's daughters Mary and Henrietta. Perhaps they have been lost or remain unidentified. The photo of Harriet portrays a corseted woman with one hand on a book and the other holding a handkerchief. The photo of Charles reveals a handsome, well-dressed young man. Sadly, both Harriet and Charles were gone by 1850 and 1851, respectively, victims of cholera and tuberculosis.
Today, selfies and digital photos are ubiquitous. Little time is devoted to staging and posing. Dress is informal, the background often distracting. There is something amateurish about contemporary images, little thought is given to posterity. Perhaps this is why early photography captures our imagination. There is something timeless about the stoic black and white images that gaze directly at us.
Given the significance of the McGuffey daguerreotypes, attention has been given toward their care and conservation.
Recently, Jeff Sabo, university photographic services director, produced professional quality reproductions of the daguerreotypes.  Miami's Special Collections conservation staff is available to offer advice on proper techniques for conserving old photographs.
The McGuffey House and Museum is free and open to visitors 1-5 p.m. Thursday-Saturday.