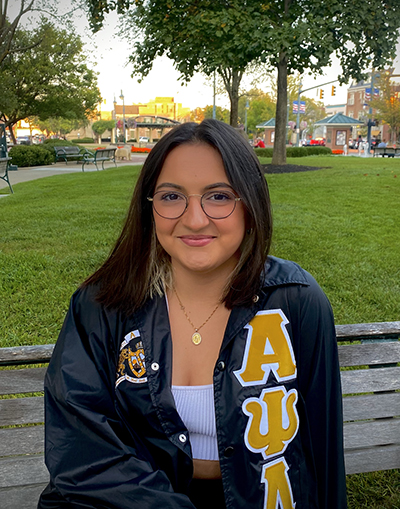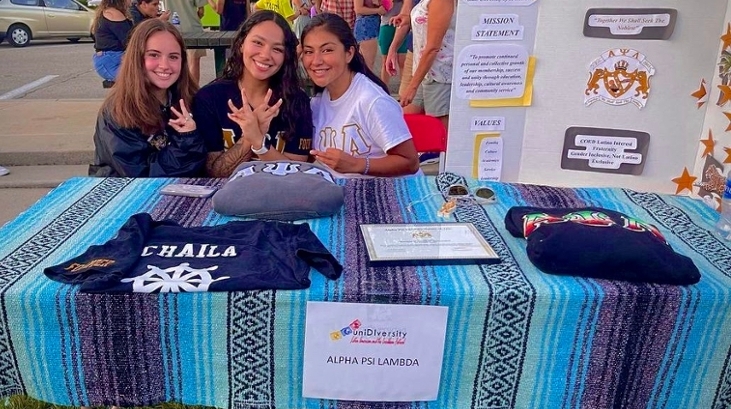 Sep 28, 2021
Alpha Psi Lambda makes Hispanic students feel welcome at Miami
Nikki Lescano serves as co-ed fraternity's first president
By Margo Kissell, university news and communications
Nikki Lescano chose Miami University based on the academics and opportunities presented to her during her search for a college.
The junior from Westfield, Indiana, who is majoring in kinesiology with a co-major in premedical studies and a minor in Spanish, said Miami's campus and community stood out during a visit.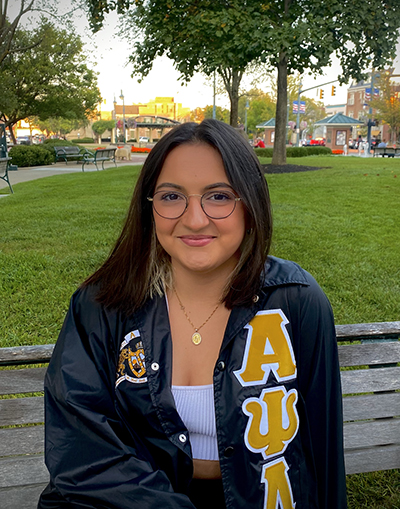 Nikki Lescano
"I could tell that whichever path I took, I would find a place for myself at Miami and I'd always be challenged academically," said Lescano, who plans to apply to Public Health and Kinesiology graduate programs after she earns a bachelor's degree.
Lescano serves as affiliate chapter president of Alpha Psi Lambda National Inc., a co-educational Latino-oriented fraternity — the first such organization for Latino college students in the United States. She also is a member of Delta Epsilon Mu pre-health professional fraternity.
"Alpha Psi Lambda gives me the opportunity to experience the positives of Greek life with a cultural balance and emphasis on diversity, support for Latinx students, and cultural preservation," said Lescano, who is Peruvian American.
There are 39 collegiate and seven affiliate chapters, including Miami's, which was established last spring.
"Student organizations like Alpha Psi Lambda are vital to make Hispanic students feel welcome and represented," said Christian Ponce, senior director of marketing and communications at Miami and the fraternity's advisor. "The cultural connections, sense of belonging and the support that affinity organizations provide are invaluable to attract Hispanic students and families."
Lescano said, "I never knew how connected, or disconnected, I was with my culture until I was surrounded by brothers and sisters who prioritized culture alongside the typical values of academic success and development. The language, economic, and demographic barriers that I've faced I haven't always known I was facing until I was immersed in a like-minded community. 'Finding your people' is what I hear a lot when we talk about the importance of having a space for each other."
This semester, Alpha Psi Lambda is focused on growing and diversifying further.
"We just began our membership intake process with six associate members, five being male. Our founding line of all women did not represent the fraternity's co-ed value, so outside of gaining traction and putting our name out there, we're focusing on the co-ed part of Alpha Psi Lambda."
Lescano said they are collaborating closely with UNIDOS, Association of Latin American Students, and the Cliff Alexander Office of Fraternity and Sorority Life to expand and get its name out there and known as another option, or side, of Greek Life at Miami.
"All I can hope for is that Alpha Psi Lambda can be a home for whomever holds our shared values. Being gender inclusive and Latino-interest, not exclusively Latino, opens the door for any student interested regardless of which demographic they fit," she said.
"College is difficult, especially for minority students, and I want Alpha Psi Lambda to become a place for students to find their home, and another family to support and grow with them, regardless of where they come from and what challenges they may face."
For more information, follow the fraternity on Instagram, @APSIMIAMIUNIVERSITY.