May 28, 2015
Joan Ayers: Hanging up her apron after 61 years at Miami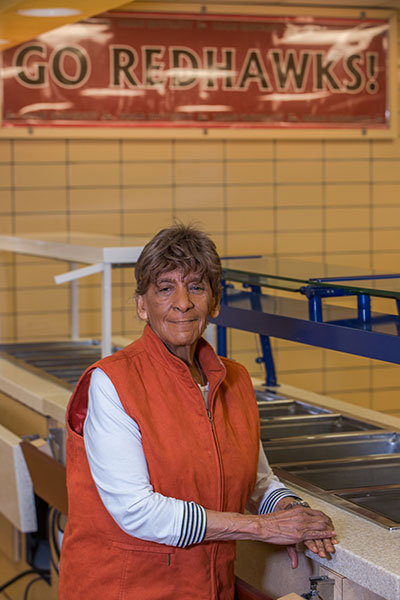 Joan Ayers to retire after 61 years of taking care of Miami students. She describes the people at Miami as her second family. (Photo by Scott Kissell)
By Ritter Hoy, university news and communications
Walk into Martin Dining Hall for breakfast, and you can't miss Joan Ayers. She's the "egg lady" who yells at diners every morning when a fresh batch of eggs hits the line.

"I imagine I give them a headache screaming it out, but nobody wants to eat cold eggs," said Ayers. After 61 years with Miami's housing, dining, recreation and business services (HDRBS), she's hanging up her "beveled M" apron forever.

"It's time. Martin's closing this year, and I just don't want to go anywhere else," explained Ayers, who's been at her current post for 30 years.

Martin Dining Hall closed after commencement as part of the renovations on North Quad. It will reopen for the fall semester 2016.

Joan Ayers began working at Miami, in Hepburn Hall, in 1953. Her husband, Kemper Ayers, was an Oxford native who was already working at Miami when he met her during high school. The couple got married just a few weeks after they graduated, and Kemper asked his new bride to move from her home in Richmond to be with him.

She took some time off work after her husband died in 1989 but came right back to Miami a year later.

"It was a family here," said Ayers. "The environment has changed over the years…but it really used to be my Miami family, and I didn't want to leave them."

Her Miami family has grown in the past eight years to include members of the entire golf team, whom she calls "her boys." Nathan Sutherland was a first-year student in 2008 living in McFarland Hall when he first met her. He went to Martin every morning for breakfast, and Ayers served him fresh eggs. The two "just clicked" and have been friends since.

"Meeting Joan was the best thing that ever happened to me at Miami," said Sutherland. "She provided constant love and support, and she always made me feel right at home. She is one of the all-time greats. I love her."

Tina Rotundo, executive manager of dining services, said Ayers is universally loved by the athletes on the golf team. "Every game, every tournament, Joan buys bags of candy and food so the boys on the team always have something to eat when they're on the road."

And she doesn't just feed them. After they move off campus, if she doesn't see them at least once a week in Martin Dining Hall, she checks on them. To show their appreciation, the student-athletes treat her at their favorite Oxford restaurant and invite her to their holiday party at the coach's house.

In 2013, Ayers won the HDRBS Innovative Leadership Award for her "exemplary customer service, focus on pleasing the customer and positive impact on guests." Her dates for the honorary dinner celebrating the award were two members of the golf team.
Taking care of Miami's "kids"
"I take care of the kids when they're here," explained Ayers. "That's why we're all here, to take care of our kids."

Her colleagues say the students won't be the only people who miss Ayers after she retires. "We're all going to miss her," Rotundo said with tears in her eyes. "But she promised to come visit."

As for her other plans in retirement, Ayers says she will travel, rest and spend time visiting family. She has two daughters and one son, six grandsons and two great-granddaughters. She's also an avid bowler and will continue to play every Tuesday night in her women's league.

"I know what I'm not going to do," noted Ayers. "I'm not going to sit at home and get old, because people do that, and then they die. Uh-uh. No way. I am not going to do that."

Ayers' last day at Miami University is Friday, June 5.