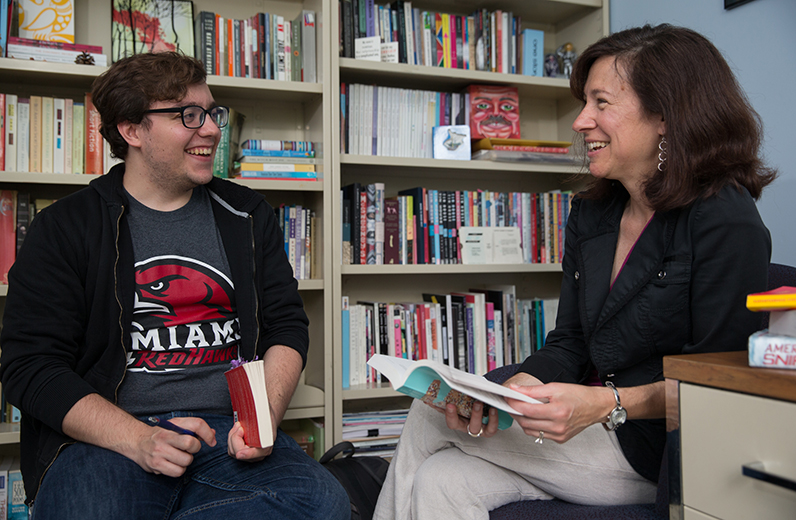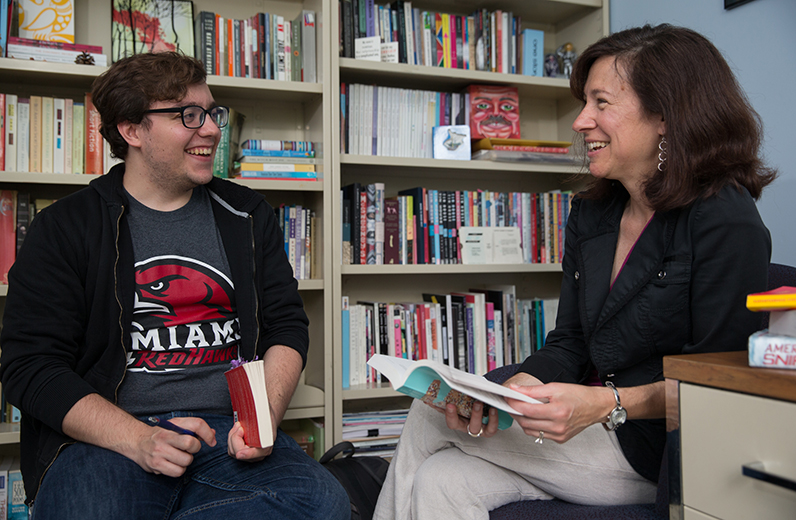 Eric Rubeo meets with his faculty mentor Margaret Luongo about his Undergraduate Summer Scholar's project on the relationship between author and narrator (photo by Scott Kissell).
Sep 02, 2015
Eric Rubeo, student, scholar, writer: "Now is a good time to be a creative writing major" at Miami
Eric Rubeo, Undergraduate Summer Scholar: Creative writing research with Margaret Luongo, associate professor of English
Part of a series of Miami Moments highlights on Undergraduate Research, Summer 2015.
By Susan Meikle, university news and communications, meiklesb@MiamiOH.edu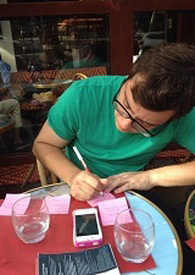 Eric Rubeo
Eric Rubeo, a senior English literature, creative writing and adolescent English education triple major from Montgomery, has taken advantage of many research and writing opportunities at Miami. 
He has already completed two independent research and writing projects with his faculty mentor, Margaret Luongo.  This summer he is working on an in-depth project with Luongo as an Undergraduate Summer Scholar (USS). Along with the research experience he will receive six hours of academic credit with tuition waived, a $2,600 fellowship and a $400 project allowance.
Rubeo was also selected to be a College of Arts and Science Dean's Scholar.  Approximately 30 Dean's Scholars are selected each year to conduct independent study during their senior year with a faculty mentor. The scholar and the mentor each receive a $750 professional expense stipend.
His English honors thesis — a set of five to six short stories — will be based on his Dean's Scholar project. The number of students working towards an English Honors Thesis has doubled in each of the past two years, from two to eight this year, according to Rubeo.
"Now is a good time to be a creative writing major at Miami," he said. 

The Milo Review, Winter 2014 (front cover) published Rubeo's short story "Your Personal Travel Guide."
His research focuses on the creative craft of writing. "I was interested in author and character," he said, and Luongo "introduced the idea of author and narrator." After discovering that not many people have studied the topic, he developed his USS project, "The Relationship Between the Author and Narrator: A Study in Proximity."
 
When he is not busy writing, Rubeo will be working as an intern for the Miami University Press. He will be assisting the submissions editor and working again with Luongo, who is the guest judge for its national novella contest this year.
Passionate about writing

Students in the Literary London program wait for the London Underground in a Tube station.
Rubeo's extracurricular activities take advantage of even more writing opportunities:
He participated in the English department's Literary London six-week study abroad program in summer 2014.
He was a founding member and co-president of the Association of Creative Writers, "the only club to do undergrad-led fiction workshops," Rubeo said.  The roundtable workshops "help keep us accountable as writers outside of class!"
He will be co-president of the Sigma Tau Delta English honors society this year. The group has plans for "a big semester" including having all members write for the English department website as English Ambassadors — as a way "to give back through service," Rubeo said — and initiating new creative writing internships.
But wait, there's more!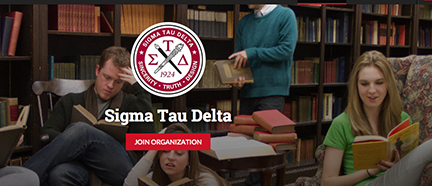 Sigma Tau Delta members plan to start an "English Ambassadors" project this year.
Rubeo is also a writing consultant at the Howe Writing Center (HWC), which has become an "important and complementary piece of my academic life," he said.
Consultants work with students on writing assignments from rhetorical analysis and creative writing to cover letters and resumes. "We're trained to work with all of it," Rubeo said. "It's probably the best job on campus." 
He is also one of three students organizing the Howe Writing Center's Creative Writing Initiative, an effort to support creative writers on campus through HWC services that will begin this year.
Creativity and Innovation: Happy Captive Magazine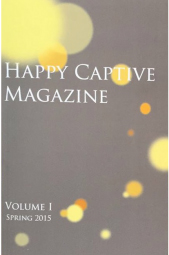 Rubeo will be the editor this year for Miami's new Happy Captive Magazine (in print and online). He was submissions editor for the first volume, published last April .
The new magazine fills a different niche than Inklings, Miami's other undergraduate literature and art magazine, according to Rubeo.
"Here at Happy Captive Magazine, we are held prisoner to stories, to their every whim and desire," the editors said. "Whether or not they take the form of written, visual or auditory art, we cannot ever stop searching for a good narrative."
Miami celebrates Creativity and Innovation during the 2015-2016 academic year.