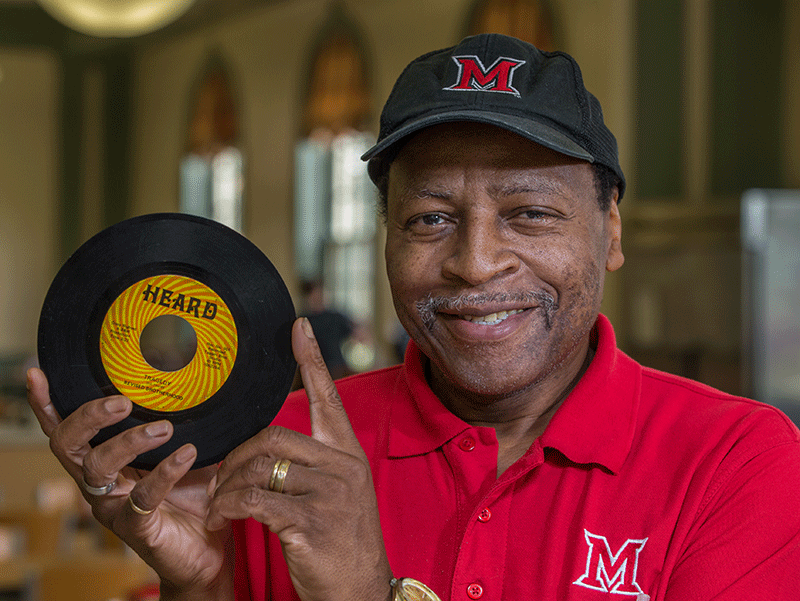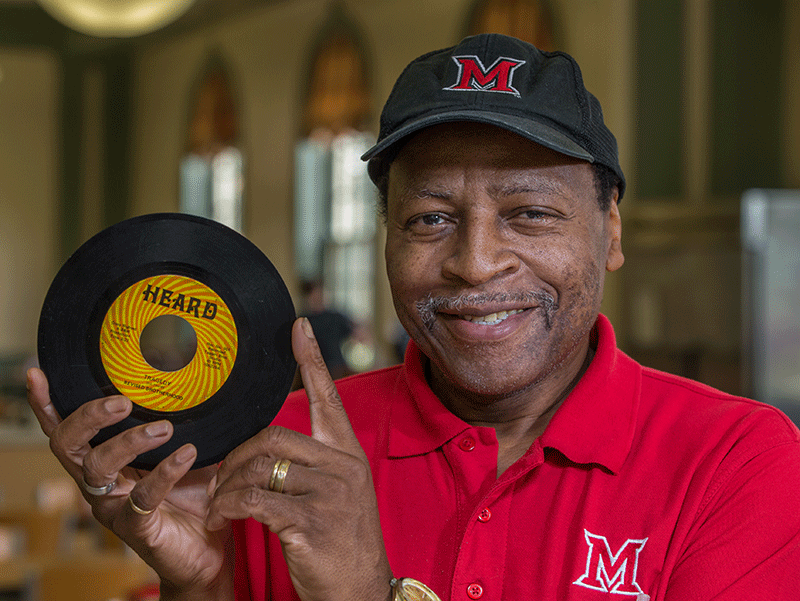 John Hurd lands record deal after 45 years.
Apr 28, 2016
1971 rewind: John Hurd's 45-year-old "Tragedy" goes from vinyl to digital
John Hurd serves up sandwiches and conversation at Harris Dining Center.
by Ritter Hoy, university news and communications
Students know John Hurd makes the best sandwiches on campus, dubbing him the "Deli Lama."
What they don't realize is that when Hurd was their age, he was already a recording artist.
Tobias Kirmayer, a record producer at Tramp Records, found a copy of an old vinyl, blew off the dust and gave it a spin.
He loved it.
And so began the monthslong investigation of "J. Hurd," the artist name on the vinyl 45 rpm label.
Kirmayer's detective work ended at Harris Dining Center earlier this year, where he found John Hurd, a 12-year Miami housing, dining, recreation and business services employee.
In 1971, as a senior at nearby Badin High School, Hurd formed a band, The Revised Brotherhood, with his buddies, playing small-time gigs in the area.
In an interview with WVXU FM, Kirmayer said, "What I really like about especially the two tunes on this 45 is the raw energy and the feeling (that) musicians put in it."
That comes as no surprise. Hurd said all he and his buddies — Jimmy Green on saxophone, Donny Hoskins on drums, Pat Kennedy on guitar, Eddie Knox on bass and Tim Quincy on trumpet — wanted was to play music.
"The big thing to do at that time was to record a record," said Hurd, and that's exactly what The Revised Brotherhood did.
The buddies laid down a few tracks, pressed about 100 45s and sold them to their friends and families.
The record also turned up in a few local jukeboxes, and that's how Kirmayer heard the band's small-time hit song, "Tragedy." Now 45 years later, Hurd and his buddies are getting another spin at the big time.
In 1971, they thought making it in music was their "ticket out."
"Out of being poor," said Hurd. "If you made it in music, you could get that big cash advance, and you could buy a better house and help people."
Hurd did get an advance from Tramp, but he's learned it doesn't cost a dime to help people.
During his time at Miami, Hurd has built many relationships with the university's international student population. "You have to let people know we exist, and what we're going to do for you when you get here," he said.
For Hurd that's included teaching international students how to drive, helping them buy their first car and being a friend.
His contributions to the Miami community, particularly the international student population, haven't gone unnoticed. President Hodge declared Oct. 23, 2008, "John Hurd Day" for his service.
"The best thing about being at Miami is being able to be around somebody from another country," said Hurd.
And he spends a lot of time with one particular person from another country: his wife, Kun Hurd (née Zhu), who is from China.
Zhu was a graduate student at Miami when she met Hurd in Shriver Center's former Haines Food Court.
Hurd, having been one of four African American students in a high school of 800, sees past skin color. He says you love someone no matter what. And that's what inspired "Tragedy," a track about interracial love and its societal barriers.
Tramp will rerelease the song digitally in the fall, but if you can't wait, give "Tragedy" a spin now.