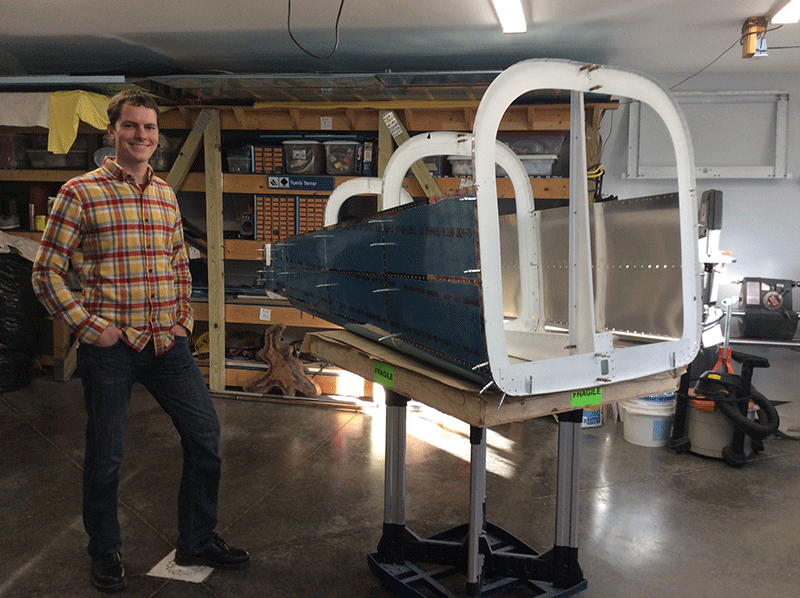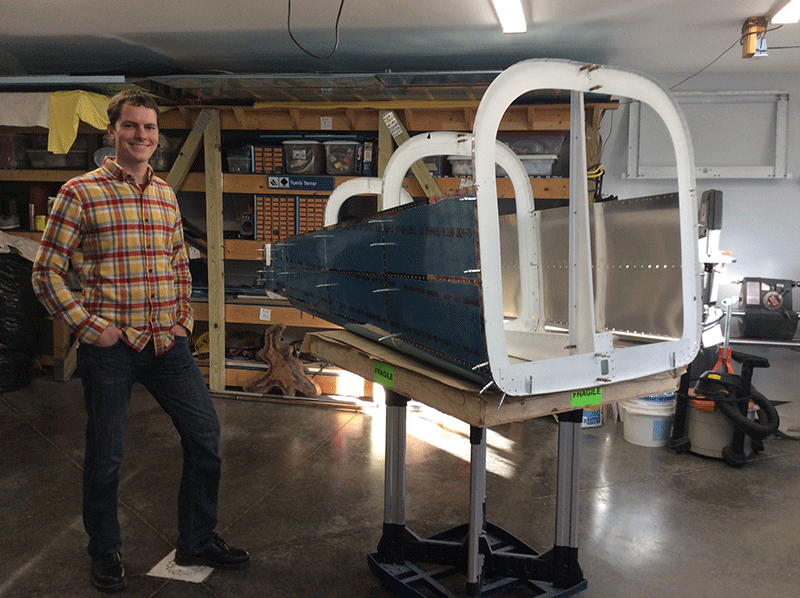 Jeffrey Toaddy stands next to one section of an airplane he is building.
Photo: Tali Hunt
Dec 01, 2016
A Miami Moment: Jeffrey Toaddy soars both at Miami and in the air
Jeffrey Toaddy points to his plans for the airplane he is building. (Photo by Tali Hunt)
by Tali Hunt, intern in university news and communications
Jeffrey Toaddy never intended to stay in Oxford too long after graduating from Miami in 2005. But he "can't seem to leave Oxford" because of all the opportunities and experiences available to him here.
Toaddy, Miami University's information technology services management coordinator, remains involved on campus for work, in the classroom, and outside of the classroom. He is an adviser to Miami's Flying Club and to Miami University's Long Guns, a trap shooting club team.
Q: Is there anything people would be surprised to know about you?
A: The fact that I'm building an airplane is always shocking. The first question is always like, "Wait, for people?"
I got my pilot's license about six and a half years ago. I'm part of a club near Jungle Jim's. There's 75 pilots who own five airplanes together — that's the only way to make it affordable because airplanes are stupid-expensive.
But, you can't go really far away, or I couldn't fly to my brother's house and stay there for a week because someone else wants to use the airplane. That got me thinking about getting my own airplane, but, again, they're stupid-expensive, so one of the ways around that is to build your own. And the added benefit of that is when I'm done, I'll know absolutely the purpose and location of every screw, why every rivet is where it is.
I think that when it comes to airplane stuff there is an idea that it is an elite or really expensive hobby ... I own a modest suburban house and modest suburban garage. I'm doing this slow, long-term thing, and I'm putting in the effort, doing it myself ... Aviation can be accessible, and I wish more people would consider it instead of looking at it like an elite sort of pastime.
Q: When did you come to Miami?
A: I actually started as a student worker at Miami before I was a student. In 2001 I showed up to be in Miami's marching band, so I was here the week before classes started, and my dad said, "You should get a job on campus. Maybe in the IT department. That way when you graduate you can turn it into a real job." And sure enough, here I am. I started full time in 2004.
Q: What is a typical day at work like for you?
A: Mostly I'm an administrative staff member. IT is a really new profession, so the way we have to do things aren't standard and repeatable. That's awesome because we can do things our own way. However, there's some stuff that should be standardized. My job is to try to bring order to the stuff we do — the repeatable things we do in IT — to make it more efficient, more reproducible.
I teach CSE148, the introductory computer course for freshmen and sophomores or pre-business students. I really enjoy that. Some days I'm in Benton teaching 29 or 30 freshmen and sophomores the basics of Microsoft Office. Eventually we learn how to write in SQL, database code, at the end of the semester. That's what we're doing right now, and it's pretty fun. I've been teaching since 2007.
Q: What is your favorite place on campus?
A: I really like the greenhouse on Western campus. On the dreariest, grossest, wintery day, you can walk into the greenhouse and it's warm. There are tropical plants and there's activity and people doing science and flowers and stuff. I just think it's a really cool contrast.
Q: What's your favorite Miami tradition?
A: There is a suite of music by Benjamin Britten called "A Ceremony of Carols" and the Choraliers perform it by candlelight between Thanksgiving and Christmas every year. (This year's performance is Friday, Dec. 9.) I went as a freshman in December 2001, and I have not missed one since. It's a sweet piece of music, and it brings students, people from town and faculty all together to see this thing at Kumler Chapel by candlelight. It's just awesome.