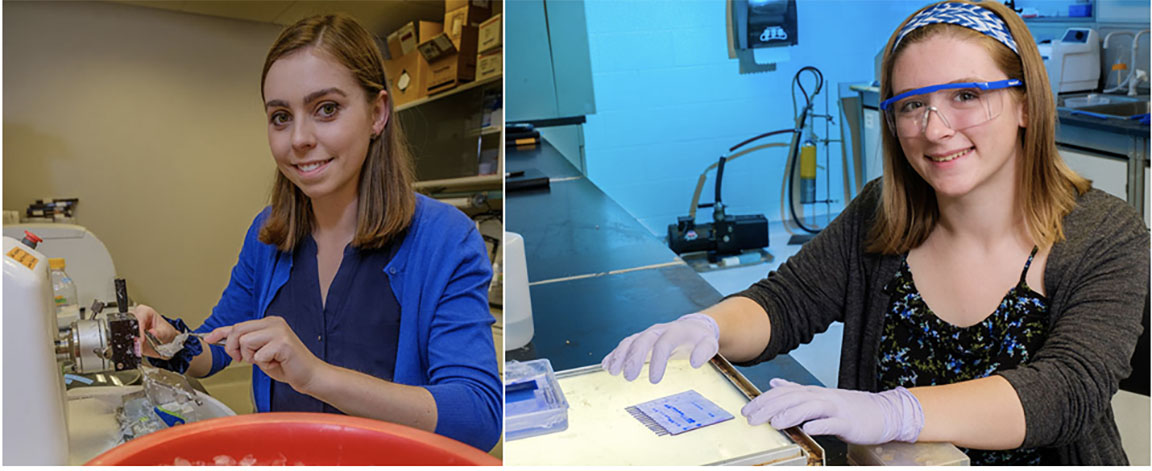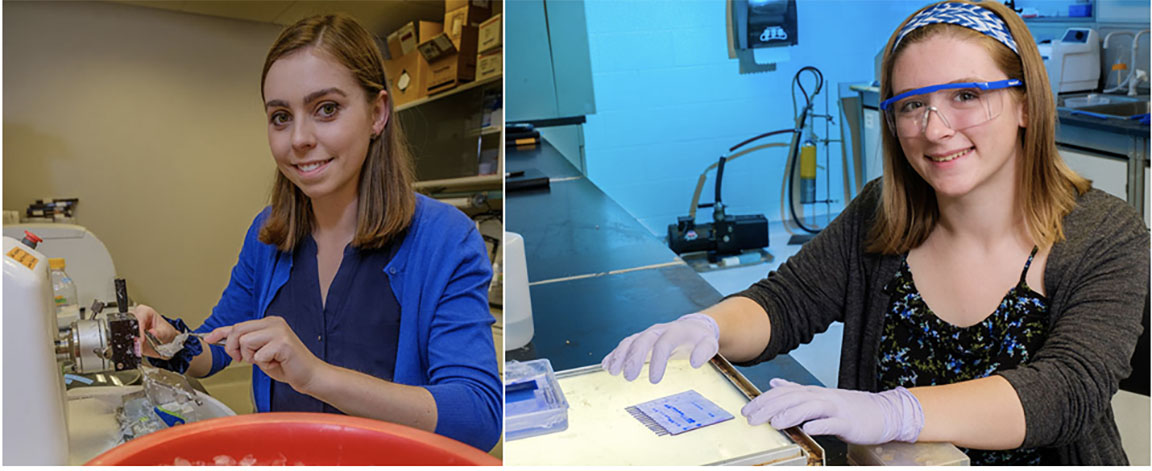 Biochemistry majors Audrey Short (left) and Callie Miller are the 2017-2018 Beckman Scholars (photos by Scott Kissell).
Jul 13, 2017
Beckman Scholars embrace research opportunities
By Susan Meikle, university news and communications
The opportunity to be involved in research was an important reason that Callie Miller and Audrey Short chose to attend Miami. They each joined a biochemistry research lab during their first semester, and their skills and dedication helped lead to their selection as the 2017-2018 Beckman Scholars at Miami. The $19,300 scholarship provides exceptional undergraduate students with continued support for a mentored research project over two summers and one academic year.
Miami was one of 12 schools to receive the Arnold and Mabel Beckman Scholars Program Institutional Award for 2016-2019. The program allows Miami to offer the Beckman Scholarship for up to five students over three years.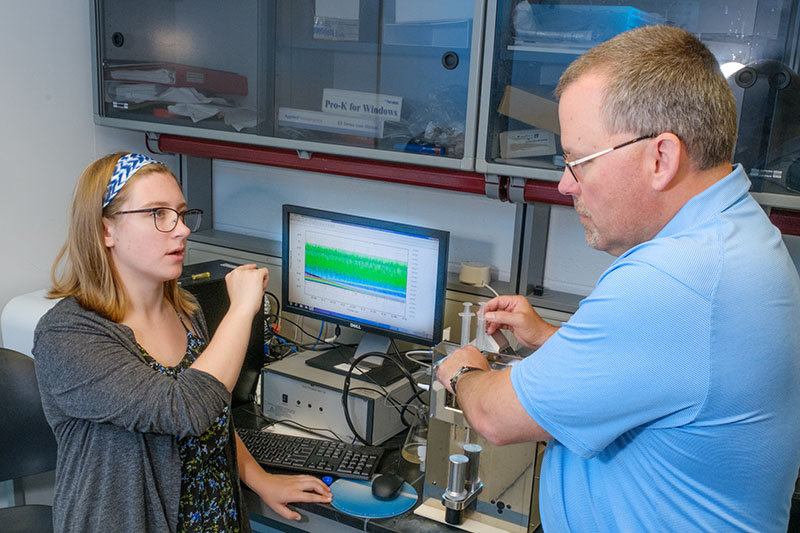 Callie Miller with faculty mentor Mike Crowder.
Miller, a sophomore biochemistry and French double major from Champaign, Illinois, is mentored by Mike Crowder, professor and chair of chemistry and biochemistry. She joined his lab right when she started at Miami last year. She had been involved in research as a high school student through the ResearcHStart program at the University of Illinois and wanted to continue as an undergraduate student.
Miami "had the best opportunity for undergraduate research" among the colleges she applied to, Miller said, and "the best combination of education and research."
She is working on Crowder's research project on designing clinical inhibitors of metallo-beta-lactamases (MBLs), which render bacteria resistant to antibiotics.
The project, supported by a grant from the National Institutes of Health, is in collaboration with researchers from the University of California at San Diego, University of Texas at Austin and Case Western Reserve University.
This summer Miller is working on a new proposal targeting an enzyme in the bacteria C. difficile that it needs to infect humans.
"While only being a rising sophomore, Callie has quickly mastered a large number of research techniques in the lab, and she is leading her own project," Crowder said. "She is a co-author on two submitted manuscripts, and I expect many more in the future. Her research trajectory is unbelievable, and I cannot wait to see what she accomplishes in the future."
Next year Crowder plans to guide Miller in writing a grant proposal for the NIH "from the ground up" — a rare opportunity for an undergraduate student. 
Miller is a member of the university honors program and treasurer of Miami's club sailing team.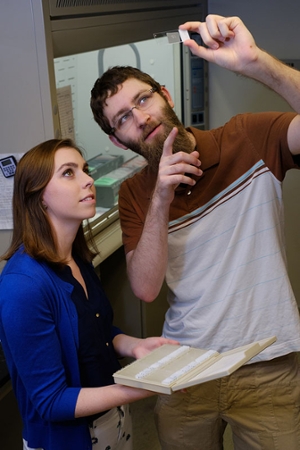 Audrey Short with doctoral student mentor Will Joesten.
Short, a junior biochemistry major and physics minor from Atlanta, Georgia, is mentored by Michael Kennedy, Ohio Eminent Scholar of Structural Biology. She joined Kennedy's large lab group during her first semester at Miami. Originally a premedical studies co-major, she was attracted to the human disease aspect of Kennedy's research on Type 1 diabetes.
After being immersed in undergraduate research, she has had such a positive experience that now she intends to pursue doctoral level research instead of medical school.
She is involved in Kennedy's project to determine the role that gut microbes play in triggering Type 1 diabetes (T1D) in genetically susceptible individuals. 
The group uses a Non Obese Diabetic (NOD) mouse model system. Metabolic profiling studies are conducted on urine and fecal samples to indirectly detect changing gut microbial populations over time.  
Short is specifically working on immunohistology studies  — the microscopic study of tissues using antibodies that bind to tissue components — with the use of fluorescence microscopy to assess beta cells in the pancreas. Beta cells produce and secrete insulin, the hormone responsible for regulating levels of glucose in the blood.  In Type 1 diabetes, an autoimmune attack seeks and destroys these beta cells.
Kennedy's doctoral student Will Joesten has worked closely with Short since she started in the lab. "Miami is incredible in the amount of energy and work ethic undergraduate students bring to research," said Joesten, who has mentored 10 students in Kennedy's lab. 
Short presented her research last year at the national meeting of the American Chemical Society. She is a member of the university honors program and a tutor at the Rinella Learning Center. 
Arnold and Mabel Beckman Foundation Beckman Scholars Program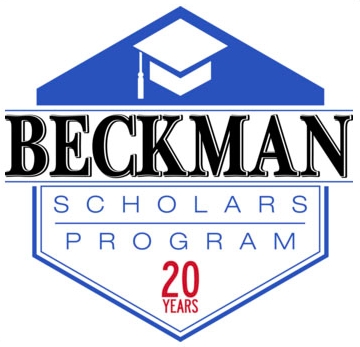 "The Beckman Scholarship Program Institutional Award has become a very competitive award with a success rate of 8-10 percent. We are very fortunate to have received four of these awards, and Miami is one of only a few schools to have won the award four times," Crowder said.
The program is a limited-submission, invitation-only program. Invited institutions demonstrate a significant commitment to undergraduate research in chemistry and the biological sciences, with faculties and research facilities "judged to be of the quality necessary to support the caliber of undergraduate research program sought for Beckman Scholars," according to the foundation.
Students selected for the Beckman Scholarship work with one of Miami's Beckman Scholar mentors in the departments of biology, chemistry and biochemistry, or microbiology.