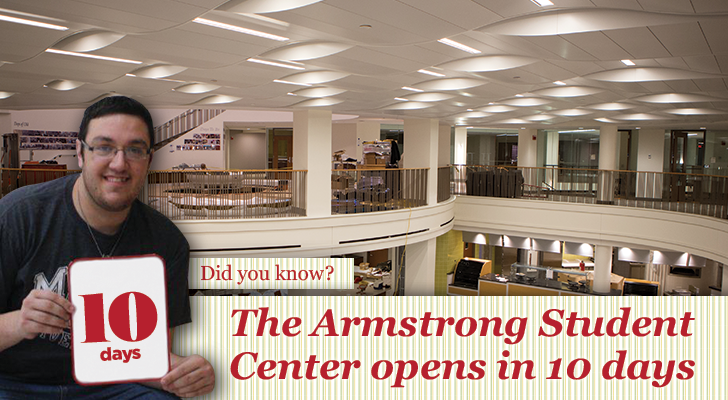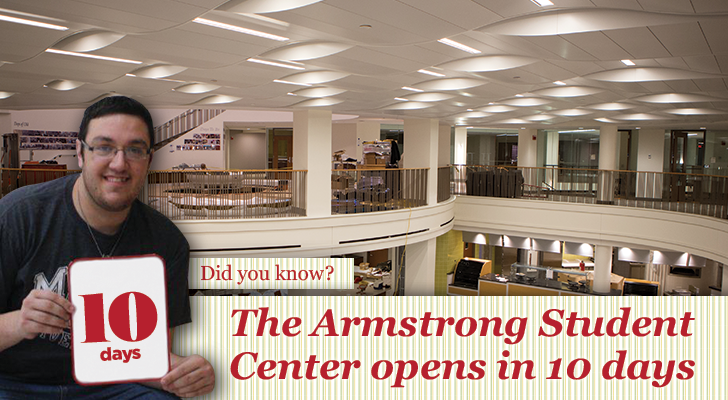 Jan 16, 2014
Ten days and counting: The doors to the Armstrong Student Center open Jan. 27
Countdown to opening day
Follow the countdown to the Jan. 27 opening of the Armstrong Student Center on Miami University's website and read all about it.
9 days to go - The Great Seal comes to life
8 - Two sisters and a book
7 - Peek inside the Armstrong Student Center
6 - "Students First"
5 - Food, food and food
4 - Miamians behind the Armstrong Student Center
3 - From red brick to green building
2 - Questions and answers
1 - Student centers through the years
Ten days and counting to Monday, Jan. 27, when the eagerly anticipated Armstrong Student Center at Miami University opens its doors. 
Nearly 60 percent of the facility is funded by more than 11,000 alumni and friends who donated $32 million to date. The Armstrong Student Center features space envisioned by students, designed for students and now, governed by students.
Doors open 24 hours a day at 7 a.m. Monday, Jan. 27 at 550 E. Spring St., in the heart of campus. From 10 a.m.-8 p.m. that day staff members, building managers and Armstrong board members will give hourly tours departing from the information desk, accessible through Spring Street/Shade Family Room entries. Monday also begins two weeks of activities leading up to a campuswide dedication ceremony and open house 2-4 p.m. Friday, Feb. 7.  Open to the public, the event will feature a brief program and presentation featuring Mike and Anne Armstrong and will be followed by musical entertainment, building tours and complimentary tastes.
"The Armstrong Student Center represents a remarkable achievement by the Miami University family," said Miami President David Hodge. "From the students who challenged the university to build a focal point for its 21st-century student experience to the alumni and friends who have supported and invested in that dream, we are creating a legacy that will enhance the Miami experience and lead directly to the success of future Miamians."
Student government presidents had been asking Miami for a new student center for more than a decade. Miami's board of trustees approved construction for a center in 2008. In June of 2010, Miami alumni Mike ('61) and Anne ('61) Armstrong provided the primary leadership gift of $15 million, and in August of 2011, Miamians celebrated a ceremonial groundbreaking for the $53.1 million phase one of the center, which includes 150,000 square feet of space.
"The uniqueness of Miami's Armstrong Student Center is that students are its foundation, its core, and they will continue to form its structure, " said Katie Wilson, director of the center.
The motto of the center's governing board is "Students First." The 17-member board works with Armstrong staff to set policy. Board members serve on 12 planning teams dealing with everything from the type of technology that exists in the building, to room reservation policies, to office space assignments.
"It's more than a building, it is a 24/7 hub of campus life and a family room for Miami's students to engage one another through class work, co-curricular organizations and social interaction," said Susie Sadler, senior director of development.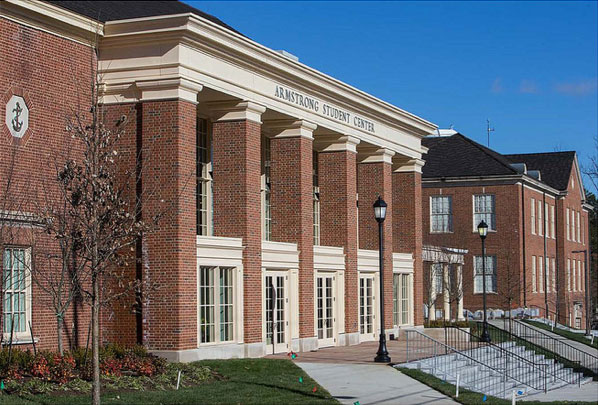 The Armstrong Student Center viewed from Spring Street.
Designed by William Rawn Associates with an emphasis on bringing students together, the center is located on Spring Street across from Shriver Center and borders Upham Hall and Bishop Woods to the north. The 203,000-square-foot center will include the renovation and repurposing of the former Gaskill and Rowan halls connected by a new central structure, as well as a repurposed Culler Hall in an east wing expansion when complete. Designed to fit within Miami's renowned Georgian architecture style, the building also incorporates a variety of sustainable construction and use practices.
Highlights of the completed phase include custom-designed elements of special importance or uniqueness to Miami.
* The Bicentennial Rotunda serves as the symbolic center of the building, while the Armstrong Student Center "Slant Walk" links Joslin Family Terrace and the western entrance to the rotunda and the Center for Student Engagement and Leadership.
* The second floor "Slant Walk" is overlooked by the third floor offices of student organizations headquartered in the center and is naturally lit by a dramatic overhead skylight. The floor is covered in tiles etched with the names of Miami alumni and friends. A major feature is an amazingly detailed 3-D version of the university seal set into the floor directly beneath the skylight in the rotunda.
* The center's 500-seat Harry T. Wilks Theater features the most current sound and video systems and a balcony level, and is well-suited to host on-campus movies and performances.
* A true place of campus community, The Commons is a large, open area providing tiered seating for more than 450 students. Surrounding The Commons are specialty food dining concepts, featuring the cuisines sought by today's students such as American bistro, Asian and Italian.
* The large event space known as The Pavilion will be the largest formal event space on campus. The Pavilion will seat up to 850 people for speaking engagements and more than 500 people for banquets.
* Visitors who enter at Spring Street will be welcomed into the Shade Family Room. This large Miami heritage room is a celebration of Miami's history and tradition, featuring a décor of images chronicling the university's 200 years and a large fireplace.
* As the center's 24/7 dining venue, the Bob and Doris '52 Pulley Diner serves breakfast, lunch, dinner and any meal in between in booths and on dining counter stools reminiscent of a classic diner. It includes seating for nearly 200 and a large television for students to gather around and cheer on the RedHawks.
Some of the building will be funded by student fees, which were endorsed by Miami's Associated Student Government and approved by Miami's board of trustees.
The completion of the Armstrong Student Center is the most visible representation of the successful finish of Miami's For Love and Honor campaign, which raised more than $500 million for scholarships, faculty support and student co-curricular endeavors.