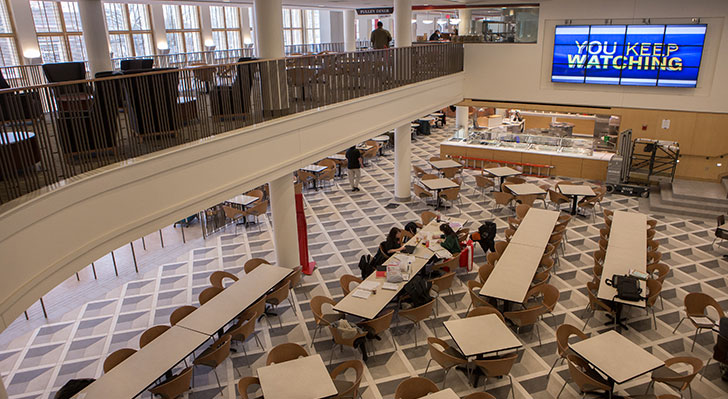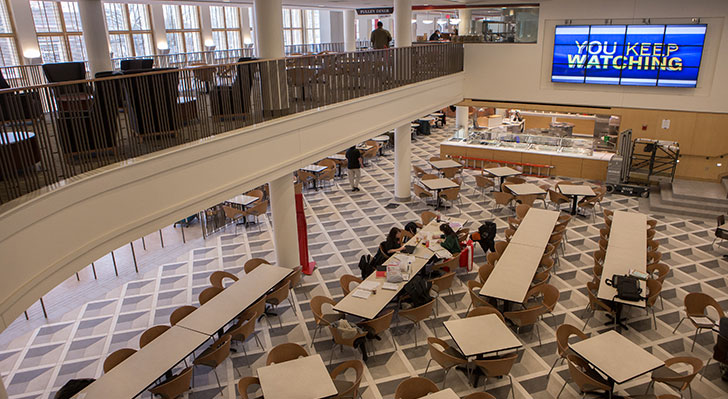 Armstrong Student Center features numerous dining options
Photo: Scott Kissell
Jan 21, 2014
Student-centered dining choices the main plate at Armstrong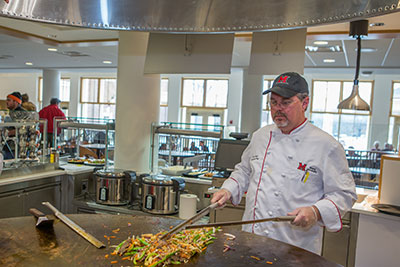 Eric Yung, Miami chef, prepares a dish using a Teppanyaki grill.
With the opening of Miami University's Armstrong Student Center comes a menu that will please just about any palate. From create-your-own pizzas and stir-fries to sundaes and milkshakes, whatever you're craving, you'll find it at one of the six new dining concepts at the student center.
Housing, dining, recreation and business services (HDRBS) spends years creating and executing a new dining concept, and it's a job the chefs take seriously.
"We work very hard to make sure our food is what students want to eat, and we develop menus and make changes based on student feedback," said Eric Yung, executive chef. "We want our kids to eat well, and we ask them routinely how we can improve dining on campus. If they give us a suggestion, we're happy to try it."
The new dining facilities at the Armstrong Student Center include:
• Miami Ice- The first dining stop is Miami Ice, featuring coffees, cappuccinos, smoothies, gelato and fold-in ice cream.
• Sundial Pizza Company- A Miami staple, the new station features pizza by the slice, create your own pie, stromboli, pasta and subs.
• Serrano- Named after a spicy pepper, this Latin American dining stop features burritos, tacos and quesadillas that students can build on their own. Tapas and sandwich options are also on the menu.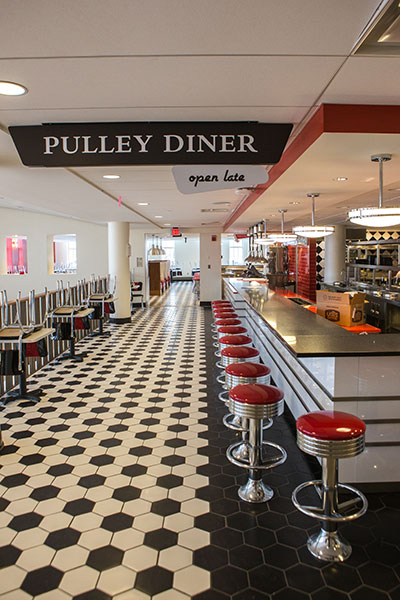 Inside the Pulley Diner.
• Mein Street Mongolian & Asian Grill- In addition to grab-and-go stir-fry, appetizers and soups, this dining option also allows students to create their own meal on a large Teppanyaki grill. Pho, a popular Vietnamese dish, is also offered along with a Chinese noodle bar.
• Haines Boulangerie- Soups, salads and sandwiches on handmade bread rule this menu. Pick up a muffin, cookie or scone for later.
• Bob '52 and Doris '52 Pulley Diner- Anchoring the second level of the student center is a 1950's-style diner that features 24 hour service of campus grill favorites like burgers, chicken sandwiches, boneless wings, french fries, cheese sticks, onion rings and macaroni and cheese. The diner also has a soda station for sundaes, milkshakes and floats.
Since 2004, Miami's dining services has won more awards from the National Association of College and University Food Service than any other university in North America. In addition to the six new concepts available at the Armstrong Student Center, Miami's Maplestreet Station and its seven unique restaurants opened last fall.
Coming in the spring, Western Dining Commons will open, replacing Alexander Dining Hall on Western campus.