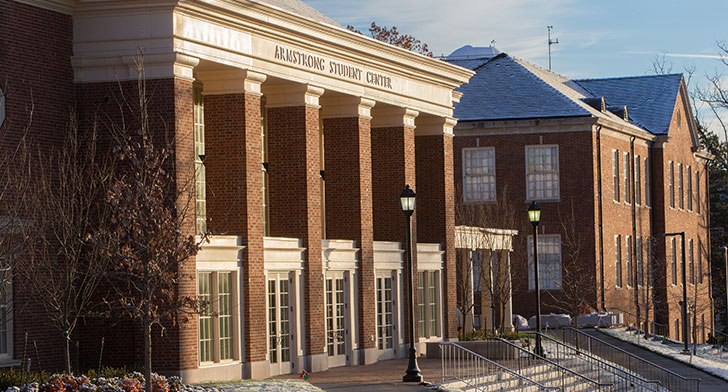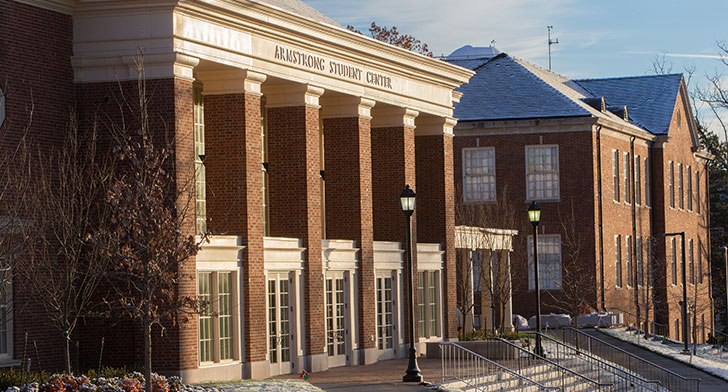 A view of the Armstrong Student Center on Spring Street
Photo: Scott Kissell
Jan 22, 2014
What's in a name? Or rather, who?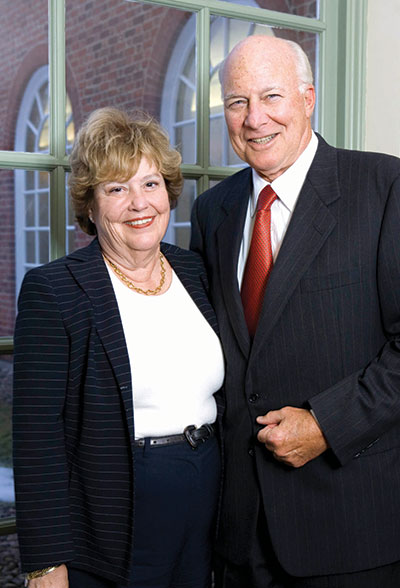 Mike and Anne Armstrong
Inside and around the Armstrong Student Center are the Shade Family Room, Joslin Family Terrace, Pulley Diner, Harry T. Wilks Theater, Marcum South Court, Ford Family Meditation & Reflection Room, the Sue Henry and Carter Phillips Student Activities Suite and the Richard and Emily Smucker Wiikiaami Room, among other named areas.
As long as Associated Student Government presidents have been asking trustees for a larger, student-focused center on campus, university officials have known that it couldn't be built solely by borrowing from the state. Alumni and friends of Miami (some of whom are or have been trustees who heard the ASG presidents' pleas directly) who appreciate what expanded opportunities mean for students provided significant funds to make the Armstrong Student Center a multi-faceted facility that will serve current and future students for generations.
Sixty percent of the center's $53.1 million cost came from more than 11,000 gifts to Miami's
Love and Honor
campaign to support the new center.
Mike and Anne Armstrong
, both Miami '61, were already strong supporters of Miami's interactive studies program and other efforts when they committed $15 million to the new student center. Mike Armstrong earned a bachelor's degree in business and economics. He spent more than 30 years at IBM, rising to chairman and CEO of the board of IBM World Trade. He later joined Hughes Electronics as its CEO and chairman and in 1997, was selected as chairman and CEO of AT&T. In December 2001, Comcast acquired AT&T Broadband and Armstrong became chairman of Comcast's board. He retired in May 2004. He currently serves as a member of Miami's board of trustees and chairs the board's finance and audit committee. Anne Gossett Armstrong earned her bachelor's in education from Miami. One of the couple's three grown daughters is a Miami graduate.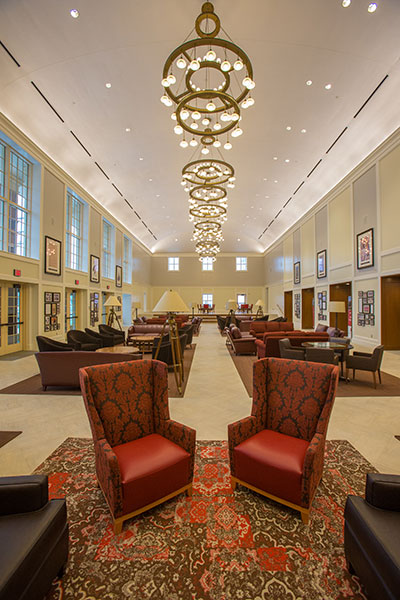 The Shade Family Room
David (Miami '66) and Charlotte Shade wanted the Shade Family Room to contribute to students' Miami experience. David Shade earned a degree in accountancy. A decorated Vietnam War veteran, the Chicago businessman served as a partner with Ernst & Young, as CEO and founder of Wellspring Partners, and currently as president and chief operating officer of Huron Consulting Group. Charlotte Shade is an honorary Miami University alumna.
David Shade has served Miami as a national trustee, as chairman of Miami's campaign, For Love and Honor, as chair of Miami's foundation board, on the Thomas C. Page Center Advisory Committee, and on the Farmer School of Business' business advisory council. All three Shade children are Miami alumni.
Called one of the most generous alumni in Miami history, Harry T. Wilks, a retired attorney and visionary in the Hamilton community, added to an extensive legacy of giving to Miami University with a 2012 $3 million gift that brings his financial support of the university to more than $9 million. In honor of his generosity, the theater within the new Armstrong Student Center was named in Wilks' honor. A 1948 Miami alumnus and a member of Miami's board of trustees, Wilks' gifts have created the Leadership Institute on Miami's Oxford campus and the Conference Center and a lecture series on Miami's Hamilton campus. Wilks has also funded scholarships each year at Miami Hamilton.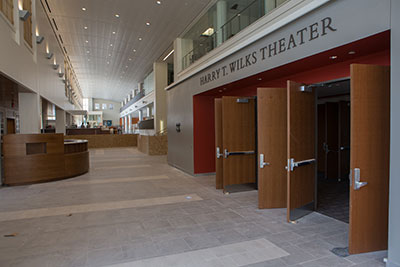 The Harry T. Wilks Theater

Bob and Doris Pulley, both class of '52, were Miami Mergers. He serenaded and pinned Doris on the steps of Bishop Hall with his Phi Delt brothers, and the couple was married six days after their Miami graduation. It was a relationship cemented over a lot of burgers and shakes, making it appropriate that the couple chose to honor their Miami roots by making a $1 million gift to name The Bob '52 and Doris '52 Pulley Diner, a 24/7 diner within the Armstrong Student Center.

Roger and Stephany Joslin, both Miami '58, celebrated their 50-year class reunion in 2008 with a $500,000 commitment that named the Joslin Family Terrace, a 4,000-square foot space on the Armstrong Student Center's west side. Their daughter Jill Joslin Gilbert (`87) and son James Joslin (`92) are both Miami graduates, and the Joslins were both active in the Greek system while undergraduates at Miami. They have remained involved in alumni association programming, and Roger previously served on the alumni board.

Edsel and Cynthia Ford, who served four years on Miami's Parents Council while their son, Stewart, class of '10, was a student, provided $300,000 to fund a meditation room. This initiative aims to bring Miami students, faculty and staff together for important discussions about spirituality and the search for meaning. The 600-square foot Ford Family Meditation & Reflection Room provides a safe, physical space for multi-faith students to reflect, meditate and pray – as well as for gathering to practice and discuss faith and personal meaning.

With a $350,000 gift from Sue Henry (Miami '73) and Carter Phillips, the Sue Henry and Carter Phillips Student Activities Suite will provide meeting and workspace for Miami's more than 400 student-led groups in the center.

Henry, who earned a bachelor's degree in political science at Miami, a law degree from Northwestern University and master's of law degree from Georgetown University, is a national trustee on Miami's board of trustees and chairs the board's academic and student affairs committee. She formerly served of counsel for Ogletree, Deakins, Nash, Smoak & Stewart, P.C., and as an assistant professor of law at the University of Illinois. She has actively served Miami as a member of the College of Arts and Science advisory board and as the first chair of the pre-law advisory council. Phillips is chairman of the executive committee of the Washington, D.C., office of Sidley Austin, LLP.


Richard and Emily Delp Smucker, both 1970 graduates, provided $500,000 to support the wiikiaami Room in the Armstrong Center. The circular room, which was designed by students within Miami's department of architecture and interior design, honors the heritage of the Miami Nation, while supporting discussion-oriented programming. (See the first photo in the fifth row of this photo series) Richard is the president and CEO of Smucker Company and was chair of Miami's board of trustees when it passed the 2008 resolution that authorized planning for the construction of a new student center. The Smuckers are long-time Miami supporters, including sponsoring the annual Richard T. Delp Outstanding Faculty Award in the College of Education, Health and Society.

Joseph "Joe" and Sarah Marcum have a long association with Miami.  Joe received his MBA from Miami in 1965.  At Ohio Casualty Insurance he served as president, CEO and chairmen until he retired as CEO in 1993.  He served on Miami's foundation board and on the University's board of trustees, including as chairman.  One of the Marcum's five children, Tim, graduated from Miami in 1973. The Marcum Conference Center and surrounding Timothy J. Marcum Memorial Center and Nature Trail were named in his memory following his passing shortly after graduation.  Although none of their other children are Miami graduates, the Marcums count several grandchildren as Miami students or alumni. They have made many generous contributions to Miami and the sponsorship of the South Court of the Armstrong Student Center is their latest.

Stories about many friends and donors to the Armstrong Student Center are on the campaign website.
Written by Claire Wagner, director, university news and communications, with help from Vince Frieden, associate director, development communications