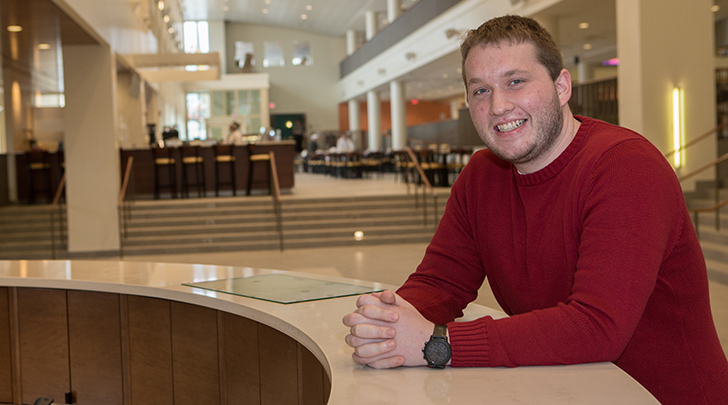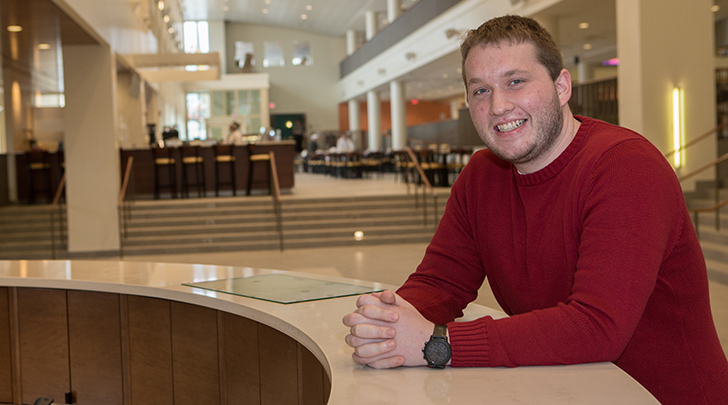 NIck Miller stands inside the newly constructed Armstrong Student Center
Photo: Scott Kissell
Jan 20, 2014
Governing board puts students first in new Armstrong Student Center
The Armstrong Student Center Board
Nick Miller, chair
Logan Babcock
Christopher Curme
Grace Eichler
Allison Gnaegy
Lizzy Goodman
Nathan Lombardi
Robert Minicucci
Conor Nelson
Jasmine Patel
John Schieman
Tyler Simonton
Stephanie Spetrino
Cole Tyman
Courtney Bernard
Jim Bennett
Eric Riddle
From the beginning, the Armstrong Student Center has been called a building "by students, for students" and the center's governing board has played a key role in making that happen.
The 17-member board, comprised entirely of students, works with Armstrong staff to set policy at the center, which officially opens for 24-hour operation Monday, Jan. 27.

"The fact that we started the board before we started the operations of the building I think is a really strong testament to the belief that the Armstrong Student Center is 'for students, by students,' " Armstrong Student Center Director Katie Wilson said.

Armstrong Student Center Board Chair Nick Miller, a senior from Toledo, said the new center will enhance the Miami experience for students.

Members collectively have put in hundreds of hours meeting weekly with Wilson since last spring and serving on 12 planning teams with various university employees that focused on issues ranging from the type of technology that exists in the building to room reservation policies.

"I think the board was an extremely nice touch for the Armstrong Student Center, and I think it will be successful moving forward," said Miller, who is majoring in social studies education with minors in political science and history. He also is president of Student Senate and chair of the executive committee of the Janus Forum.

Miller said the great thing about the governing board is that there are so many leaders from different student organizations who know how to manage, do projects on their own and bring their ideas.

"There have been some slight hiccups along the way, but we've learned a lot," he said, adding that Wilson — who sat on all 12 planning committees — has been there "every step of the way" to guide them.

About one-third of the board members are student government appointees and two-thirds are at-large positions.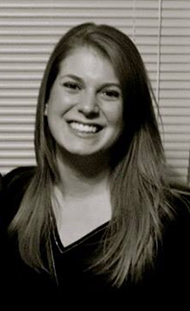 Stephanie Spetrino
Board member Stephanie Spetrino — a senior from Brecksville majoring in mass communications with a minor in business management and leadership — jumped at the chance to represent her peers in this unique way.

"I have been watching the construction of the building unfold throughout my entire duration at Miami and since I would only be around to enjoy it for one semester, I wanted to be as much a part of the process as possible," she said.  
Student organizations come together under one roof
As a member of Miami Activities & Programs (MAP), Spetrino helped plan welcome weekend and homecoming in past years as part of the Campus Activities Council.

MAP, which partners with groups to bring speakers to campus, sponsor concerts and plan special events, recently moved from the Shriver Center to the Armstrong Student Center. Spetrino said MAP members are thrilled to have a space near other student organizations, "a luxury we have not always enjoyed."

In the Shriver Center, the only student organizations in the student activities wing were MAP, the Residence Hall Association, Associated Student Government (ASG) and the Cliff Alexander Office of Fraternity & Sorority Life & Leadership.

"(MAP's) mission is to plan and show the student body what's happening on campus," Spetrino said, "and this new arrangement will make it much easier for us to give our target market what they want to see."

Chad Garland, associate director of the Armstrong Student Center, said 78 student organizations will have space in the center when it opens.

"We have a capacity of 90. We will be doing another round of office space applications in March for the fall semester," he said.
A vision
The Armstrong Student Center is supported through private donors and student fees, as approved by ASG. More than 11,000 alumni and friends have donated more than $32 million toward the project. The center features space envisioned by students and designed by students.

It will serve as a central location for Miami's students to engage one another through class work, co-curricular organizations and social interaction.

In 2008 Miami's board of trustees approved construction for a center in response to student government leaders' request for more opportunities for engagement, leadership and personal growth.

Two years later, Miami alumni Mike ('61) and Anne ('61) Armstrong provided the primary leadership gift of $15 million. In August 2011 Miamians celebrated a ceremonial groundbreaking for the $50 million phase one of the Armstrong Student Center, which includes 150,000 square feet of space.

Miller said the governing board's task was to create a vision for it, then try to "execute that vision."

That has involved taking into consideration the input of all of the university's stakeholders. Miller said he knew everyone was focused on the same goal: making it successful.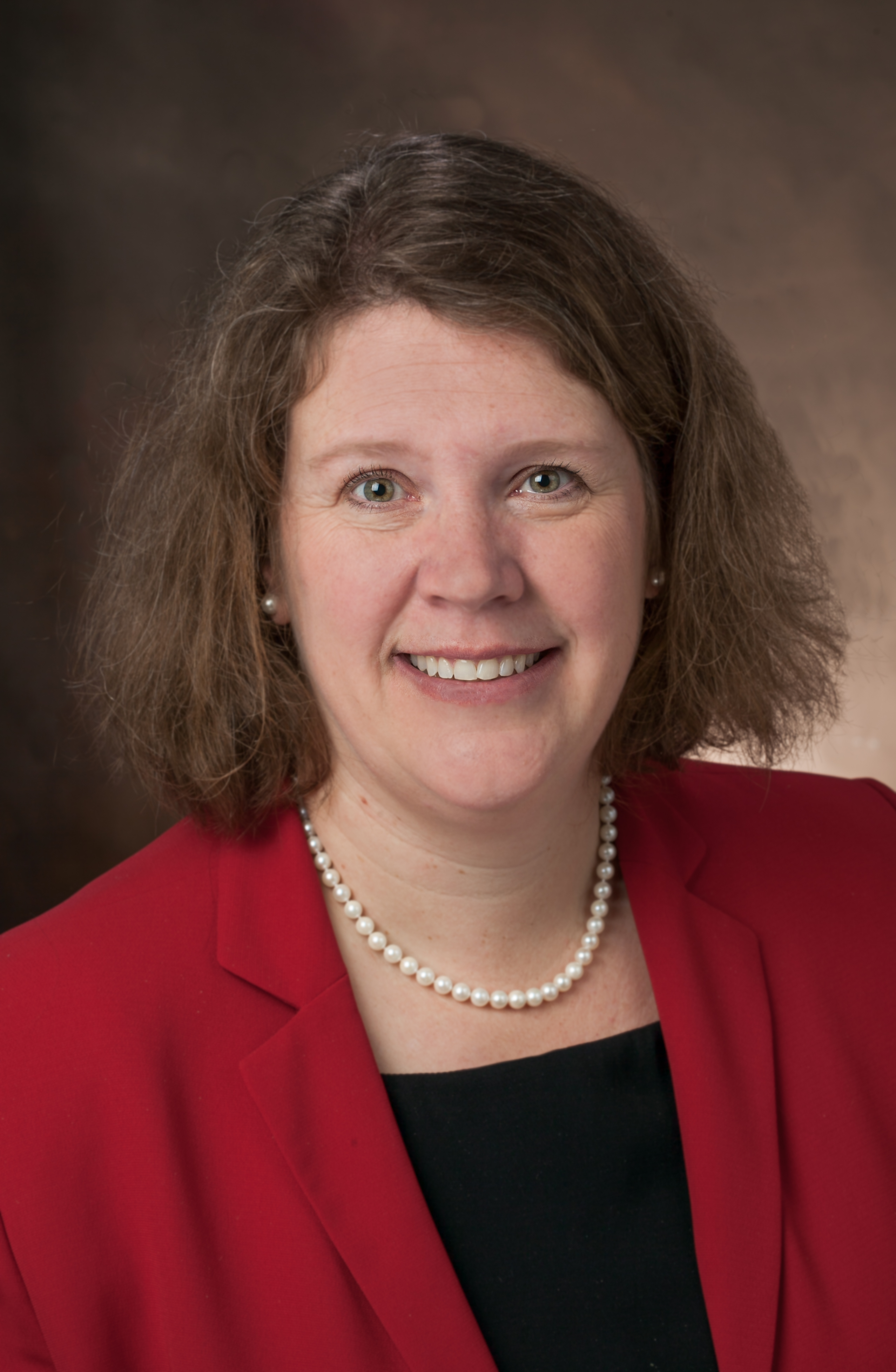 Katie Wilson
"I think he's an extremely balanced student leader, and he's done a tremendous job at providing leadership and perspective," Wilson said.

Miller led the Mission, Vision and Governance committee, whose job was to come up with the governing board's constitution and bylaws — in essence hammering out the vision for the new student center, the board and its operations.

They used ASG's constitution and bylaws as a guide and adapted it to fit the board's mission.

"It was a tedious process, but it was necessary," Miller said, crediting other board members for the effort that took more than six weeks.

Wilson said the students have had to make some tough decisions related to such issues as who gets to schedule rooms when and how much they pay.

For example, the board decided student organizations would have a month head start over university departments for scheduling space, and that space would, for the most part, be reserved for student organization events in the evening.

Miller said that was important because "One of the reasons student government asked for the new student center was the lack of event space for students, so giving student organizations the chance to have a space to do those events was one big aspect." He said another factor was that the university still has Hall Auditorium, Shriver Center and other available locations to host events.
A hub of the Miami experience
After the Armstrong Student Center opens, students will continue to remain active by serving on four standing committees dealing with marketing and communications, student organizations' needs, budget and revenue, operations and student employment.

"They will continue to monitor, evaluate and make recommendations in all of those areas," Wilson said.

Miller, who will graduate in December, said he's anxious to see the center's doors finally open to students.

He's been the board's inaugural chair since December 2012 but in about a month will step aside, preparing for the next chair to be elected in the spring.

Miller first became involved in the project the summer after his freshman year when he served on a planning committee for phase one of the Shade Family Room.

Last week he watched the final touches being added to a wall of that room, including the Code of Love & Honor.

Miller believes Armstrong will become the hub of the Miami experience, and he hopes that going forward, "students take ownership of this building," remain engaged, stay involved and "make sure this really remains a student-led initiative. I think that would be outstanding."

Written by Margo Kissell, university news and communications, kisselm@miamioh.edu