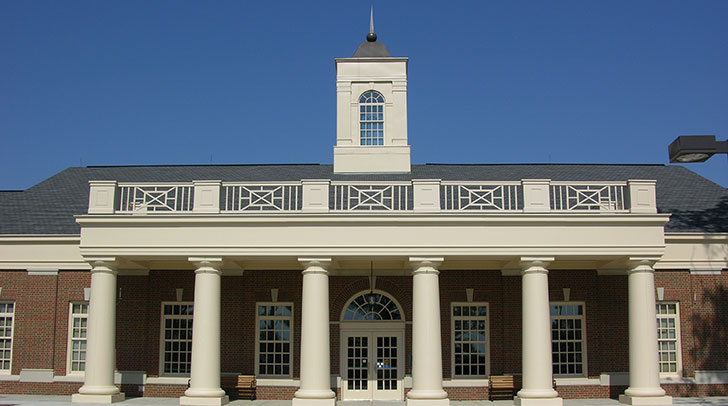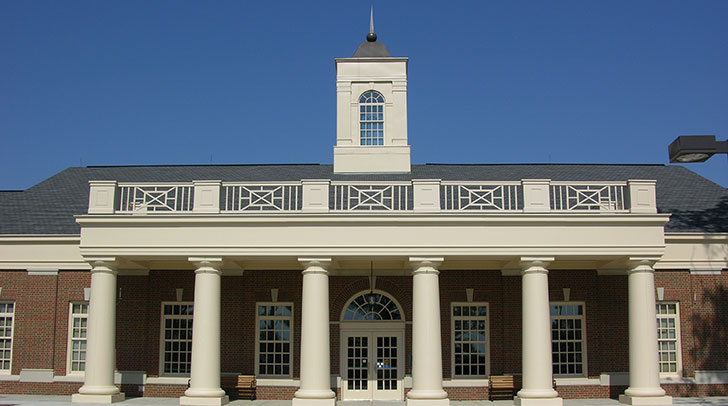 Miami's Voice of America Learning Center celebrates 5 years
Jan 10, 2014
Voice of America Learning Center marks fifth anniversary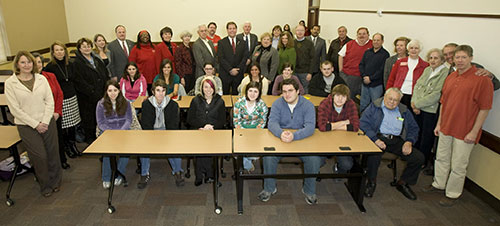 The first class session, ZOO 121: Environmental Biology, held at the Voice of America Learning Center in 2009 is shown seated with community leaders, supporters and members of the VOALC staff standing.
As Miami University's Voice of America Learning Center (VOALC) marks its fifth anniversary this week, it celebrates having served more than 3,875 undergraduate and graduate students in more than 685 credit courses and workshops.
Beginning with 28 courses and 389 students in the spring semester of 2009, the Learning Center completed the fall 2013 semester with its greatest enrollment to date — 596 students —and 68 courses and workshops, also a new benchmark for the center.
With its strategic location adjacent to I-75, the VOALC has increased access to Miami degree programs and courses.
"Serving a broad spectrum of students is one of the hallmarks of the VOALC," said Rod Nimtz, director. "It is a unique place involving undergraduate and graduate education, combined with professional and executive development opportunities, plus the community and alumni outreach programming done throughout the year. The VOALC reflects all elements of Miami, and makes the Miami experience more convenient for many in the region with its unique location."
As the number of baccalaureate degree programs in the College of Professional Studies and Applied Sciences has increased, the VOALC continues to be a draw for undergraduate students, particularly older, working students.  Class schedules at the center are designed to complement those at Miami's Hamilton and Middletown campuses to maximize opportunities for persons seeking to complete their baccalaureate degrees or begin their college experience.
The Farmer School of Business launched its professional MBA program in fall 2009 and has already graduated three classes. It is adding its fourth cohort this January and has been recognized as one of the top 50 part-time MBA programs by US News and World Report in its 2014 rankings.
Miami's College of Education, Health and Society relocated many graduate programs for area educators to the VOALC, and through strategic scheduling and an increasing number of hybrid format classes, the college is serving a growing number of students.  The new transformative education master's degree program joins other degree, licensure and certification programs that have served almost 1,000 educators over the past five years.
Its location in the growth corridor of I-75 between Cincinnati and Dayton has also positioned the VOALC for corporate training and executive development.  Miami's Corporate & Community Institute continues to develop and offer professional and leadership development seminars.  One of its more unique programs, developed with the Butler County United Way, has been the Nonprofit Board Leadership program that has trained 60 area residents for service since it began in fall 2010.
"Providing classroom space, technology and resources at a convenient, state-of-the-art location has made Miami University's VOALC a special gathering place for our community to come together to share, learn and grow," said Joe Hinson, president and chief operating officer of the West Chester Chamber Alliance.
The Learning Center planning began with discussions among Miami University, West Chester Township and Butler County officials in March 1995. Miami applied for its 20-acre site to the U.S. Department of Education in July 1996 and received title to the land in December 2000. Ground was broken for the 23,000-square-foot facility in September 2007, and a ribbon-cutting ceremony was held in November 2008. Doors opened officially Jan. 12, 2009.
Learn more about the Voice of America Learning Center online.