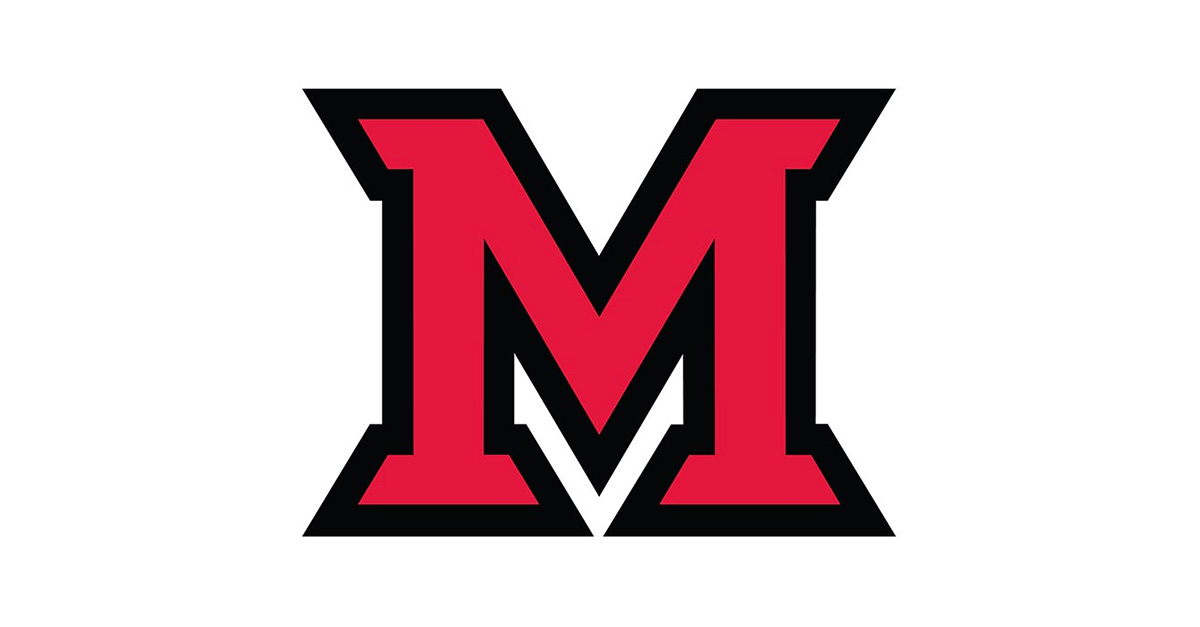 Feb 10, 2014
Team RedBlade wins Autonomous Snowplow Competition
A team of electrical and computer engineering students from Miami University won $7,000 and first place — and the Golden Snow Globe Award — in the fourth annual ION Autonomous Snowplow Competition held Jan. 23-26 in St. Paul, Minn.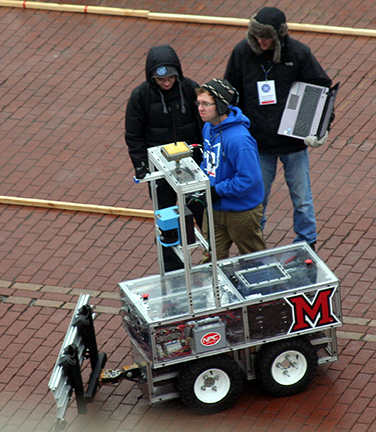 Team RedBlade won first place and $7,000 in the Autonomous Snowplow Competition held Jan. 23-26 in St. Paul, Minn. Team members include Robert Cole, James Morton and Richard (RJ) Marcus. They are assisted by Mark Carroll (Miami '12) and Harrison Bourne (Miami '13). Morton (top), Cole (center) and Carroll (left) are pictured here.
The team also won Best Student Presentation (Golden Shovel Award and $500) and Best Report (Golden Pen Award and $500 award money).
Miami RedBlade team members are Robert Cole (Miami '12) from Middletown, a master's student in computational science and engineering; James Morton of Oxford, a senior quadruple major in computer science, electrical engineering, mathematics/statistics and engineering physics; and Richard (RJ) Marcus of Ottowa Hills, a senior electrical and computer engineering double major.  
Mark Carroll (Miami '12) of Hamilton and Harrison Bourne (Miami '13) of Cincinnati, master's students in computational science and engineering, provided assistance to the team.
The purpose of the competition, founded by the Institute of Navigation (ION), is to challenge university and college students to design, build and operate a fully autonomous snowplow to remove snow from a designated path.
Students are encouraged to use state-of-the-art navigation and control technologies to rapidly, accurately and safely clear a path of snow. 
The winning teams were selected based on their total score including written reports, presentations and competition results.
Two teams from the University of Michigan received second and third place.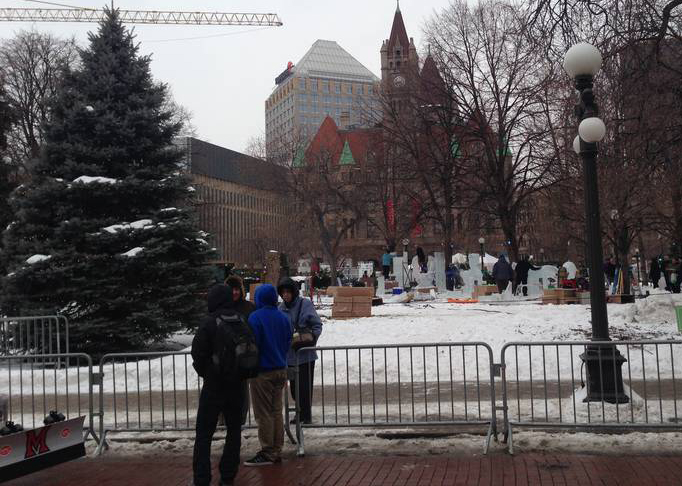 The Autonomous Snowplow Competition takes place during the Saint Paul Winter Carnival.
The eight competing teams presented different vehicle design and navigation approaches. Team RedBlade used a differential GPS system for navigation on a platform that can plow snow or mow grass. 
The four-day competition ran in conjunction with the Saint Paul Winter Carnival. 
Team RedBlade is invited to display their robot during the ION Satellite Division's Annual Global Navigation Satellite System Conference to be held in September.
Cole, Carroll and Bourne are advised by Jade Morton, professor of electrical and computer engineering and advisor to Team RedBlade.
Morton was not able to attend the Snowplow Competition; instead, she attended the ION International Technical Meeting Jan. 27-29 in San Diego, Calif., where she was presented with ION's Colonel Thomas L. Thurlow Award for outstanding contributions to the science of navigation.
She was recognized for significant contributions to the understanding of ionospheric effects on navigation satellite signals, development of several innovative signal processing algorithms and dedication to navigation education.
Project support
The ION Autonomous Snowplow competition is sponsored by a number of corporations and organizations. 
Team RedBlade members garnered additional support for their robot from:
• Topcon, a leading GPS and GNSS receiver and equipment manufacturer, donated a set of state-of-the-art differential GPS receivers for the robot navigation. Topcon, of Tokyo, has a Columbus office.
• NPC robotics donated two pairs of electric motors that allowed the team to modify RedBlade into a four-wheel-drive robot.  They also donated $900 to pay for parts and labor.
• Kauffman Tire of Oxford donated tires for the robot.
• Jayson Alexander, instrument maker/machinist at Miami's Instrumentation Lab "did an outstanding job in making the custom fittings for our wheel encoders," Morton said.  
• Wouter Pelgrum, professor of electrical engineering and computer at Ohio University, loaned the team his RoboteQ controllers at a critical time when the team's own controller went bad right before leaving for the competition.
• The office for the advancement of research and scholarship (OARS) and the College of Engineering and Computing helped support the team with travel funds.
Watch the RedBlade snowplow perform the "Single I" competition online.
Written by Susan Meikle, university news and communications, meiklesb@MiamiOH.edu.