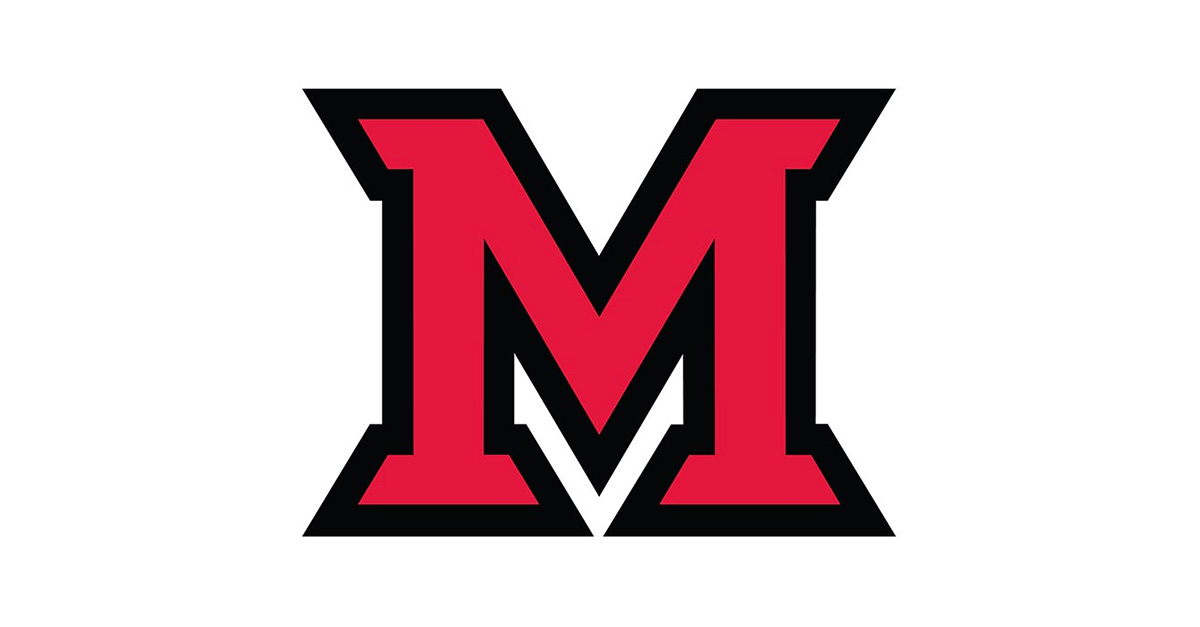 Feb 12, 2014
Myaamia Center to revitalize a traditional craft through the Ribbonwork Project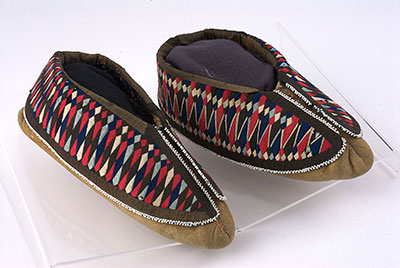 Moccasins featuring ribbonwork were displayed in a 2008 exhibit at the Miami University Art Museum. They were on loan from Cranbrook Institute of Science. Photo by Andrew J. Strack
Miami University's Myaamia Center received a $30,000 National Endowment for the Arts grant to revitalize the traditional craft of ribbonwork for the Miami Tribe of Oklahoma.
The two-year grant supports a two-phase project.  In the first phase, an instructional booklet and instructional DVD teaching the art of ribbonwork will be developed. The second phase includes community workshops featuring master ribbonwork artist Scott Shoemaker, a member of the Miami Nation of Indiana.
"This project provides another significant layer of cultural identity for the Myaamia people and adds to our ongoing efforts of cultural revitalization," wrote Daryl Baldwin, director of the center, in the grant application.
A craft that emerged out of the trade era in the 1700s, ribbonwork began when Miami people traded for silk ribbons with the Americans. They then created intricate geometric patterns by layering the silk materials, explained Baldwin. The eye-catching patterns of silk in bright primary colors adorned all types of clothing for both men and women. These clothes were usually worn only for special occasions.
"Our goal is to revive the skill among tribal members and encourage the aesthetic side of the art to be used in a variety of traditional and contemporary forms today," said Baldwin. "You can see examples of these geometric ribbonwork patterns as part of the woodwork inlay patterns and display cases located in the Wiikiaami Room of the new Armstrong Student Center. I've even seen ribbonwork used for cell phone covers today – a sign of cultural change that is essential to cultural survival."
Copies of the booklet and DVD will be distributed to the Miami Tribal community with many members concentrated around three population centers: northeast Oklahoma, where the tribal headquarters are located; east central Kansas, the site of the 1850s Miami Reservation; and Fort Wayne, Ind., the center of the historic homeland.  Workshops will be scheduled in various locations.
The Myaamia Center, located in 200 Bonham House, attained national recognition for its efforts to reverse language and cultural loss among Miami Tribe members.  The mission of the Myaamia Center is to advance the research needs of the Miami Tribe of Oklahoma with focus on Myaamia language, culture and history.
written by Carole Johnson, university news and communications, Carole.Johnson@MiamiOh.edu