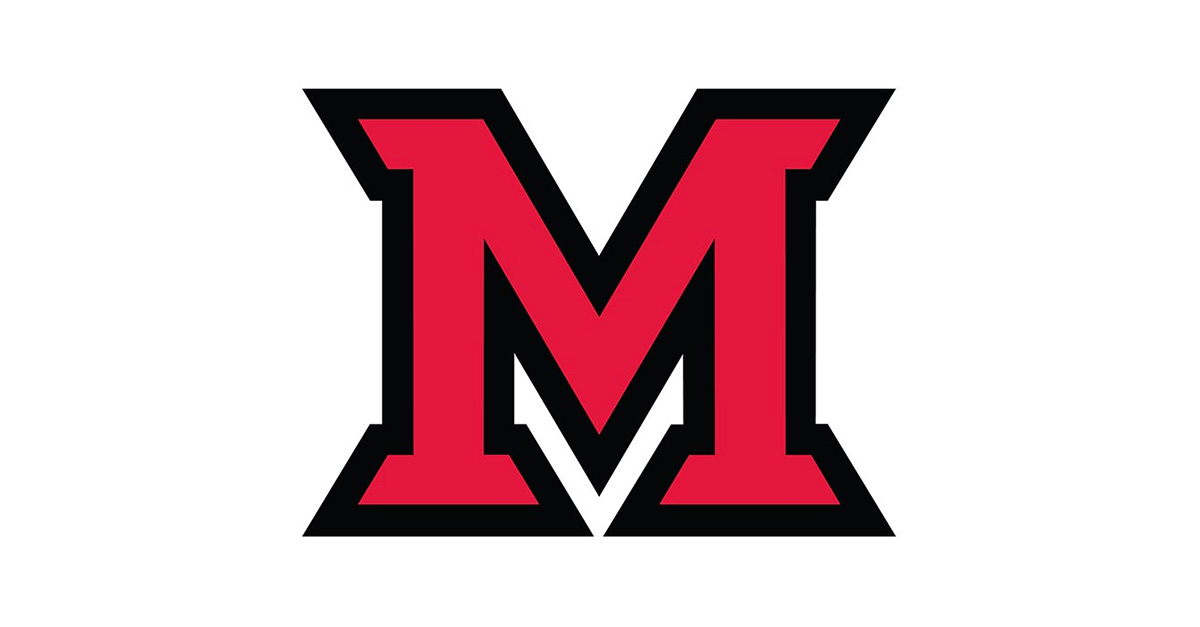 Mar 28, 2014
Miami grad covers the bases to give Reds fans a great experience
Written by Margo Kissell, university news and communications, kisselm@MiamiOH.edu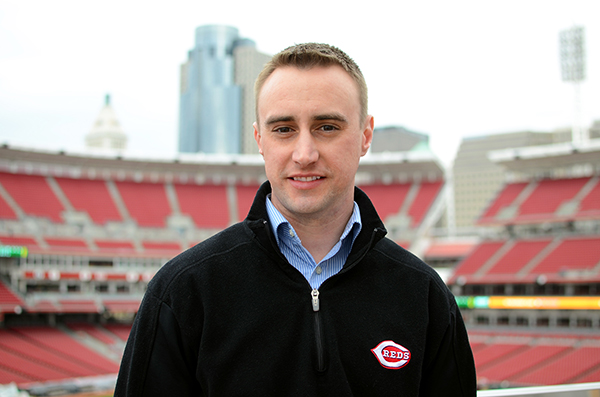 Jansen Dell (Miami '04), Cincinnati Reds' director of creative operations.
Jansen Dell (Miami '04) has been putting in long hours at Great American Ball Park the past two months, making sure everything is ready for opening day.
The Cincinnati Reds' director of creative operations said all that extra effort will be worth it if the new ballpark amenities are a big hit with fans.
The lead-up to opening day is his busiest time of the year.
"I think it's surprising to most people how much goes into getting the ballpark ready," he said.
Dell started working for the Reds organization in 2005, months after graduating from Miami University with a bachelor of fine arts degree in graphic design.
The Wilmington native who had followed the Reds since he was a boy started as a production and design intern. Two months later, he was hired full time as a production and design assistant. He has since worked his way up through the organization and was promoted to his current position in November.
Dell works with the executive team to facilitate new brand development. He also creates architectural drawings and signage packages for ballpark renovations and new construction and supervises all Reds creative projects.
"I think we're up to 25 different renovation projects around the ballpark," he said from his office inside the stadium. "That can be anything from sponsor changes to brand new areas."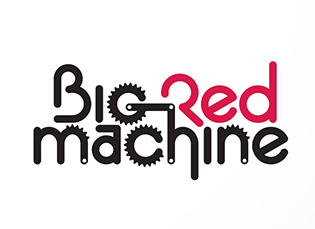 Among this season's new features:
• The Reds Brewery District, an 85-feet-long bar between sections 117 and 118 on the third-base concourse that will be home to 60 taps including 23 craft beers.
• Reds Connect Zone, a new gathering spot for fans to follow and engage in real-time social media content related to the Reds. Presented by Miami University, the zone offers free Wi-Fi access, charging stations for mobile devices as well as more than 25 screens of tweets, Instagram photos, Facebook polls, Vine videos, trending topics and more.
Thriving in a fast-paced environment
Dell said a lot of effort goes into trying to make the experience memorable for visitors.
"The mantra here is always 'bigger and better and more fan amenities' because, on the business side of things, we can't control the play on the field and we can't control the weather," Dell said. "What we can control are the amenities, the experience the fans have when they're here, making it a family-friendly environment and just making it a fun time."
The Reds' creative team of four is involved in up to 2,500 projects per year, he said.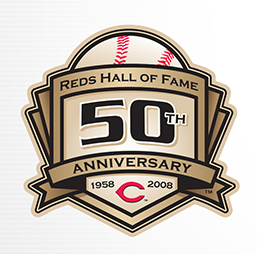 "Internally, we design everything," he said. That ranges from small Bobblehead boxes and giveaway items to 20-foot-high displays in the Reds' Hall of Fame, work related to the Reds Community Fund's outreach efforts and advertising.
Dell called it a "really fast-paced, fast turnover" environment, but he enjoys it.
And while there is plenty on his plate for this season, he already has one eye on next year when the Reds host the All-Star Game in July.
He will lead a team analyzing solutions to help fans move easily throughout the ballpark and its vicinity. Since a lot has changed since 2003 when the ballpark was constructed, the study team plans to examine the best ways for visitors to get from place to place.
Getting "a foot in the door" with the Reds
Dell found his own way to the Cincinnati Reds with an assist from Linda Stanforth, his former high school art teacher at Wilmington High School.
Reds' Director of Media Relations Rob Butcher, an alumnus of the same high school, was at a career fair there talking about opportunities with the Reds. The teacher knew Dell was a big sports fan and had recently graduated from Miami in graphic design. Butcher mentioned there was an intern position open. Dell applied and got it.
His senior thesis at Miami had been on branding for a sports team.
He designed everything for his fictional NBA team, the Las Vegas Blue Chips, including the team logo, jerseys and court, plus other marketing concepts.
"That's actually the project I used during that internship that allowed me to get my foot in the door showing I had an interest in sports design," he said.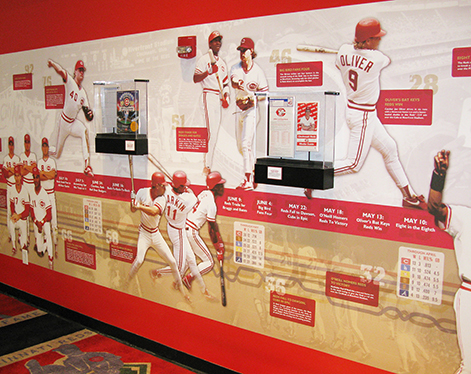 Jansen Dell designed the Cincinnati Reds Hall of Fame "Wire-to-Wire" exhibit in 2010 to mark the 20th anniversary of the world championship. The timeline illustrates how the Reds were never out of first place at any point in the 1990 season.
After working as a Reds production and design assistant for nearly three years, he worked his way up to production and design manager in 2008.
He held that position for five years, which included designing Reds Hall of Fame exhibits and season tickets.
One Hall of Fame exhibit that stands out in Dell's mind is the "Wire-to-Wire" exhibit in 2010 honoring the 1990 World Series champions. He was in elementary school when the Reds won and got caught up in that excitement.
"Being able to design the exhibit that honored the team I remembered was pretty neat," he said.
A new direction
Dell always had an interest in architecture and even considered pursuing it as a major at Miami before deciding on graphic design. Last year he joined the Reds internal construction team, led by the Reds' Chief Operating Officer Phil Castellini.
That team's focus is on fan amenities and various renovation projects. When the original plan fell through on renovating the Team Shop, Dell was called in to pinch hit to get the project done on time.
"I had six weeks to design the architecture behind it, the branding of it and then find enough vendors to pull it all off by opening day," he said.
It was a challenge, but it was one that got him back into that "signage, architectural material-based project world. Once I started doing that, I started taking on more and more of the signage projects and the construction type stuff until the Reds ultimately wanted me to do that full time."
With so much to do to get ready for this opening day, will he get to relax and enjoy any of the 4:10 p.m. home opener against the St. Louis Cardinals?
That depends on what time of day it is, Dell said, chuckling.
"The morning of opening day, I'll be walking around the ballpark, making sure that everything that was supposed to be done is done, and that things are ready to go and set up for fans to actually come into the ballpark," he said.
"Once game time hits, I'll be out as a fan enjoying the game."
(Photos courtesy Jansen Dell; logos designed by Dell)