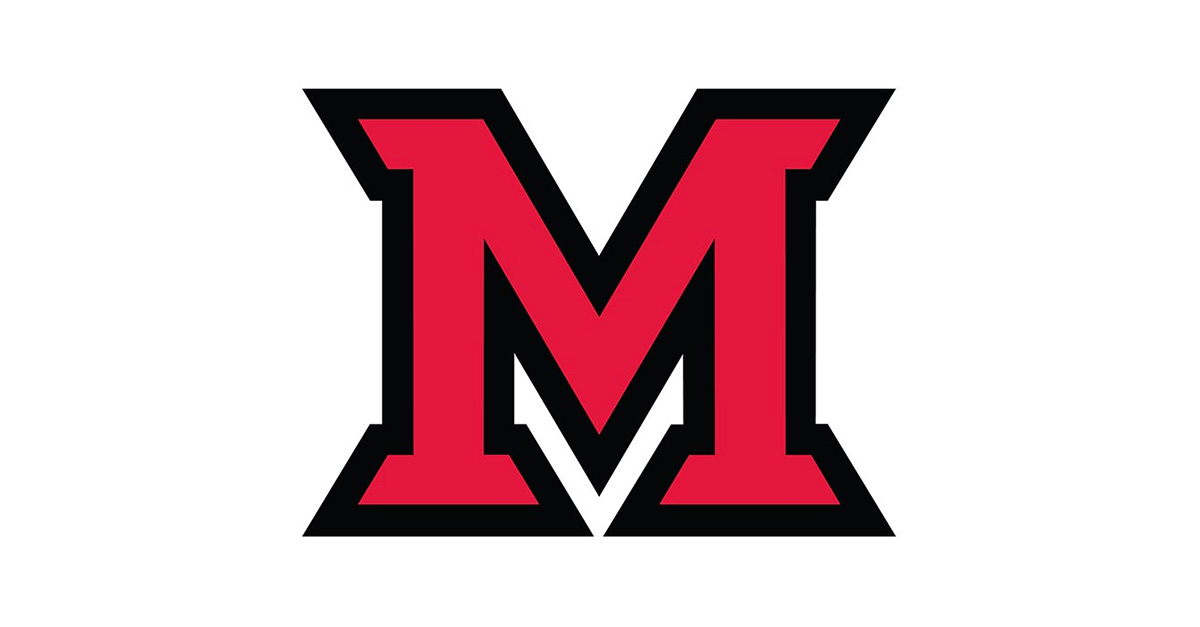 Mar 12, 2014
Money not the only reason students work their way through college
Time management and leadership skills top the list of benefits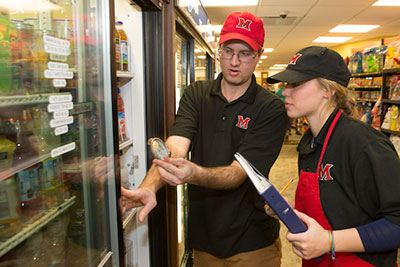 Senior student manager Chris Andersen shows student employee Mary Beth Herman how to take the temperatures of the refrigerators at the Spring Street Market in Shriver Center.
written by Margo Kissell, university news and communications, kisselm@miamioh.edu
Miami University senior David Gerndt works 15 to 50 hours per week at PNC Bank, depending on his class schedule and the time of year.
Senior Chris Andersen started working at the Spring Street Market his first semester to earn money to replace his 1986 Oldsmobile station wagon and help pay a portion of tuition not covered by his scholarship. Now he's a senior student manager training other student managers.

The two students are among thousands of Miami students working their way through college, honing their time management skills and earning other valuable experience along the way.

"Sometimes it's challenging, but I always remind myself that school comes first," said Gerndt, a marketing major with a minor in interactive media studies. He plans to pursue his master's in business administration at Miami after he graduates in August.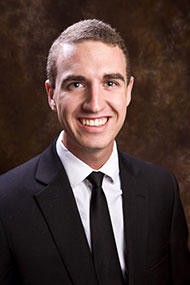 David Gerndt, senior marketing major and customer service associate at PNC Bank on campus
As a customer service associate, Gerndt works with other students on campus to offer recommendations for everyday money management. He also directs PNC's campus penetration program, letting students know about various services offered by the bank branch in Shriver Center.

Gerndt said his parents both held jobs in college and required him to work throughout his own college experience.

"It has taught me a lot about the value of money, the value of my education and given me a humble perspective of my opportunities," he said.
'We rely heavily on students"
Nearly one-quarter of Miami's 17,621 undergraduate and graduate students work for the university.

Of the 4,107 students on the university's payroll, 3,011 of them work for the department of housing, dining, recreation and business services (HDRBS), said Jaime Kimbrough, interim director of staffing and administrative services for HDRBS.

Approximately 2,300 of those students work in dining services, the culinary support center (CSC), Carillon Catering, trucking and residence halls (in the summer only). The remaining HDRBS students work for recreational sports, Goggin Ice Center, building services, the Miami University Bookstore or the Marcum Hotel.

"We rely heavily on students for dining," Kimbrough said.
Tina Rotundo, executive manager for culinary operations, said the Armstrong Student Center, which is open 24/7 and features six food operations plus the Emporium, has about 500 shifts — everything from food service to cleaning.

There are 179 student managers in the HDRBS Student Manager Program.

Eric Yung, executive chef in student dining, said the managers are selected based on their leadership and organizational abilities and are a critical part of the business.

"They train students in their work area, monitor attendance, apply discipline if needed, and monitor all student employees' required testing status (serve safe, discrimination, sexual harassment)," Yung said.
With three national winners, Miami has the most "Student Employee of the Year Award" recipients from the National Association of College & University Food Services.
Responsibility and leadership
Andersen — a senior marketing major who took on additional student manager duties at the new student center this semester — still recalls his first 10 p.m.-2 a.m. shift at Spring Street Market. By the end of his freshman year, he was promoted to student manager.

Today, he leads a student manager meeting every month, helps screen student job applications and enjoys other duties such as bookkeeping and inventory management.

"It's the responsibility and the leadership opportunity that I really enjoy," he said.

Andersen also likes coming up with innovative ways to streamline processes. He eliminated what he viewed as a "very tedious bookkeeping process" whenever catering or production needed a single serve food item such as a jar of peanut butter. Two people had to document the transaction by listing the item, quantity, cost and total on two sheets of paper.

"Now all you have to do is enter numbers," he said of the Excel spreadsheet he created.
Developing valuable skills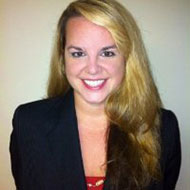 Maureen Kiley (Miami '05), former student manager at Haines Food Court, currently a business account manager for MediaDex LLC
Miami alumna Maureen Kiley said her three and a half years as a student manager paid off after she graduated with a business degree in 2005 and began interviewing for a job.

She felt comfortable and confident responding to questions that began, "Give me an example of …" or "Tell me a time when …"

"Student managers have something to say and can answer those questions pretty legitimately," said Kiley, who started working for AT&T after she graduated. Her LinkedIn account shows she was a corporate account executive for the company before becoming an onboarding sales manager and a sales manager.

Kiley, who now works as a business account manager for MediaDex LLC in Atlanta, spoke at the HDRBS student manager banquet at Miami last spring.

She could relate to the students in the audience because she had worked all four years in the Haines Food Court in Shriver. Nine years into her career, she still lists that Miami work experience on LinkedIn.

Kiley said having the title of student manager gave her the sense of accomplishment, but the experience also forced her to manage her time and taught her the importance of discipline, focus and strong people skills.

Andersen, who is preparing to graduate, said he's glad he worked his way through school because of everything he has learned.

"I feel very independent and confident because of my job at Miami," he said, "and strongly encourage all students to take advantage of the student employment at Miami."