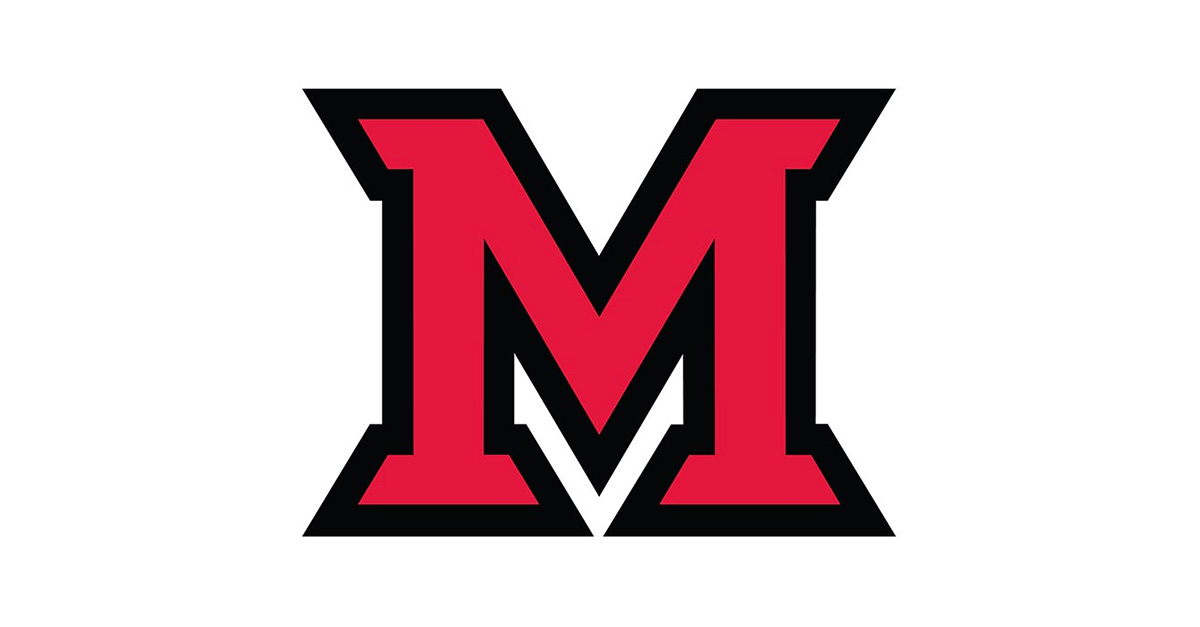 Apr 23, 2014
"Draft Day" a winner for its writer, Rajiv Joseph (Miami '96)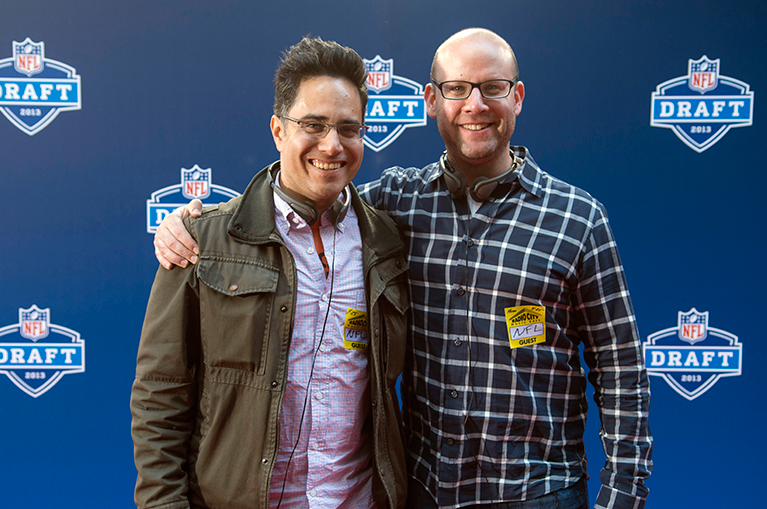 Miami alumnus Rajiv Joseph, left, and Scott Rothman, co-writers of the recently released movie, "Draft Day."
Written by Donna Boen, Miamian editor
Cleveland native Rajiv Joseph (Miami '96) is a zealous Browns fan. That's why he wanted to write a football movie. That's also why he initially wrote "Draft Day" for the Buffalo Bills.

He thought he was just too close to his hometown and its football franchise to be dispassionate about them. That all changed when filming in Cleveland turned out to be less expensive than in Buffalo. In the end, he was proud to show off both "his" city and team to cast and crew.

Watching A-list actors Frank Langella, Ellen Burstyn, Jennifer Garner and Denis Leary bring life to his words thrilled Joseph. Then there was the lead actor Kevin Costner.
The Costner "sports car"
"I always felt that when Scott [Rothman] and I had written the screenplay, we had built a sports car, and when Costner got cast, we had to customize that sports car to him and he became the engine. We had to change it a little bit and change it for the better because he's a specific type of actor and he knows what he does well and how he speaks and his own cadence. So we would meet daily with him in his trailer to make adjustments."
Joseph recalled this as he walked along busy New York streets, talking on his cellphone on the way to his apartment in Brooklyn. It was a Friday afternoon and opening weekend for the first Hollywood blockbuster with his name in the credits. He'd already been to three premieres that week — LA on Monday, Cleveland on Tuesday and New York on Wednesday. He was heading back to his apartment to get ready for an evening out with friends at a local movie theater. No question as to what they'd be seeing.
Up until "Draft Day," Joseph's focus had been mostly on the stage. He has several plays and major awards to his name. His wartime work "Bengal Tiger at the Baghdad Zoo" was a finalist for the 2010 Pulitzer Prize for Drama and debuted on Broadway in 2011 with Robin Williams. Another one of his plays, "Gruesome Playground Injuries," was produced by Miami's theatre department last fall.
Snapped out of stupidity
A creative writing major in college, he thoroughly enjoyed Miami, singing tenor in the Glee Club and its a cappella group The Cheezies, competing on the speech team, and hosting a show with student-radio station WMSR.
The list of Miami professors who inspired and motivated him is long, he said. At the top is creative writing professor Eric Goodman.
"He was the first person that ever told me that I could be a professional writer. I don't remember the piece I wrote that made him say that. I do remember that I was really messing up at Miami. I was doing very poorly in all my classes except my writing classes, and my parents threatened to take me out."
It was his junior year. He was goofing off and partying and "really arrogant about it all," he said. His parents, fed up, sent him evaluations to hand to every one of his professors, requesting that they critique Rajiv and mail the evaluations directly to them. They would use these to determine whether he stayed.
"The first person to turn something back was Eric, and he wrote this amazing testimonial to my parents about me, saying that I'm one of the few students that he's ever had that he has total confidence can become a professional writer. So he kind of saved my ass. I'll never forget it. It snapped me out of stupidity. I became a much more earnest and thoughtful student in all forms after that."
Life-changing experience
These days he's working on a musical adaptation of "Peter Pan" titled "Fly," which was produced in Dallas last summer. He hopes it comes to New York in another year. At the same time he's writing a libretto or text for an opera that's an adaptation of "Shalimar the Clown," a book by Salman Rushdie. And he's always crafting a couple of plays.
As for his first movie, Joseph wants people to enjoy "Draft Day." He knows the reviews are mixed, but he hasn't had time to read them yet and doesn't expect he will.
"Of course, I want it to do well, but even if it flops entirely, it won't change the experience that it's been for me, which has been life changing and extraordinary."