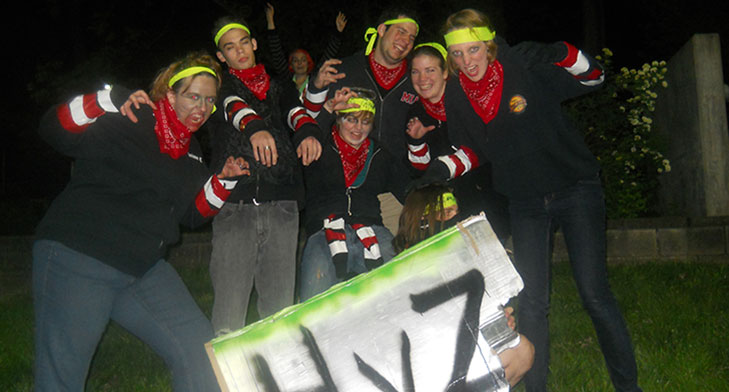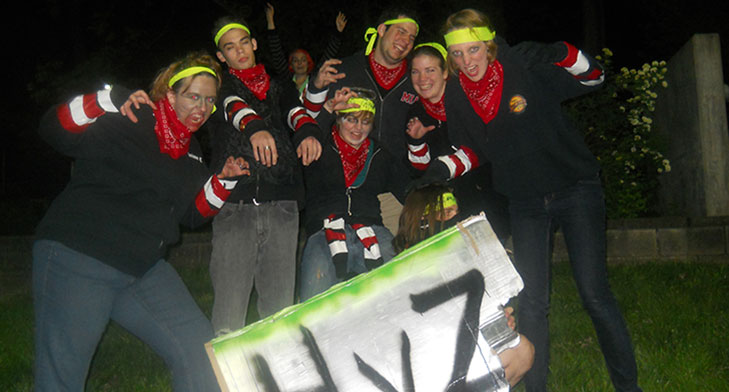 A zombie squad at Miami in 2012. Student Kate Schindler is pictured far right. (Photo provided by Kate Schindler.)
Apr 03, 2014
Zombies take over Miami University campus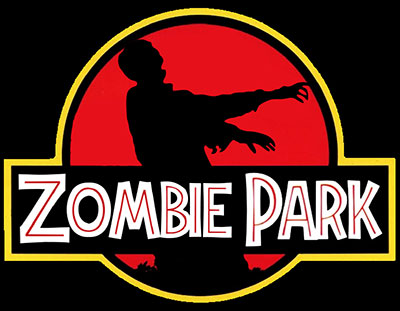 By Margo Kissell, university news and communications, kisselm@miamioh.edu
Zombies will be roaming the Miami University campus next week engaged in an epic battle with humans until a winner is declared on Saturday night.

It's all part of Humans vs. Zombies (HvZ), a live-action, zombified game of tag that is now played on more than 600 college campuses around the world, according to the official HvZ website.

Miami players will wear yellow armbands (humans) or headbands (zombies) to distinguish themselves during the game, which runs from noon Monday through Saturday night. Marshmallows are used to tag players.

Classes won't be interrupted because all academic buildings are off limits during the game, which is themed "Zombie Park" this semester. There is no cost to players except for the marshmallows and any zombie makeup or costumes they may choose to wear.

Two students at Goucher College in Maryland created the game in 2005.
Scott Spalding (Miami '09, MS '12) spawned it on the Oxford campus in 2010 while he was a graduate student in computational science and engineering.

Spalding, now a software developer for Microsoft, recalled hearing friends at other campuses talking about the game, and he wanted to play.
Spaulding said it was a fun event that allowed participating students to meet other students and to work collaboratively on something outside a classroom setting.
"I got some of my friends involved," he said. "To run around and play that game as a group was an absolute blast."
The game has grown from 70 participants that first year to 140 last year, said organizer James Cox, a senior with a triple major in creative writing, mass communication and interactive media studies.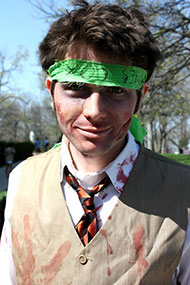 James Cox as a zombie.
Cox plans to attend graduate school in the University of Southern California's Interactive Media and Game Design program with a goal of designing alternative video games that allow players to think more deeply about the subject matter.  
"My hope is to bring this alternative view to the mainstream, kind of as a way to open up video games to people who may not want to kill a bunch of people in a game or may not want to see explosions," he said.
While Cox said the campus HvZ game drew a lot of interest from those in the "video game, geeky community," he pointed out that any student, faculty or staff member at Miami is welcome to play. There are two remaining information/safety sessions for anyone interested in playing: 6 p.m. Friday, April 4, at the Harry T. Wilks Theater in the Armstrong Student Center; and 8 p.m. Monday, April 7, in 002 Upham Hall.
The first faculty member has signed up to play the moderated game, sponsored by MUndead - a Miami student organization.
"I probably will not survive too long. I think my chances are really, really bad," said Bob De Schutter, a C. Michael Armstrong Assistant Professor for Armstrong Interactive Media Studies (AIMS) and in the College of Education, Health and Society.
De Schutter said he's returning a favor for all the times he and other professors have asked students to help them out with something.
He was pleased to learn he can remove the yellow bandana while he is working.
"They do give me some leeway to get out of class if it's filled with zombies," he said.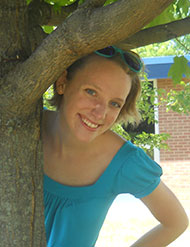 Kate Schindler
Kate Schindler, a senior majoring in French education, is gearing up for her fourth and final game before she graduates in May.
She is proud to say she has been a zombie leader, although that's not something she has put on her resume.
Schindler learned about the game from a friend and thought it sounded like something interesting and fun … and the kind of thing you only get to do in college.
She keeps returning to play because she enjoys bonding with other zombies.
"I feel like the camaraderie of the zombies is really great because you have to work together in the beginning because there are so few of you," she said. "You have to get a good strategy together in order to do anything productive."
By the way, the zombies have won the last two games.
Cox said the university requires the club to take out an insurance policy for the game, which has 11 p.m. nightly missions. Players who attend four of the night missions advance to the finale on Saturday night; those who don't, turn into zombies.
"The finale is really hard to make it to," Cox said, adding that only about 10 of more than 100 usually survive that long. "That's the thing all the players strive for. They all want to be that one person up against the 100-zombie horde."