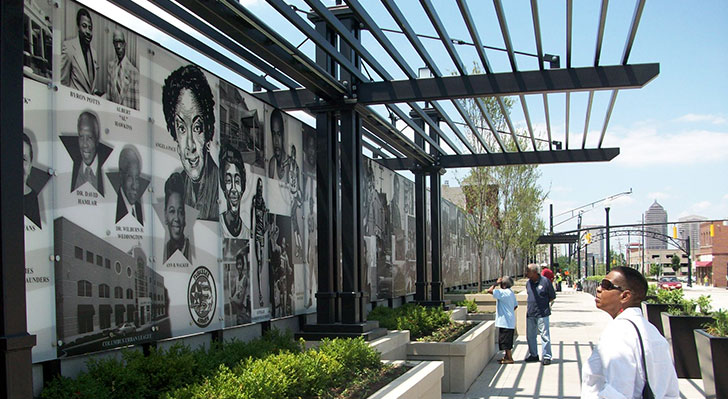 Motorists and pedestrians can view the Cultural Wall co-designed by Larry Winston Collins. (Photo provided by Collins.)
Jul 17, 2014
Miami professor's artwork displayed on "Cultural Wall" of Columbus bridge
Collins' work featured in Cincinnati, Oxford
Larry Winston Collins, Miami University associate professor of art, is exhibiting two bodies of his work related to Freedom Summer this year.

On Saturday, July 19, at 1:30 p.m., he will give an artist talk at the National Underground Railroad Freedom Center in Cincinnati for his "All for the Cause" exhibition, which started July 5 and runs through Oct. 31. It features 35 portraits of civil rights figures.

"Homeless Position," a sculpture collection, will open at the Oxford Community Arts Center on Oct. 10.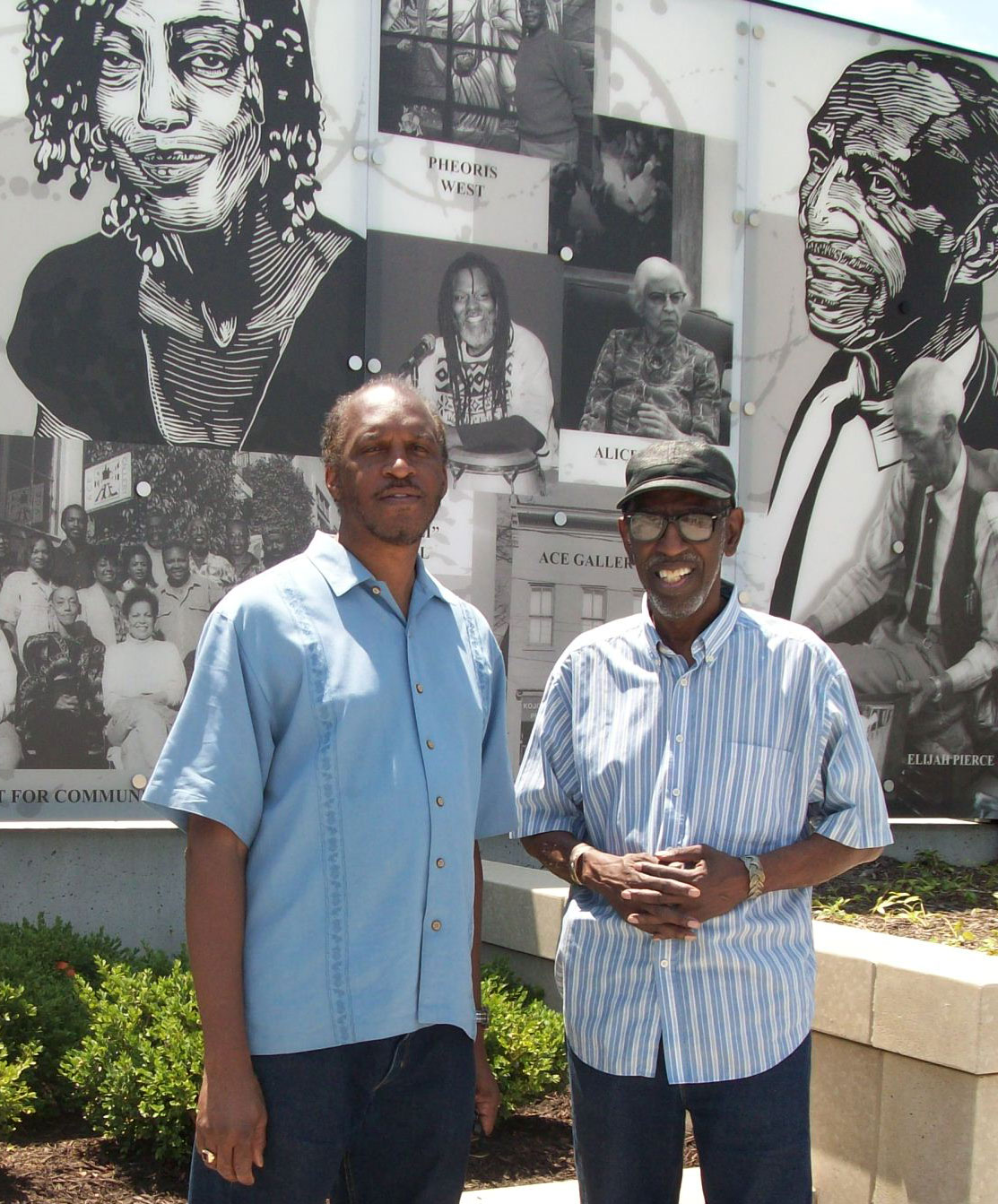 Larry Winston Collins, left, collaborated wth photographer Kojo Kamau on the Long Street Bridge project.
wrritten by Margo Kissell, university news and communications, kisselm@miamioh.edu
Larry Winston Collins' unique artwork graces the Long Street Bridge's 240-foot "Cultural Wall" in Columbus that motorists and pedestrians can view day and night.
Collins, associate professor of art at Miami University, joined an estimated 2,000 people, including state and local officials, for the unveiling during the Ohio Department of Transportation's July 10 opening of the rebuilt bridge.

Collins and Columbus photographer Kojo Kamau designed the mural — which is illuminated at night — after the two artists were selected to collaborate on the project in 2012.

"When you have your work outdoors in that kind of setting, you're opening up the possibilities of a lot of different people seeing it, not necessarily people who would go to a gallery or a museum," said Collins, who has worked at Miami for 10 years.

The bridge over I-71 links the downtown Discovery District with the Near East side of Columbus known as the King-Lincoln District.

Collins' artwork and Kamau's photographs are featured on 60 panels, each 4 feet wide by 8 feet tall. The mural features 139 images of people and places with ties to that neighborhood, which was once the center of activity for Columbus' black community.

The original images Collins prepared for the mural were done as linoleum block prints. He carved the various images on small blocks of linoleum then rolled ink over the top of each finished plate. The art was then printed on Plexiglass sheets and mounted into lit frames.

The mural spotlights people like actor Philip Michael Thomas, former world heavyweight boxing champion Buster Douglas, TV anchorwoman Angela Pace, writer James Thurber and others who made their mark in the areas of theater, art, dance, music, the church, sports, education, service, literature and business. A committee made a lot of the decisions regarding who should be on the wall, he noted.

His favorite panels are those devoted to music. Musical notes dot a scale that winds through the six panels honoring musicians, including saxophone player Rusty Bryant, known worldwide.

One panel in the mural features Collins and Kamau, both active in the Columbus art community, in which they explain their vision for the Cultural Wall.

Collins, who grew up in Cincinnati, received his bachelor of fine arts in 1983 from the Columbus College of Art and Design, which he attended on an art scholarship.

He worked the next seven years as a designer for a publishing company in Columbus and in 1990 was selected to have a studio in the new Kings Arts Complex.

After receiving a master of fine arts degree from the Maryland Institute College of Art, he returned to teach at the Columbus College of Art and Design in 1994. He came to Miami in 2004.

Motorists can drive across the bridge, which features an area where they can park to get out of the car to take a closer look. Plenty of people have been doing that since the opening.

"When I went back to look at it on Friday there were cars parked there and people just walking up and down," Collins said.