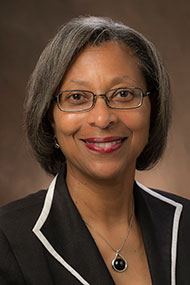 Jul 14, 2014
Mosley-Howard was part of 1970s innovative team researching black Americans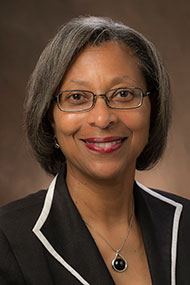 Susan Mosley-Howard
written by Margo Kissell, university news and communications, kisselm@miamioh.edu
Susan Mosley-Howard's involvement in a group that initiated landmark research into the health and welfare of black Americans still impacts her own teaching and research nearly 40 years later.
The interim dean of Miami University's College of Education, Health and Society and a professor of educational psychology was the only undergraduate student to serve as a research assistant for the University of Michigan Program for Research on Black Americans when it was established in 1976. It was one of the nation's first university-based research and training programs to focus on the real-life needs of the black community, according to the University of Michigan (U-M).

About 30-40 people involved with the program who conducted the National Survey of Black Americans returned to Ann Arbor, Michigan this summer for their first official reunion and academic conference. U-M calls the survey the first rigorously scientific, nationally representative, noncomparative one of black Americans.

"This one project has been the glue that has kept all of us together no matter where we went," she said. "We're literally all over the country and all came back because of this powerful experience that we had, and those seeds are planted all over the place."

Mosley-Howard said that in the area of psychology in the '70s, there wasn't a lot of research on the mental health and life experiences of black Americans.

As an undergraduate and then a graduate student seeking her master's degree, she worked alongside doctoral students on the project at the U-M Institute for Social Research that had received a National Institutes of Health grant. The research assistants trained people living in communities across the nation to conduct the interviews. When combined with a subsequent survey of Latino Americans, they had received responses from hundreds of thousands of people, she said.

"We had face-to-face interviews all over the nation, which was just unheard of," said Mosley-Howard, who went to New York City; Montgomery, Alabama; and Detroit to train locals including retired teachers, pastors and others to do the National Survey of Black Americans. The organizers knew local professionals had the cultural context of those communities and would be less threatening to survey takers who were asked about issues ranging from mental health and psychiatric disorders, family life, religion and poverty to help-seeking behavior, adolescence and aging.

The survey produced data that researchers from across the country mined and wrote about in various publications and journals, she said.

At the reunion, she and other panelists were asked how that experience impacted their lives as psychologists as well as their own research.

Mosley-Howard pointed to two areas: help-seeking (what compels one to seek or not seek professional services) and a forthcoming mental health book she edited with colleague Raymond Witte, associate professor of educational psychology, Mental Health Practice in Today's Schools: Issues and Interventions.

Mosley-Howard, who has been at Miami since 1983, was associate vice president for student affairs and dean of students for nearly 10 years before stepping down in 2012.

"My career took a turn more toward school-based mental health and the experience from working on this project always shaped how I thought about mental health, especially for underrepresented populations like African Americans, Latinos and women," she said.

People of color and women tend to rely a lot on informal practices and support mechanisms, such as talking to friends and others they trust regarding help and guidance, she said.

"It doesn't mean that we don't seek formal systems (such as talking with physicians or psychologists), but it means we blend those methods," she said.

Although she called that an innovative notion 30-plus years ago, it's not unusual today for physicians to place information about prostate screenings or hypertension in barber shops.

"The health and wellness piece we all embrace had its roots in research like this," she said. "If you really want to reach the populations who are underserved, embed yourself in that community and connect with that community and make sure the information is available in places where folks naturally go where it's nonthreatening."