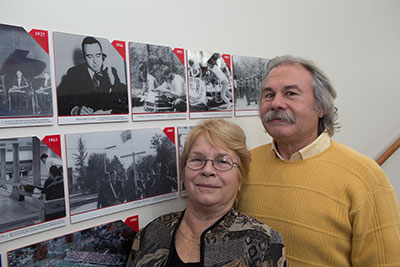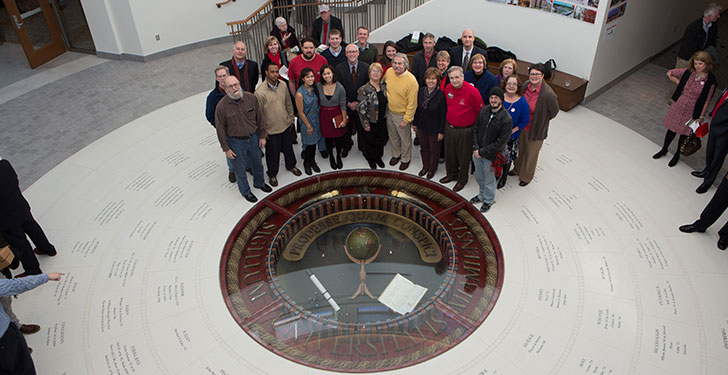 The Great Seal generates awe in all who see it
Jul 14, 2014
Yeck Family Foundation sponsors Miami's Great Seal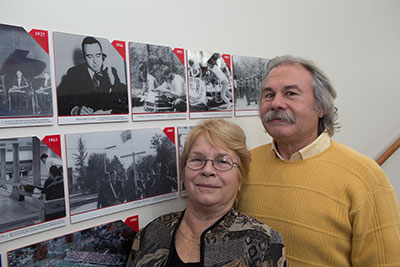 Bob and Cheryl Yeck pose next to the photo of Bill Yeck (Miami '36) that is part of the Days of Old, Days to Be display surrounding The Great Seal.
By Vince Frieden, associate director, development communications
William "Bill" Yeck (Miami '36) was never one for the ordinary. Whether it was the innovative and award-winning direct mail business he began with his brother, John (Miami '34), more than 75 years ago or the collection of visionary philanthropic projects he conceptualized and brought to life, he always had a flair for the original.
"Dad liked to come up with unusual ideas for projects," Bob Yeck, Bill's son and the president of the still thriving Yeck Brothers Company, said.  "He used to call them 'projects that people didn't know they needed.'"
Through a recent gift from the William and Dorothy Yeck Family Foundation, one such project recently came to life in the heart of Miami University's campus. While few could have envisioned The Great Seal within the Miami' Armstrong Student Center, the thousands of visitors who have enjoyed it since the Center's opening would all agree that it is not only innovative but meaningful and absolutely breathtaking.
Although The Great Seal project was not Bill's idea, it was his vision on a different Miami project that would ultimately lead to its completion. Bill, who died in 2007, had previously worked with university administrators, including now-retired campus architect Robert Keller, on a project that would celebrate Old Miami and the impact of its graduates on early American history. That project did not come to fruition, but its intent was still on Keller's mind several years later when he came up with the idea for The Great Seal and invited Bob Yeck to lunch.
In laying out his vision for The Great Seal and a corresponding "Days of Old, Days to Be" display within the Bicentennial Rotunda, Keller captured Bob's imagination and drew an unexpected response.
"I was talking about how the project could include many of the Old Miami elements we had discussed with his father," Keller said. "There was an existing balance from a previous gift Bill Yeck had given for such a project, and I was talking about the remaining balance and the cost controlling we might employ to get this done. Bob told me 'do it right,' and said he would talk to his family about coming up with the rest of the money."
Those who have gazed down on The Great Seal from the upper level of the Bicentennial Rotunda know the project was not only done right, it was done to perfection.
Nestled in the floor of the three-story Bicentennial Rotunda, The Great Seal is a three-dimensional representation of the Miami Seal, created for the university's first diplomas in 1826. Each of its elements is either reminiscent of Miami's past, like the retired puddle pull ropes and original Stoddard and Elliott Hall bricks that comprise its borders; or created by Miami students, faculty and alumni, like The Great Seal Essays book that was written by Miami students as part of a competition.
Wrapping around the walls of the Bicentennial Rotunda that surrounds The Great Seal are two extensive photo displays detailing Miami's "Days of Old" and "Days to Be," with one of those photos showing a young Bill Yeck as business manager of the Miami Student.
"Dad would absolutely be impressed," Bob said. "He loved the unique, and there are so many interesting and creative aspects to what this project includes and how it was carried out. Our family is honored to have our name connected with The Great Seal."
The Great Seal adds to the family's impressive legacy of generous and visionary support to Miami and the surrounding region.
Bill and Dorothy Yeck had previously created the Miami University Young Painters and Young Sculptors competitions, which award monetary William and Dorothy Yeck Awards to the competition's annual winners. The competitions' intent was to create a comprehensive collection of 21st century artistic works at Miami that would allow future artists to gain a critical understanding of the period.
Another particularly innovative project includes a 100-year path at a Centerville, Ohio, park, which tracks the development of a landscape from a field to a climax forest. Each year, one additional section of the path is left untouched and allowed to grow naturally.
Although his father's achievements and passion for Miami are well-documented, Bob is pleased that the family was able to add another chapter to that legacy.
"Our family has a strong connection to Miami—from the great experience my father and uncle had as students, to the family's relationship with John Dolibois, to my cousin, Joanne, being one of the first Miami students to study in Luxembourg," Yeck said. "Honoring Miami's history was important to dad, and I'm glad we have been able to bring this project to completion and leave behind something we know he would have appreciated."