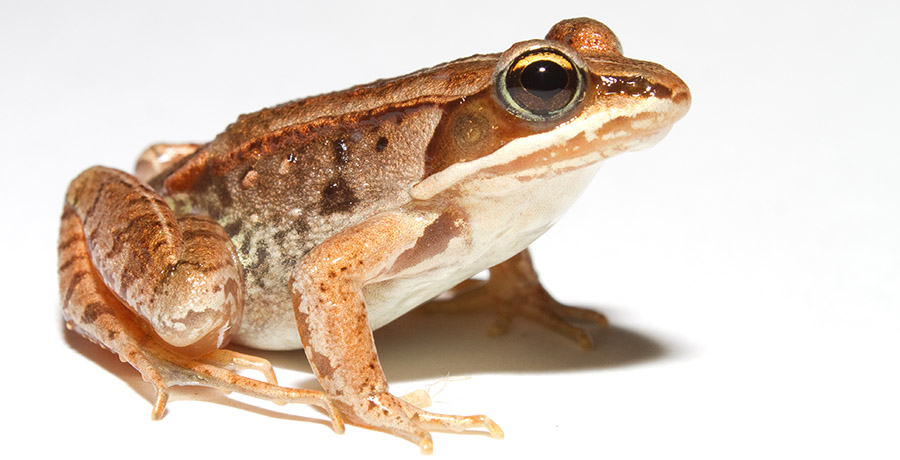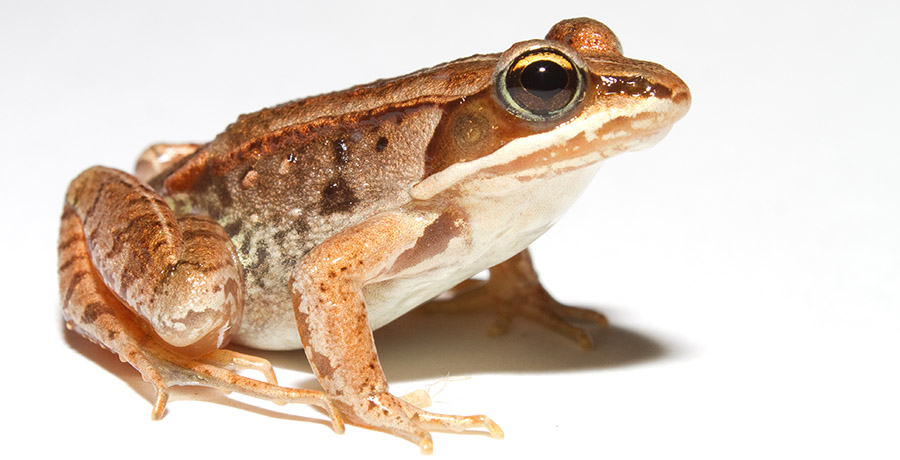 The genome sequence of the North American Wood Frog will tell us a lot about the genetic control of freezing and reanimating whole organisms, said Andor Kiss, who hopes to crowdfund his project (photo from Wikipedia).
Oct 13, 2014
An experiment in crowdfunding: Unlocking the secrets of the frog that can freeze
written by Susan Meikle, university news and communications, meiklesb@MiamiOH.edu, with contributions from Iddo Friedberg, assistant professor of microbiology
You may have heard of Kickstarter or Indiegogo.These are websites that enable people to crowdfund their creative ideas.  People make a compelling argument for a project and other people, if they like it, can donate to it.  Many small donations can add up to a sizable sum, thus "crowdfunding." Anything from movies and restaurants to books and public projects can be crowdfunded – even science.
Andor Kiss is the first scientist at Miami University to use the science crowdfunding website Experiment to help fund discovery science. He hopes to fund his project "Unlock the secrets of animals that survive freezing!" to sequence the genome of the North American wood frog.  The wood frog (Rana sylvatica) can freeze solid and then thaw – multiple times – with no ill effect.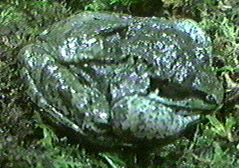 Wood frog in a frozen state (photo by Jon Costanzo).
The project is about 50 percent funded as of this week.
Experiment was started recently to crowdfund scientific research.  "It is about science for the people, by the people," say its founders.
"Many interesting and good ideas by scientists are hard to fund by the traditional funding agencies, like the National Science Foundation or the National Institutes of Health," Kiss said. 
"Projects may be deemed too risky, too expensive or even too modest. This makes it difficult to get a new idea funded, especially if that idea — like mine — is relatively inexpensive and about open-ended discovery," he said.
Kiss, who is supervisor of Miami's Center for Bioinformatics and Functional Genomics and adjunct assistant professor of microbiology, said the genome sequence of the North American wood frog will tell us a lot about the genetic control of freezing and reanimating whole organisms.
Sequencing the wood frog's genome
The wood frog is among a handful of animals that can survive winter by actually freezing solid. Its heart stops and its brain flatlines. It quickly resumes normal life after thawing in the spring.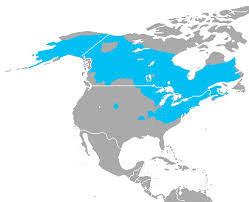 Geographic range of the North American wood frog.
Other researchers at Miami have discovered that frogs from the interior of Alaska can survive freezing at negative 16 degrees Celsius (3 degrees Fahrenheit). They required only two days of thawing to resume normal movements, researchers said.
"But what is even more interesting is that the wood frog can only do this trick during the winter," Kiss said.  "Because once the frog is acclimated to summer, freezing it will simply kill it."
"We think that there is some sort of seasonal trigger for winter and the possibility of freezing. There must therefore be a change of gene expression between the summer and winter frogs."
Because the instructions for an organism are encoded in its genome, sequencing the genome will permit researchers to better understand what is the difference between a summer wood frog and a winter wood frog.
"Additionally, because we don't know the wood frog genome yet, we may find novel genes that impart the freeze tolerance to the animal that we cannot possibly predict using a hypothesis driven approach."
It can all be done relatively cheaply: For less than $4,000, one can sequence a vertebrate genome — making this project a good crowdfunding candidate.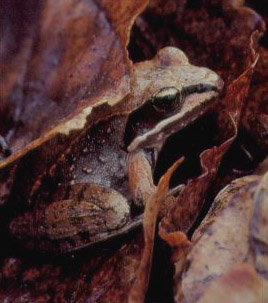 A female wood frog (photo by Jon Costanzo).
"It's also interesting to me to see if a project like sequencing a genome — that used to take millions of dollars and many people — can be done for under $4,000 and led by one person with some help from a handful of people," Kiss said. "If we can demonstrate that this is possible, than perhaps the 'promise' of genome sequencing technology can truly be recognized."
Potential medical applications
The wood frog may hold a key to organ cryopreservation for transplants or understanding how we can rapidly chill people in trauma cases while transporting them to the hospital, among other applications, Kiss said.
"The wood frog is able to freeze itself and thaw itself out with no apparent damage. It is a complicated process and won't be a single gene discovery that will enable this. Understanding how the frog changes the environment inside its body will probably be the fruitful approach to addressing these questions."