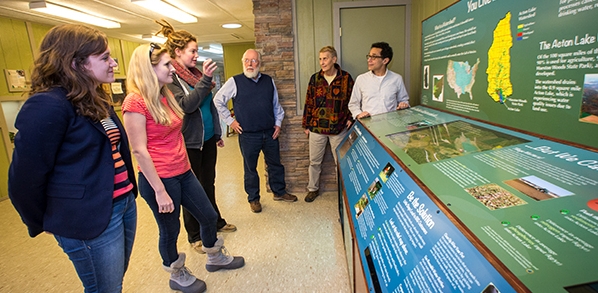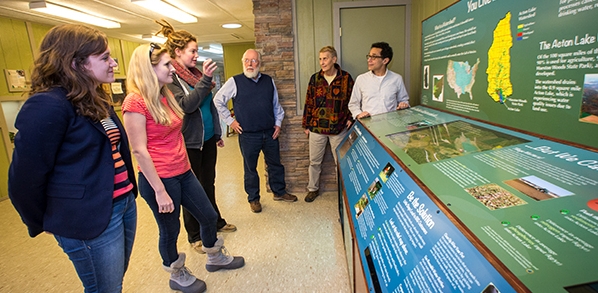 A new exhibit at the Hueston Woods State Park nature center aims to educate visitors about watersheds. Students in a capstone course taught last fall by Mike Vanni, Ann Rypstra and Don Kaufman designed the exhibit. Shown here, left to right: students Ashley Gordon, Rebecca Long and Andrea Christman; Kaufman, Rypstra and Vanni (photo by Scott Kissell).
Dec 17, 2014
"You Live In a Watershed!": Student-designed exhibit aims to educate state park visitors
Acton Lake Watershed
By the numbers:
100 square miles
90 percent is used for agriculture
9 percent is forested (mostly Hueston Woods State Park)
less than 1 percent is developed
Tips to clean up watersheds
• Prevent soil and sediment runoff by planting trees and shrubs
• Volunteer to help clean streams and bodies of water
• Plant a "rain garden" with deep-rooted plants and grasses to help stop runoff from entering the sewer system
• Recycle rainwater using a rain barrel and use it on your lawn and garden
• Use reusable water bottles to keep them ending up in water sources
• Start composting to maintain a healthy lawn or garden without using fertilizer
Source: the interactive watershed exhibit
Written by Margo Kissell, university news and communications, kisselm@miamioh.edu
Visitors to the nature center at Hueston Woods State Park near Oxford can learn about the importance of watersheds, thanks to an interactive exhibit 15 Miami University students helped design.
"That was the best and worst part: It could be anything we wanted, and we also didn't know where to start because we've never made anything like this before," recalled Andrea Christman, a senior individualized studies major with a sustainability co-major.
Christman and two classmates — senior Ashley Gordon and graduate student Rebecca Long — visited the nature center last week to see the exhibit they helped create with other students in a 400-level biology watershed education capstone class last fall.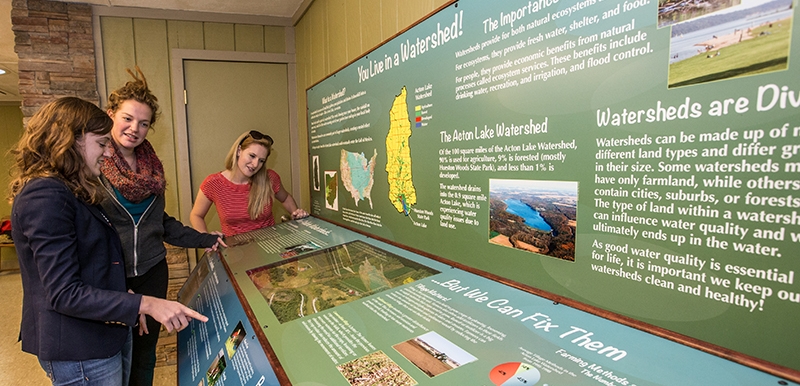 Students Ashley Gordon, Andrea Christman and Rebecca Long participated in designing the watershed exhibit, built by the Cincinnati Museum Center and recently installed in the Hueston Woods State Park nature center (photo by Scott Kissell).
Cincinnati Museum Center staff then built the display using part of a $25,900 National Science Foundation grant Miami had received earlier.
For the three students, seeing the "You Live in a Watershed!" exhibit was a thrill and brought back memories of the time and effort they put into it. They spent an hour tweaking the definition of a watershed as "an area of land that gathers precipitation and drains it downhill into a collective body of water — like a river, lake or ocean."
Mike Vanni, professor of biology; Ann Rypstra, University Distinguished Professor of Biology; and Don Kaufman, professor emeritus of biology and director of Miami's Hefner Museum of Natural History, co-taught the course.
"We had five different student groups and each group came up with their own design," Kaufman said, explaining that the exhibit is a composite of the best aspects from each.
Visitors can press buttons to trigger a light-up simulation of how runoff from farms using different tilling practices could affect local waters. Visitors can observe how much polluting fertilizer and sediment washes away and where it goes.
Park naturalist Shawn Conner said the display fits right in with the aquatic animals motif in that part of the nature center.
"I think it's always better to have something that is interactive," he said. "Having buttons people can push and actually do something, I think, is going to keep their attention a little bit longer."
The 100-square-mile Acton Lake Watershed
The display highlights the importance of watersheds, which provide fresh water, shelter and food for natural ecosystems and drinking water, recreation, irrigation and flood control for people.
Acton Lake is a 0.9-square-mile lake in Hueston Woods, but its watershed extends 100 square miles, nearly to I-70 north of Dayton and west into Union County, Ind. Eighty percent of it is in Ohio, mostly Preble County and a tiny bit in Butler County.
Ninety percent of the land in the watershed, which drains into Acton, is used for agriculture, according to the students' exhibit.
While farmers often add fertilizers to their fields to supply nutrients that crops need to grow, runoff of fertilizer is a big source of nitrogen and phosphorous going into lakes and streams, according to the exhibit. Farmers can reduce the amount of runoff through various farming practices, such as conservation tillage.
The exhibit points out that Acton Lake is experiencing water quality issues due to land use. Kaufman said that because of fertilizers flowing into the lake, it's stimulated for algae growth that goes beyond what the lake can normally process so the water generally appears cloudy.
Blue-green algae in lakes
But Acton is not as bad as Grand Lake St. Marys near Celina, where signs posted at beaches have warned visitors about toxic blue-green algae, or Lake Erie, which made international headlines after toxic algae blooms contaminated the tap water for 400,000 people in August.
Toledo's mayor this month appeared before the Senate Agriculture Committee and urged the federal government to do more to improve water quality in America's lakes and rivers. The level of algae in Grand Lake is about three times as much as Acton Lake, the professors said.
"What is interesting from a science perspective is why we get toxic algae in some lakes (Erie, Grand Lake) but not others like Acton, which are seemingly just as impacted by agriculture," said Vanni, director of Miami's Center for Aquatic and Watershed Sciences. "Acton has lots of algae — even of the same kind that can produce toxins — yet the toxin concentrations are barely detectable."
Asked what letter grade he would give Acton Lake today, Vanni said a "C," but noted the condition of the lake is improving due to changes made in recent years. Vanni, with Maria Gonzalez, professor of biology, and Bill Renwick, professor of geography, have been funded by the National Science Foundation continuously since 1994 to study Acton Lake and its watershed.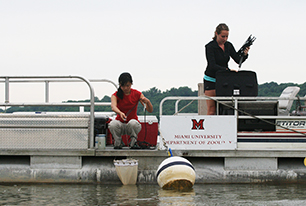 Miami undergraduates have helped conduct weekly sampling of Acton Lake every summer for years, part of the NSF-funded Long Term Research in Environmental Biology research of Mike Vanni, Maria Gonzalez and Bill Renwick. Pictured, Claire Meikle (Miami '14) and Jessica Gephart (Miami '11). (photo by Tracy Chappelow).
About 20-25 years ago, the U.S. Department of Agriculture and the Soil Conservation Service targeted the Acton Lake watershed, mainly to reduce soil erosion because the lake was filling with sediment, Vanni said.
"They did a bunch of things, but one of the things was they gave farmers incentive to do conservation tillage so they plow less," he said. "In some aspects, we're seeing improvement. We're seeing less sediment and less phosphorus coming in from the streams into the lake from the agricultural areas."
Rypstra, an evolutionary ecologist, said they wanted to educate people through the exhibit about the watershed by showing that a land area 100 times larger than the lake drains into it. "The idea was, this is where we live," she said.
Dave Might (Miami '84), Cincinnati Museum Center exhibits coordinator, said it was enjoyable and rewarding collaborating with the capstone class on the project.
"Personally, I was very impressed with many of the student designs and creative ideas," he said. "I also like the fact that the students come from different majors and disciplines and so can lend different perspectives and knowledge to the process — which is how any museum exhibit design project should go."
Long, who is seeking a master's of environmental sciences with a concentration in land and water management, and Gordon, a zoology major with an environmental science co-major, like that the display will educate visitors for many years to come.