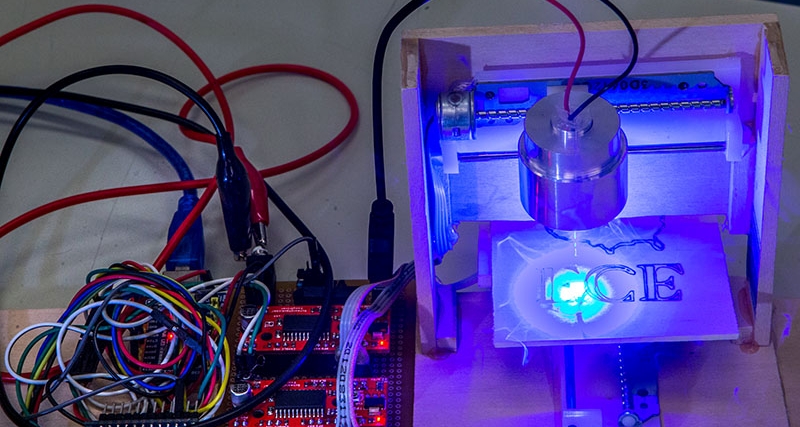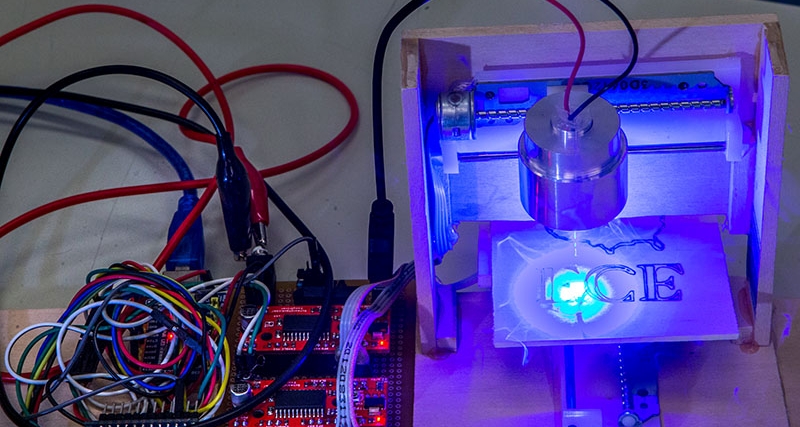 The College of Engineering and Computing will celebrate National Engineers Week Feb. 22-28 with a variety of events, including a Start the Trend innovation challenge for all Miami students Feb. 21 (photo by Scott Kissell).
Jan 21, 2015
Dmitriy Garmatyuk receives Outstanding Teaching Award from IEEE
Written by Susan Meikle, university news and communications, meiklesb@MiamiOH.edu.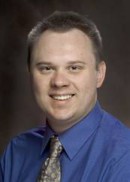 Dmitriy Garmatyuk, associate professor of electrical and computer engineering 
Dmitriy Garmatyuk, associate professor of electrical and computer engineering, received the 2014 C. Holmes MacDonald Outstanding Teacher Award from IEEE and the IEEE-Eta Kappa Nu honor society. The award recognizes the central and crucial role of college professors in training and motivating future electrical and computer engineers.
Garmatyuk was honored for his "outstanding teaching performance, demonstrating exemplary ability in conveying understanding of complex material to his students while also stimulating deep interest in the subject matter."
IEEE (pronounced "Eye-triple-E") — the Institute of Electrical and Electronics Engineers — is the world's leading professional association for advancing technology for humanity. The IEEE-HKN program attempts to identify and give recognition to electrical engineering professors who have demonstrated, early in their careers, special dedication and creativity in their teaching responsibilities.
Garmatyuk received his doctorate in electrical engineering from the University of Nebraska–Lincoln in 2001. From 2001 to 2005 he was a senior analog design engineer with Circuit Development Group at Intel Corp.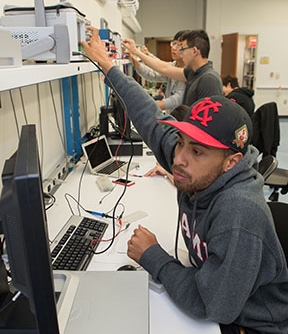 Students at work in an electrical engineering lab (photo by Scott Kissell).
He joined Miami in 2005 and developed a complete electromagnetics (EM) curriculum for the electrical and computer engineering department. He received a grant from the National Science Foundation (NSF) to develop innovative methods of teaching EM to undergraduate students.
The NSF funding helped to establish and equip a new laboratory that has become the teaching venue for electromagnetics-related classes and senior design projects.
Garmatyuk also teaches courses on electronics, communication systems and circuit design. Practically all the courses he teaches have a strong project component, which is a central part of his teaching philosophy — Project Based Learning (PBL).
In 2009-10, Garmatyuk co-advised a multi-disciplinary team of ECE and mechanical engineering students who investigated the feasibility of a novel low-power water desalination method based upon EM for use in remote regions. As part of the project, the team traveled to Ghana to assess the sites and project's applicability.
Students have the opportunity to work with Garmatyuk in his research, which currently focuses on software-defined ultra-wideband radar sensors for autonomous platforms.